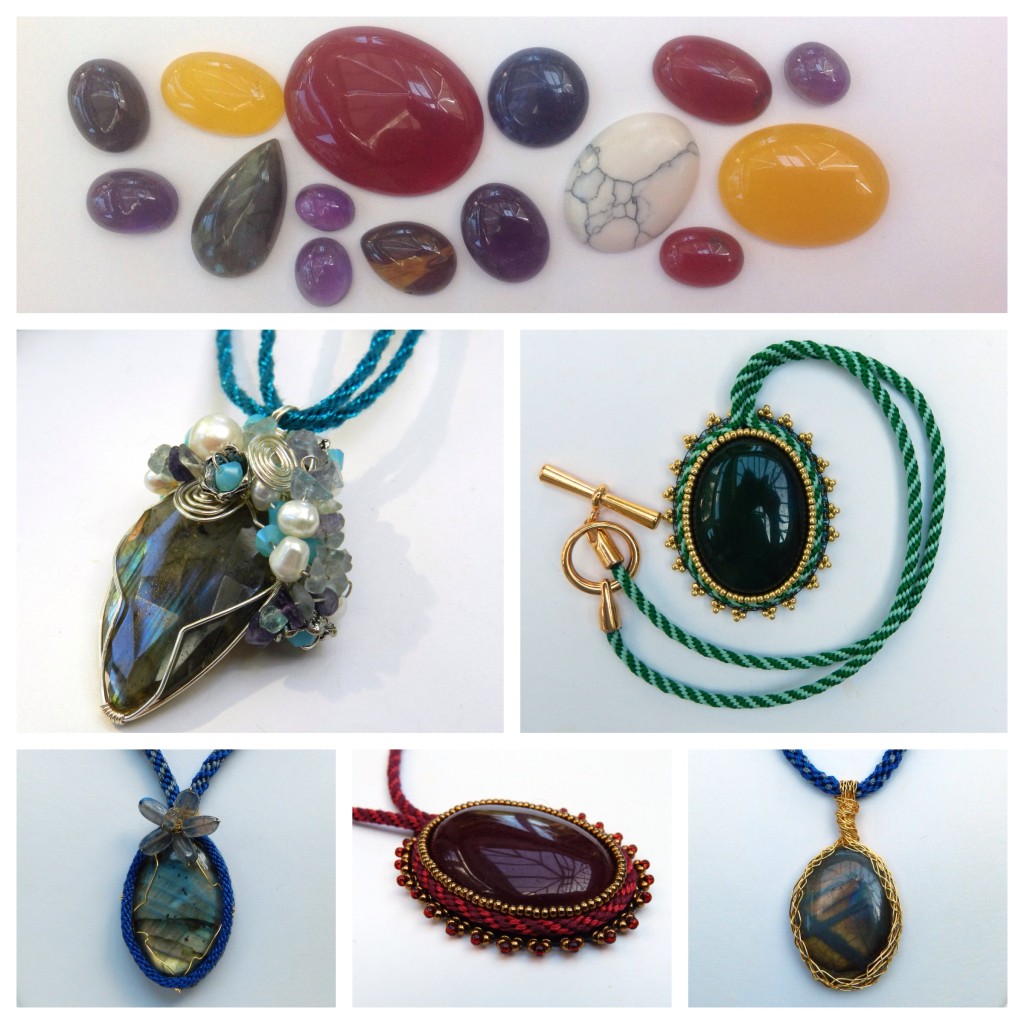 Following on from my blog about the bicone bead shape and how to use it I am now going to take a look at the  cabochon.
The flat-backed cabochon is a great shape for jewellery makers because it can be used successfully in so many ways and using a variety of different mediums. Up to now, kumihimo has not been the most obvious way to show off a special cab, but I hope that this blog will help people to think again! When deciding what to do with a special cab the first consideration is whether it is suitable for a solid backing, where the reverse of the stone will be covered, or whether the back should be left open, either to let light through or because it is too pretty to cover. Once that has been decided, there are several options to consider.
Open Back
Wire wrapping is probably the most popular way of using a cabochon because it provides a firm frame, which can be plain or decorative and a bail can easily be worked into the design. Kumihimo works brilliantly in this sort of design if it is used to hang the pendant from. A braid will add softness and texture to the design and the potential to use colour to bring out the hues of the gemstone is limitless. Many gemstones will work well with different colour palettes, so a selection of different braids can be offered to potential customers.
Instead of traditional wire wrapping, try making a wire kumihimo frame. Flat braid works well for this and the ends of the wire can be brought up to the top of the stone and twisted into a wrapped-loop bail.
Attaching the cab to kumihimo with a simple wire frame is a very unusual and neat way of using cabochons and kumihimo. I demonstrated this method on Jewellery Maker and there are brief instructions for this method here.
Closed Back
Traditional soutache designs often feature a cabochon as the structure around which the soutache cord can be curved and coiled. A great way to finish off this sort of pendant is by using soutache cord to make the braid to go around the neck. It works up very well in Round Braid and although it is a little more expensive than other kumihimo materials, it is worth the extra to be able to match up the colours and textures perfectly.
Kumi-Cabs are a series of new designs I have been working on, which incorporate elements of soutache embroidery and bead embroidery with kumihimo braids. So far only the first in the series has been published, but I hope to publish the second design shortly. In these designs the kumihimo braid becomes a feature of the design, rather than just the necklace. The first tutorial can be found here.
Cabochons come in all sorts of shapes and sizes and most of the methods described can be adapted to fit any size. The most popular cabs seem to be gemstones, but glass and polymer clay are also very effective. Pictures, leaves and flowers can be topped with resin to create keepsake cabs.
If you are interested in experimenting with cabochons I would recommend trying various shapes and sizes of stone and playing with different methods to find out what works best for you. Nearly all of the gemstone cabochons in the photos are from Jewellery Maker. They have an ever-changing range and are very well priced. This is the link to the cabochon page.