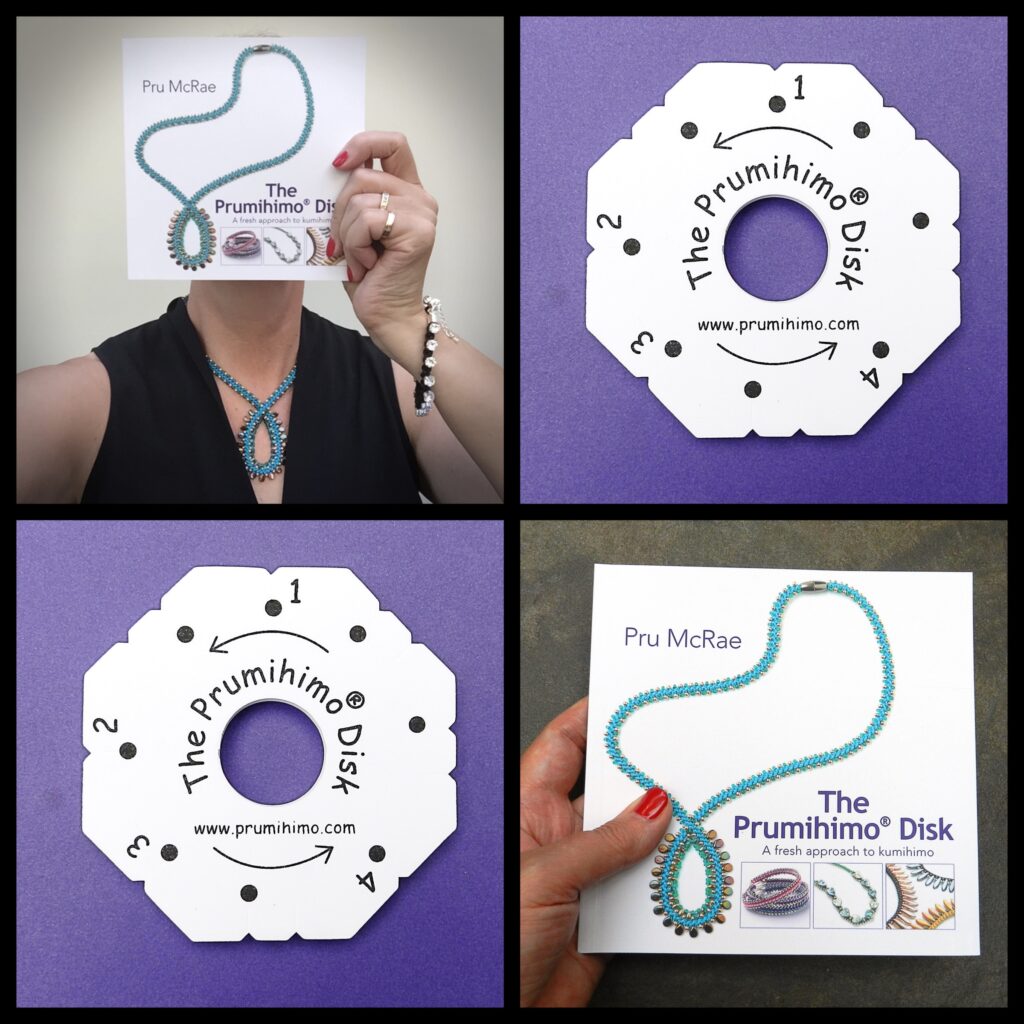 How time flies! It was  5 years ago that I launched my first book, The Prumihimo Disk – A fresh approach to kumihimo and I am happy to say that the book continues to sell well and since that first delivery of books I have authorised 4 further print runs. From this perspective it is hard to remember how nervous I was about the launch of the book, so it is a good exercise to think back to the journey of this little book.
The desire to write a book about kumihimo arose not long after I started to braid over a decade ago because at that time there were very few books about kumihimo and I felt there was space in the market for a jewellery focused kumihimo book. At that time it was just a vague plan for the future, because I did not have enough experience at that time. My aim was to explore kumihimo further and develop my experience, with a view to writing a book when I was ready. In 2010 I was given the opportunity to write tutorials for Beads & Beyond magazine. My first published tutorial was for a simple linked design, but after this success I decided I needed to find a niche for myself to be able to offer something different to magazines, so my second tutorial was for a kumihimo design and thereafter I concentrated on kumihimo. Writing for magazines is great experience, but it is very specific because you have to fit your design into the number of steps and word counts they require. It is valuable because you have to learn to manipulate your ideas to fit their set up, but it can be rather constricting.
In 2013 I set up my website and started to offer PDF tutorials. This style of writing is much freer because you are not constrained by imposed word counts or set formats. It is therefore much more enjoyable, but I think that the experience of writing for magazines had taught me to be succinct and direct in my writing, which is very important. For the next few years I was busy writing tutorials for both my website and for various magazines. I was also invited to appear on television as a guest designer for Jewellery Maker TV. For this I needed to develop different skills and to be able to explain and demonstrate my own new designs under the pressure of a busy studio on live TV. In addition, I started to teach my designs in workshops in different locations around the country, which involves writning handouts for the class. All of these activities complemented each other and honed my design and writing skills.
During this busy period my book writing ambitions were put on hold. The long-term plan to write a book was still there, but the subject had changed. In the meantime two excellent kumihimo books had been published, so there was no longer such a need for a general book, but I did see a gap in the market for a specific book about how to finish off kumihimo.
In 2015 I produced the Prumihimo disk. That is a long story for another day, but it did change my book writing plans. I was put in touch with a publisher who specialises in self-published books. During a very comprehensive meeting about the Endings book I wanted to publish I mentioned that this new disk was in production and she suggested that I could consider writing a small book about the new disk as a learning process before embarking on the proposed book on endings. This seemed to make good sense, so the endings book was shelved for the time being and I needed to work hard to start planning a book for a disk that had not even arrived in the country!
Self-publishing is a great option for anyone wanting to write a book. Getting a contract with a big publisher is a great achievement, but the hard truth is that there is very little financial return for the writer and the writer has no control over how or when the book is published. Self-publishing is very expensive up front, so there is a lot of risk, but the writer has total control over everything. A package of services was agreed to include all the design, photography, editing and printing, so I was advised and assisted all the way by experienced professionals, but all the final decisions were made by me. Along the way there were frustrations and even tears, but by the end of the process I was very proud of what I had learnt and achieved.
The first print run of 1000 copies sold out within just a few weeks and the book has continued to sell steadily over the last 5 years. A craft book is never going to be a blockbuster, but as new people discover kumihimo there are always new customers showing an interest. The compact book format was so popular that I decide to follow it up with the long-planned Endings book in the same format. I would love to add more titles to my range and I did start to write a third book, but life got a bit busy and I had to put it to one side. I hope to be able to get back to book writing in the future.
Finally, I would like to thank all of those who have had faith in me and bought my books. A book without a customer is just waste paper!!
The Prumihimo disk – A fresh approach to kumihimo – Book and 2 prumihimo disks
Kumihimo Endings – The finishing touch for every braid