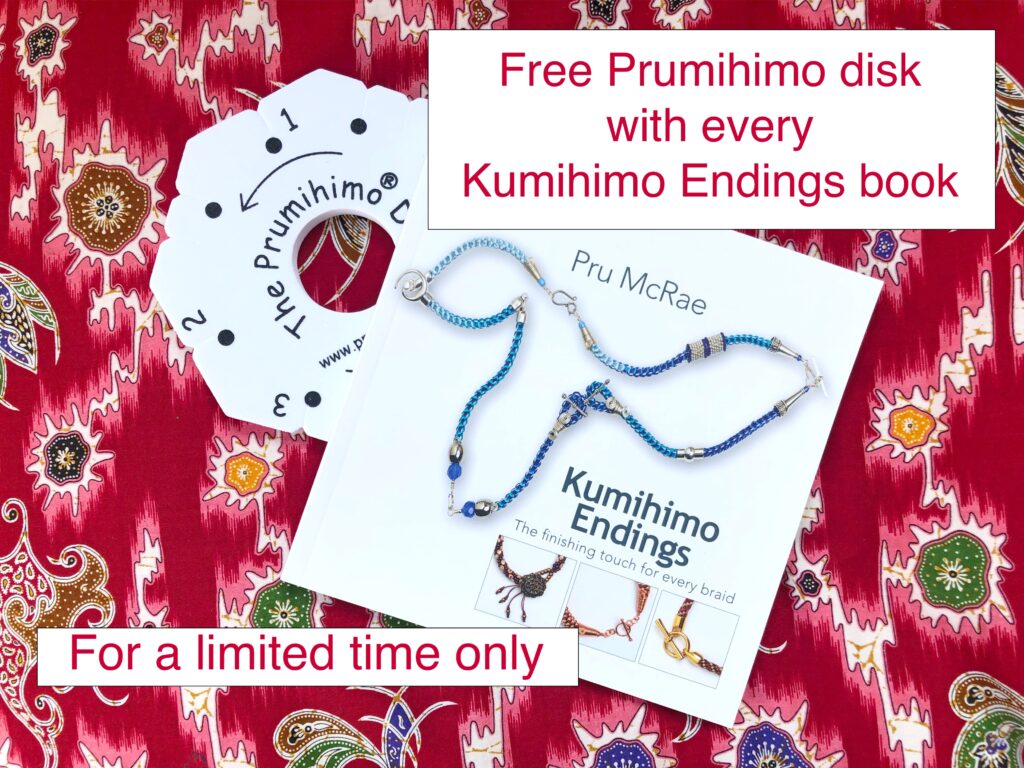 I have recently taken delivery of a new print run of my second book, Kumihimo Endings, and my hall is full of heavy boxes. I would really like to try to reduce the number of boxes I have to take up two flights of stairs to my stock room, so I have decided to throw in a free Prumihimo disk with every purchase of this book. This is a time limited offer for the purpose of reducing my stock levels. If you do not have this excellent little book, now is a great time to get one. If Prumihimo braiding is new to you then you are going to have great fun exploring the possibilities of this disk and your creativity is sure to blossom. You can never have too many disks, so if you have already got a Prumihimo disk, a new one will give you the chance to work on more than one braid at the same time. A new disk, with its tight slots is also a great opportunity to experiment with finer cords. Alternatively, you could share the joy by introducing a friend to Prumihimo braiding!
The idea to write a book exclusively about endings came to me in the early days of my kumihimo adventure. Like almost everyone, I love to braid, but finishing off a braid is not my favourite part. It is easy to procrastinate and find you have a drawer full of braids awaiting the endings. Sometimes I am just not in the mood for gluing, or I don't have exactly the right size of end cap. There are many other excuses as well! Over the years I have developed many different ways of finishing off kumihimo braids and I have found that this versatility makes me more likely to get the ending done as soon as I have finished braiding, because I can work with what I have, rather than needing a specific size of end cap. There is no other book about endings, so by writing and publishing this book I knew that I could help other braiders by sharing my methods and my experience of over a decade of braiding.
Kumihimo Endings has been published in a compact format, so that it can fit into a craft bag or purse and always be at hand. Don't be fooled by its small size. I worked hard to find a way to pack the pages with information and much of that was done through the elimination of repetition, that is so common in craft books. Many techniques, such as wrapped loops or sealing cords, are common to several ending methods. Once you have learnt how to do them you do not need to have the instructions repeated every time. These key techniques are found in one chapter. I have used a sort of 'Wikipedia method' of identifying these techniques in each ending method. They are highlighted in blue and if you need a reminder you can just flick to the key techniques chapter, which has blue edged pages for easy identification.
My aim in writing this book was to offer as many ending methods as possible and the book contains 6 chapters of endings, all with colour coded page edges for convenience. I cover the basics of glued and wired endings, but also show how these endings can be customised to suit your own particular style or the materials you have available. There are also chapters on crimp endings, loop endings and tassel endings, for when you want to try something different. The largest chapter is all about button endings and I show no less than 6 different methods. These different methods offer a variety of effects, all possible without the need for specific findings. This is particularly important now, since so many shops and on-line suppliers have ceased trading, making the purchase of supplies more difficult than before.
The other way I have managed to pack in as much information as possible into Kumihimo Endings is by making elements of each method interchangeable. You may choose to use a particular ending method to attach a finding and then decide to finish off the cords using a tassel method from a different chapter. The more you work with this book the more you will get from it because you will start to see how you can combine different elements to create effective endings.
The offer of a free Prumihimo disk is planned as a time limited offer, just so that I can reduce my stock levels. Get one while you can!