Some very special findings
It has been quite a while since I shared the work of another designer in my blog, but I think this designer has been worth waiting for!
I have noticed that very few people come straight to kumihimo jewellery making. The majority of people have prior experience of other types of jewellery and bring different skills with them to braiding. Many people come to kumihimo via bead work or stringing and linking, but wireworkers and clay artists also find themselves picking up a kumihimo disk and becoming addicted. This brings fabulous variety to kumihimo jewellery and takes it way beyond its ancient Japanese roots.
A good example of this is the work of Eilise Black. She is a fairly new member of the Kumihimo Group on Facebook and I was blown away by her very first post. Her kumihimo is lovely, but what makes her work so special and inspiring are her unique pendants, end caps and clasps made using metal clay.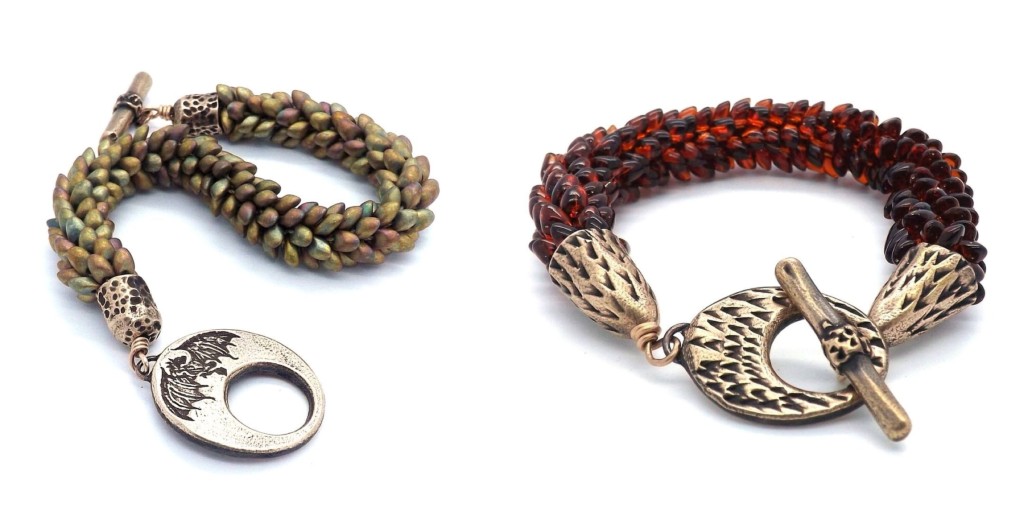 Eilise's jewellery journey started about 7 years ago with bead stringing and simple earrings. She progressed to working in sheet metal, but was held back by not having a proper workshop. As she says, 'There is only so much you can do on your draining board in the kitchen!' She started to work with metal clay and had great fun making smaller pieces which could be torch fired. However, the recent purchase of a kiln meant that she could really explore her creativity with larger pieces and with base metal clays. She now has her own hallmark, which allows her to sell larger silver pieces as well. What I love about these two bracelets is the way that everything works so well together, from the colour and choice of bead to the end caps and the clasps. Interestingly, Eilise says that she starts with the braid and then creates the findings to complete the piece.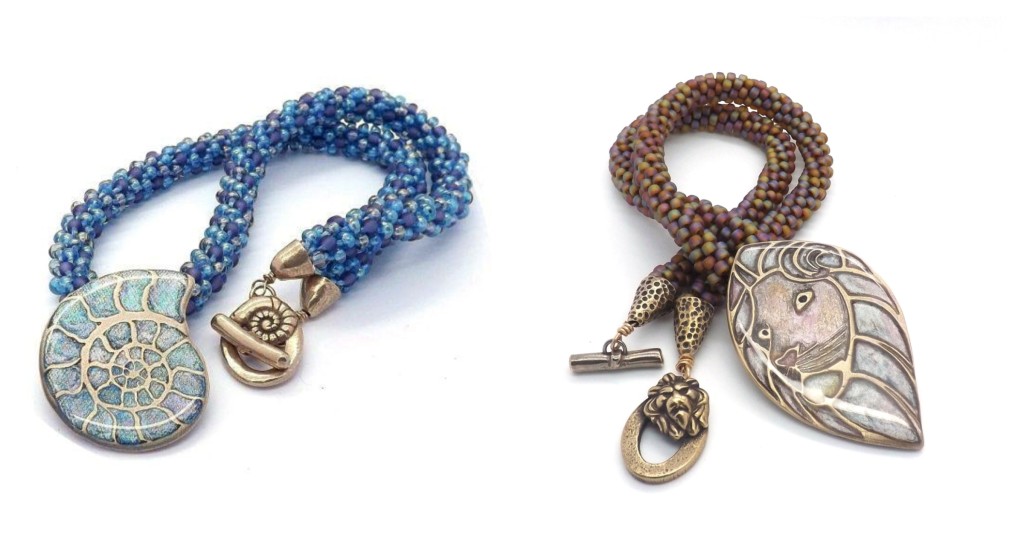 These two necklaces are very special indeed. Eilise has used inks and resin with the metal clay to create the pendants, which hang on perfectly coordinated beaded braids and has finished off by repeating the theme in the clasps. To my eye, every single detail works brilliantly and the overall effect is cohesive and understated.
Some readers of this blog will have already seen these first four designs, but I have also been supplied with a couple which have not been widely seen.
In these designs we can see the same attention to detail with the pendants and clasps and it is good to see how this treatment works with plain braids as well as beaded braids.  End caps are often seen as just a way of covering the cord ends, but equal care and consideration is given to all of Eilise's end caps as to the focals. I am particularly impressed by the decoration on the end caps on the black design.
Eilise is currently working on a bronze celtic cross and is learning to set stones into her work and she plans to continue to explore the potential of kumihimo, so that will be something to look forward to!
If you would like to see more of this wonderful marriage of metal clay and kumihimo, as well as other types of jewellery please visit her etsy shop, by clicking here, or her Facebook page, by clicking here. At present, it seems that she does not sell her findings separately, but perhaps we will have to work on her!
Thank you Eilise for letting me show and talk about your unique and very creative designs. In the fast-moving world of Facebook images quickly slip down the wall. I have really enjoyed being able to spend more time looking at your work and seeing the jewellery all together.