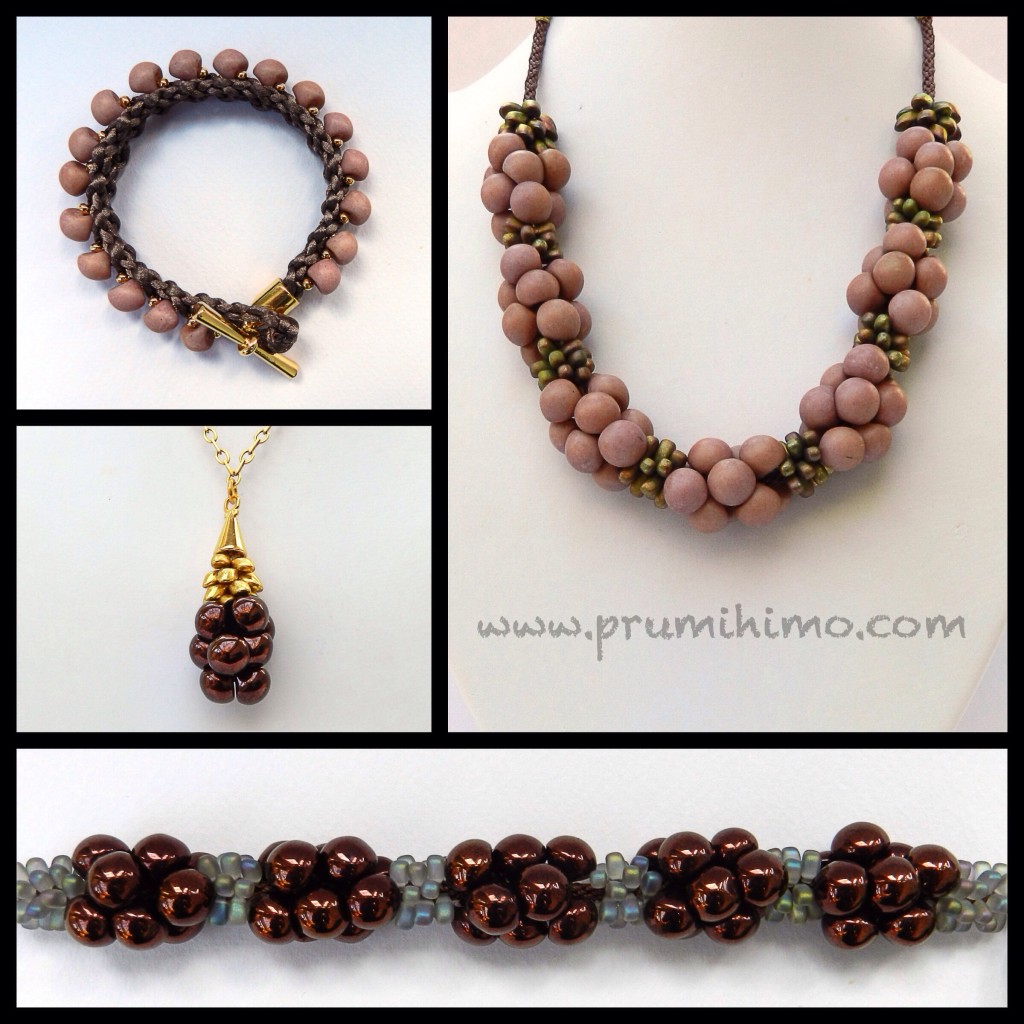 One of the most enjoyable aspects of jewellery making for me is being able to play with different types of bead and finding ways of using them in kumihimo. Luckily for me, there is a seemingly endless flow of new beads onto the market. Sometimes it takes a while for them to reach the shops and sometimes it takes a while for me to find time to play with them!
I was given some samples of mushroom beads at the end of last year and I have had great fun putting them through their paces. The first ones I used where the larger ones, which are approximately 9x8mm. As a general rule, beads with the hole located towards one end work well in kumihimo braiding because the hole is drawn into the centre of the braid and becomes invisible. When working with larger beads with a central drill hole a large amount of thread is usually visible, but it completely disappears with mushroom beads and they fit together very neatly. I found they worked well with other beads and added Long Magatamas, Long Drops and seed beads, to add contrast in shape and texture. These beads are perfect for chunky statement pieces.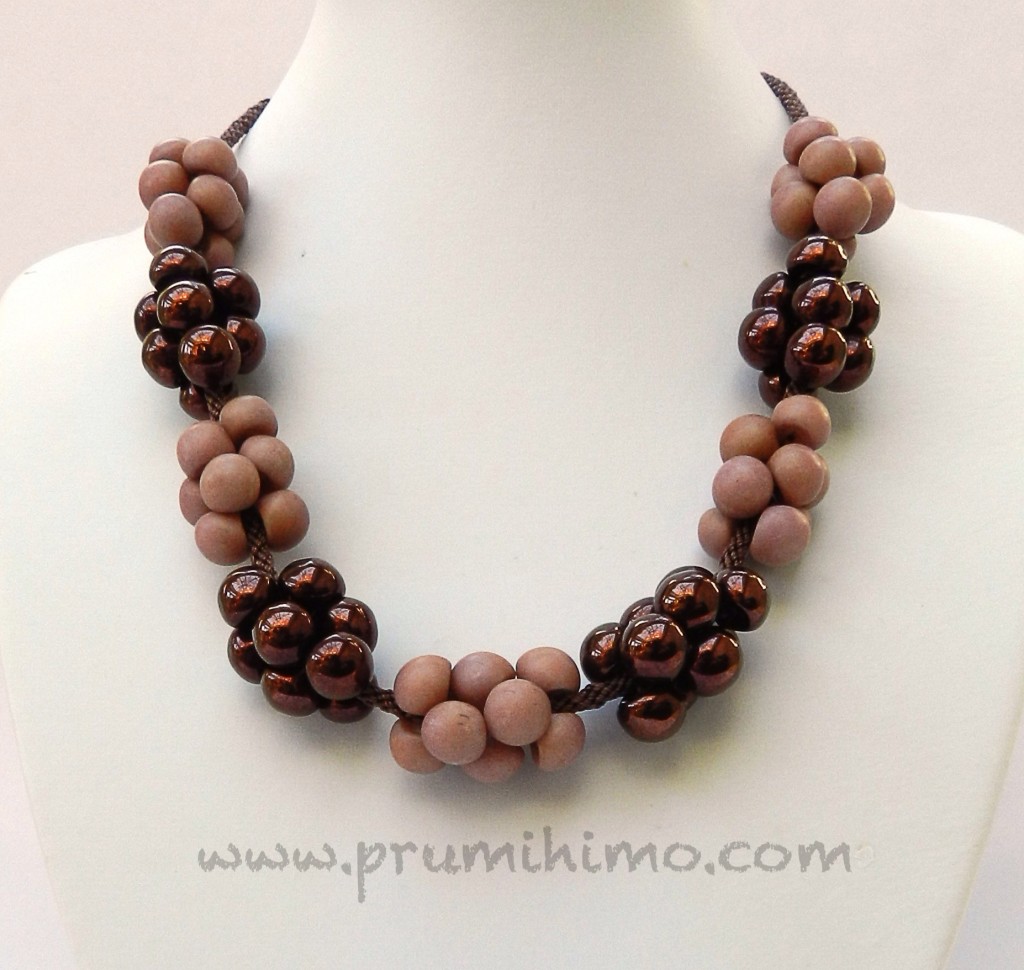 They also made a big statement all on their own! This design was used by Beadsmith on their website and in a mail out to the shops.
The smaller size is approximately 6x5mm and come in the same lovely range of colours and surface effects. I think I prefer to work with this size because it is more versatile. I used this size for a tutorial for Beads & Beyond for a lariat and bracelet. Again I mixed them with Long Drops to give a bit of contrast in shape and colour. I am looking forward to trying these designs in other colours.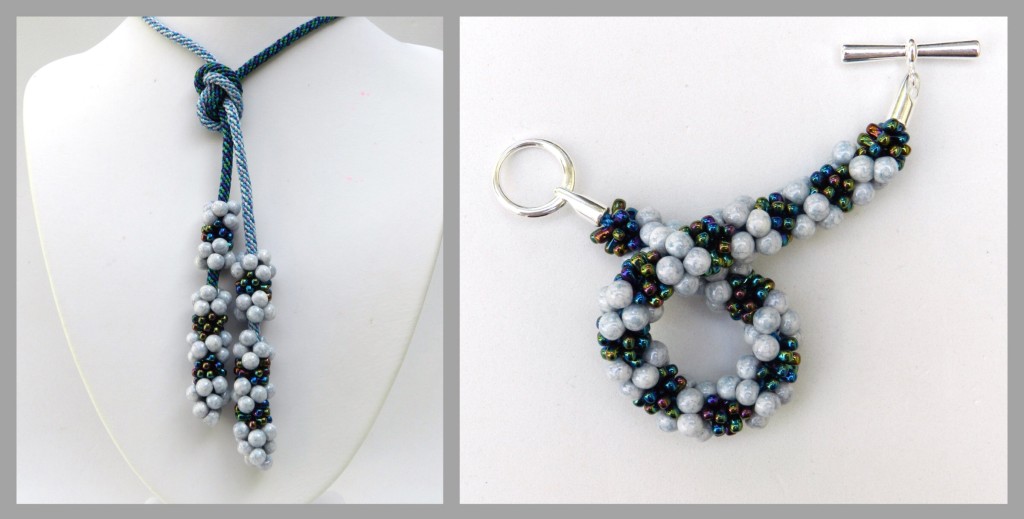 Today I made up a bracelet using small mushroom beads and my Sitting Pretty design. This has always been one of my favourite bracelet designs and I regularly wear them, either singly or in pairs. The mushroom beads are absolutely perfect for this type of braid and I think they are even easier to use than 6mm rounds. They sit really neatly and securely in the braid and the bracelet only requires 20-25 beads, so it is an economical way to use these beads. The bracelet is on my wrist right now and that is where it is staying!
Sitting Pretty is an intermediate level tutorial. In it I give very clear instructions for the braid structure, which is a traditional braid with a few tweaks from me! The beads are attached as part of the braiding process. Once the braid has been learnt the bracelet is very quick to make up and requires very few materials. It is easy to adapt to accommodate larger beads or even buttons. It is lovely to wear and makes a great gift. The low cost of materials and quick making time make it very suitable for sale. The tutorial can be found by clicking here.