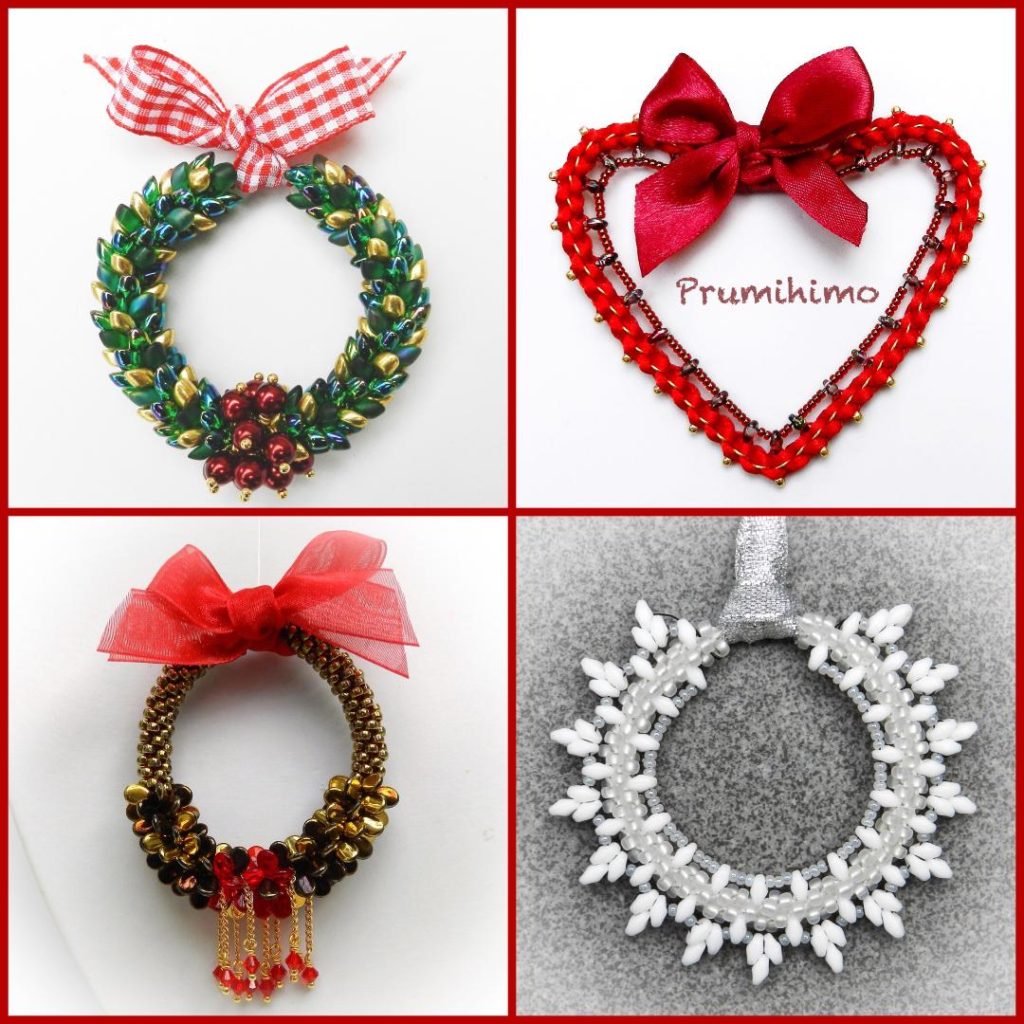 It is my firm belief that you can never, ever have too much bling on a Christmas tree! For that reason I have decided to offer all four of my best selling Christmas decoration/ornament tutorials for the price of 3. As these are best sellers I am aware that some people may have already bought some of them, so it will be possible to exchange up to 2  of these tutorials for any other tutorial.
Now is a great time to get going on making Christmas decorations. Yes, I know some people hate to see Christmas arriving earlier and earlier each year, but if you are a crafter you will know what fun it is to be able to make in peace and without pressure. For those of us in the Northern Hemisphere the days are getting shorter and the temperatures are going down, so there is more time and inclination for indoor activities. Time always runs short just before Christmas, which can be disappointing if you had plans to make lots of gifts and decorations. Don't delay!
These decorations do not have to be made exclusively for the tree. Try popping one in with a Christmas card for a special friend to hang on her or his tree. Tie one around the neck of a bottle of booze as a gift, which can be enjoyed for many years after the bottle is empty. Tie one around each wine glass on your festive table, as a decoration for the meal and a take-away gift for your visitors. They make lovely gifts for teachers and make a great change from all the chocolates and toiletries.
What about after Christmas? All of these tutorials teach skills which can be used for kumihimo jewellery making. Two of the designs are round braid made on the round disk, one is 7 cord braid on the round disk and one is made on the Prumihimo disk. Basic wireworking skills are used in two of the tutorials and these are explained fully. Embellishment techniques are used in 2 of the designs and these are also explained fully. Braiding around a core is used for 3 of the decorations and braiding with wire is used in one. All of these techniques will build braiding skills and can be used in so many ways. Each new skill will open up so many design opportunities.
Even if you do not have a Christmas tree, do not decorate your home or you do not celebrate Christmas at all you will find these decorations can be made in alternative colours for different applications, such as wedding favours/decorations, birthdays or other religious celebrations.
Finally, a word of warning – these can be addictive! There is something very satisfying making quick and adorable makes like these. One will never be enough!