A Good Month for Kumihimo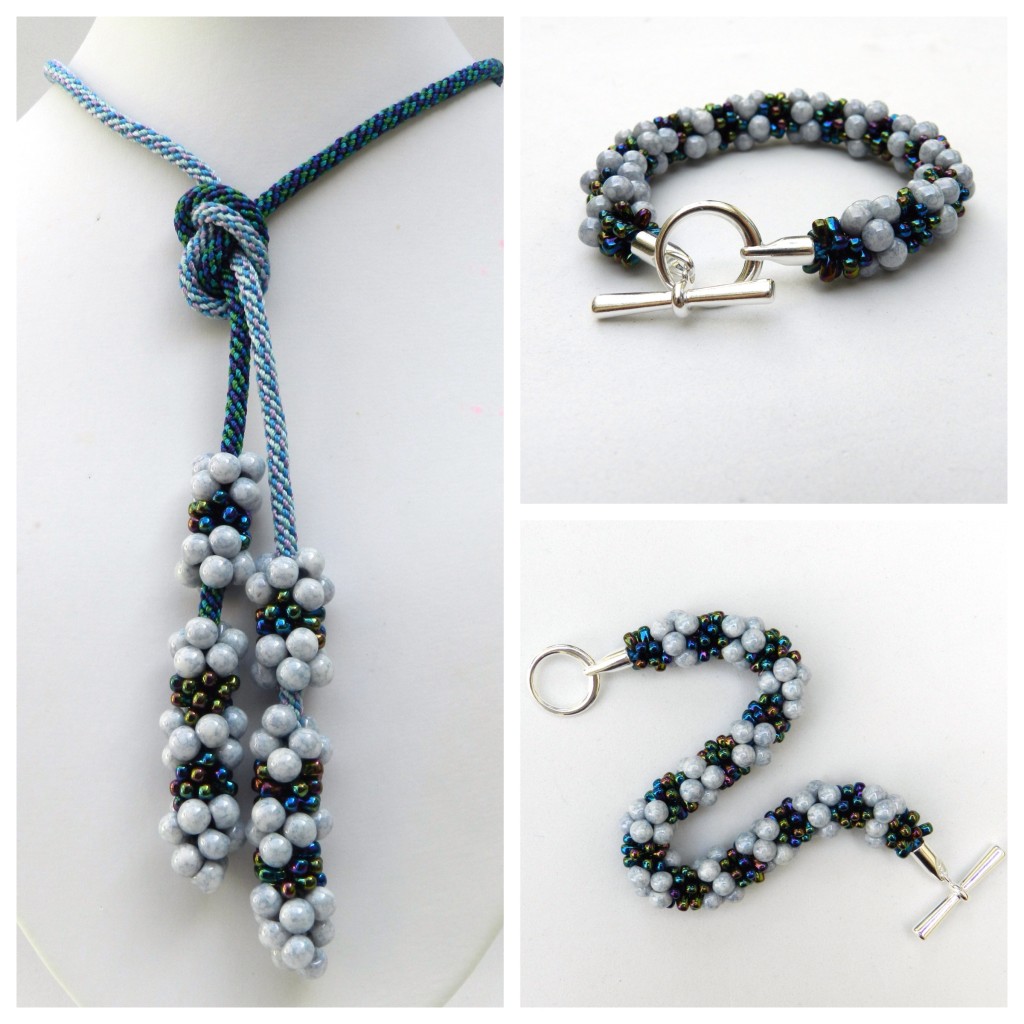 The July issues of the UK jewellery magazines are full of kumihimo jewellery designs in tutorials, editorials, letters and advertisements. Beads & Beyond is particularly rich in references to kumihimo and images of designs. I was really pleased to have my lariat and bracelet tutorial in this issue, as well as seeing Louise Frances's advertisement with two images of magatama bracelets. In addition, a flower design bracelet was shown both in an advertisement, as well as on the letters page and the kumihimo handle was advertised just inside the front cover. Not bad for one issue!
Bead and Jewellery magazine included an interesting article about The Big Bead Show with a photo of Janine Learner's fabulous floral kumihimo necklace. Making Jewellery magazine featured an article about an on-line supplier with a sparkly crystal kumihimo bracelet. There may well have been other kumihimo in those publications, but as I was just cheekily flicking through them in the newsagent I didn't have time to check everything.
This is a really good development for all of us who love kumihimo jewellery. About two and a half years ago I was told by one magazine and two shops that the interest in kumihimo jewellery was dying and it had just been a bit of a brief fad. Sometimes a new technique grabs the interest and for a short period everyone is crazy about it. Then something new comes on the market and people move on. (Think loombands!) It seems to me that this happens when there is limited potential for development. However, Kumihimo braiding is the result of centuries of tradition and has been developed into a complex and subtle art form by the masters in Japan. This means that there is so much more for jewellery makers to draw upon. I find it very inspiring to know that there is always so much more to explore. It is true that most people are happy working with a single braid structure, but even with just that one braid there is so much potential. When people start to experiment with other braids they can create some truly unique designs. With kumihimo you can never say that you know it all!
The advantage of good press coverage is that the materials we need become more reliably and widely available. When I first started braiding, about 6 years ago, it was only possible to find the disks in a small number of online shops. Now virtually every bricks and mortar shop has a great display of all the kumihimo materials and equipment we need. Recently the UK craft giant, Hobbycraft, has started stocking disks. Just a few years ago tuition was hard to find. Now there are lots of brilliant workshops and classes available all over the country. For a long time only the standard disk was available. Now it is possible to find thicker disks, smaller disks, disks with more slots and even a handle to make your disk more comfortable to hold. All these developments make it possible for us to be even more creative.
The only way to keep this trend moving forward is to make sure that our voices are heard. Speak to bead shop owners and tell them what you need. Email online shops to ask for more. Write in to magazine editors and tell them what you would like to see in future issues. These are all businesses and they really do listen to their customers. Finally, show off your lovely kumihimo designs as often as possible to delight and encourage others!
Happy Braiding to all!