It is time for a look at another inspirational designer and this time I don't have to go far from home. I have made many wonderful friends through the internet, but have only met very few of them in person. Janine Learner only lives about 20 miles from me so she is one of those who I have been lucky enough to meet. It is such fun to be able to see her work, share ideas and even do a little bit of shopping together.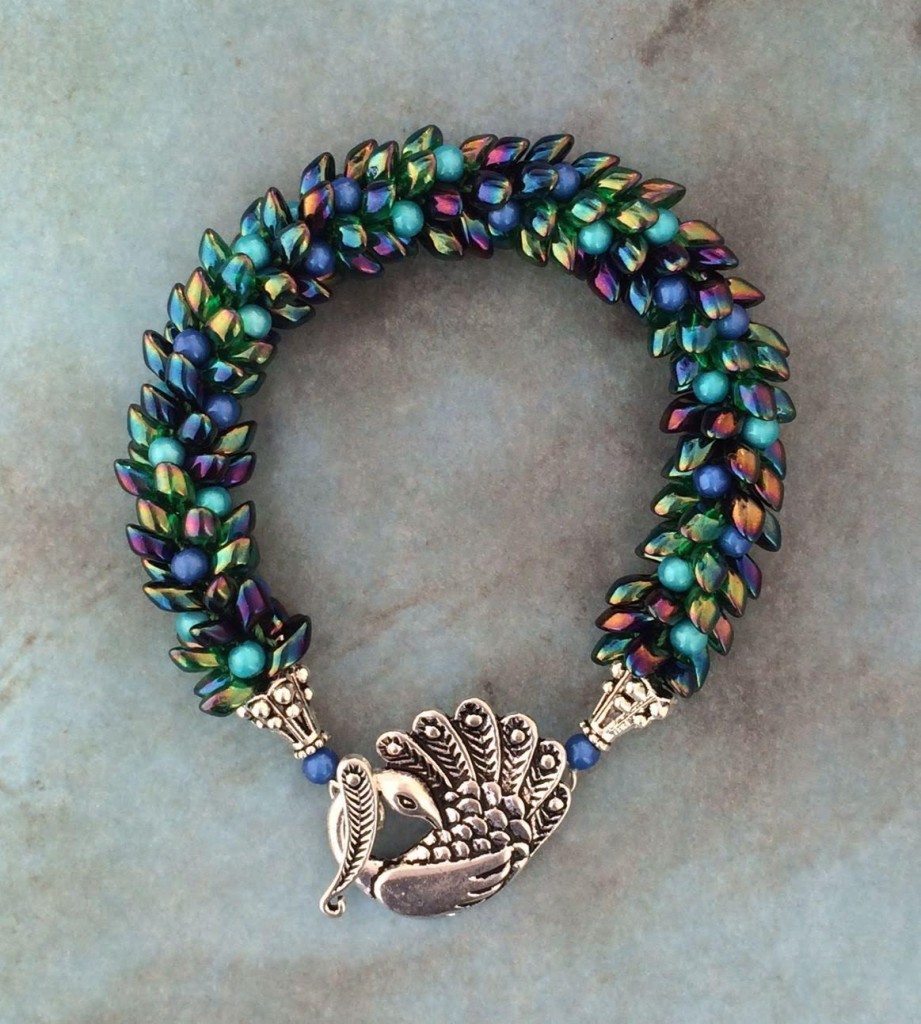 I have always loved birds, so I was most impressed when I saw Janine's wonderful peacock bracelet. Having been to bead shows with Janine I know that she has a great eye for the potential in unusual materials and findings and this really shows in this design. I really like the way the shapes of the beads echo the patterns on a peacock feather and that the iridescence is captured by the miracle beads. The peacock theme is followed through right through to the clasp.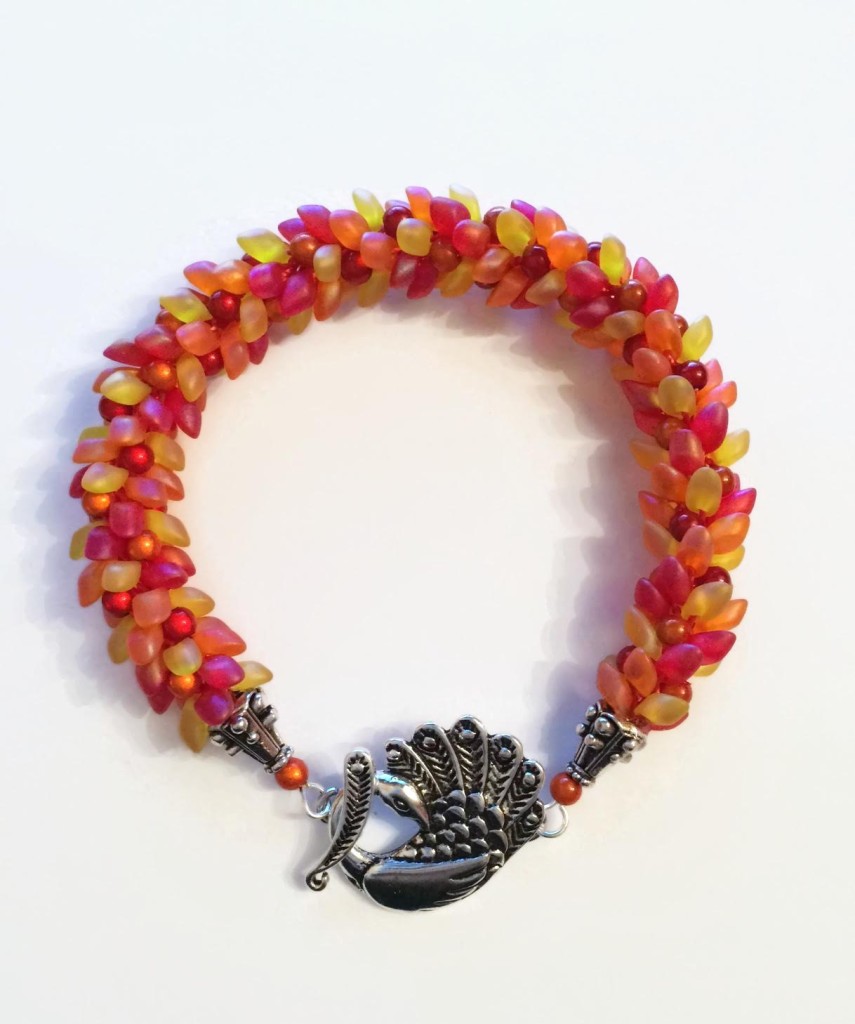 The fiery phoenix bracelet makes a very vibrant alternative and might be just the thing for Harry Potter fans. The glowing miracle beads really bring this design to life.
Owl lovers are bound to find the Snowy Owl version very appealing! The subtle effect of the different textures and coatings of the beads are impossible to capture in a photograph, but are very special in real life.
Janine offers this design as a tutorial, but she has also put together kits to ensure that it is easy to make the exact bracelet. Some people love to work with kits, others prefer to make their own choices, but in this case it makes sense to buy all the very specific components in one go, especially as the clasps are not easy to find. Kits can also represent good value for money, when you take into account the beads you need to buy for a project, but don't actually use! A kit can also be a great way to develop your skills because you can tackle something new with confidence, knowing that the materials are all correct. Once you have mastered the design you can start to try your own variations.
The final design of Janine's I want to show is her upmarket, sterling silver bracelet. I love the understated simplicity of this piece of jewellery. All lovers of kumihimo know that it is a very bead-hungry medium, so a considerable number of beads are needed to make a bracelet like this. As a result, beaded kumihimo is usually made up with less expensive beads. However, for a really special gift to treasure there is no substitute for precious metals.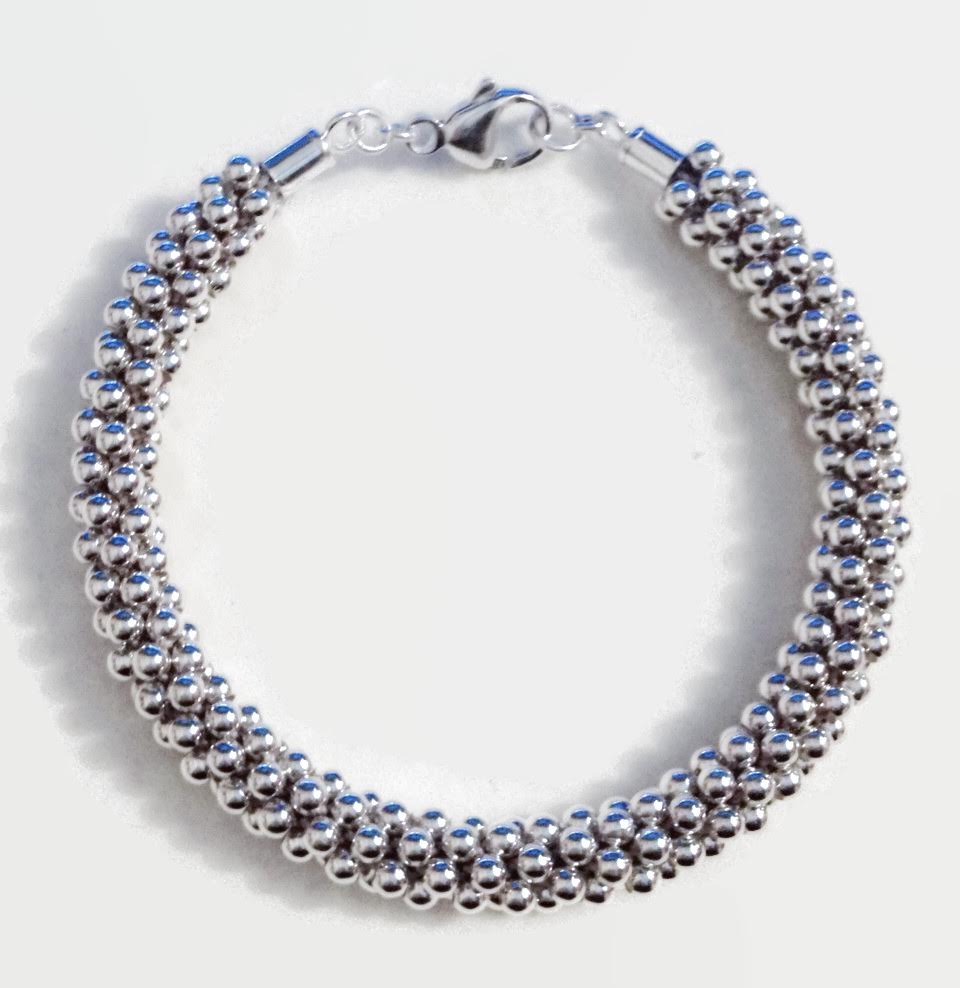 If you like what you see and would like to know more, just click here to visit Janine's Etsy page.