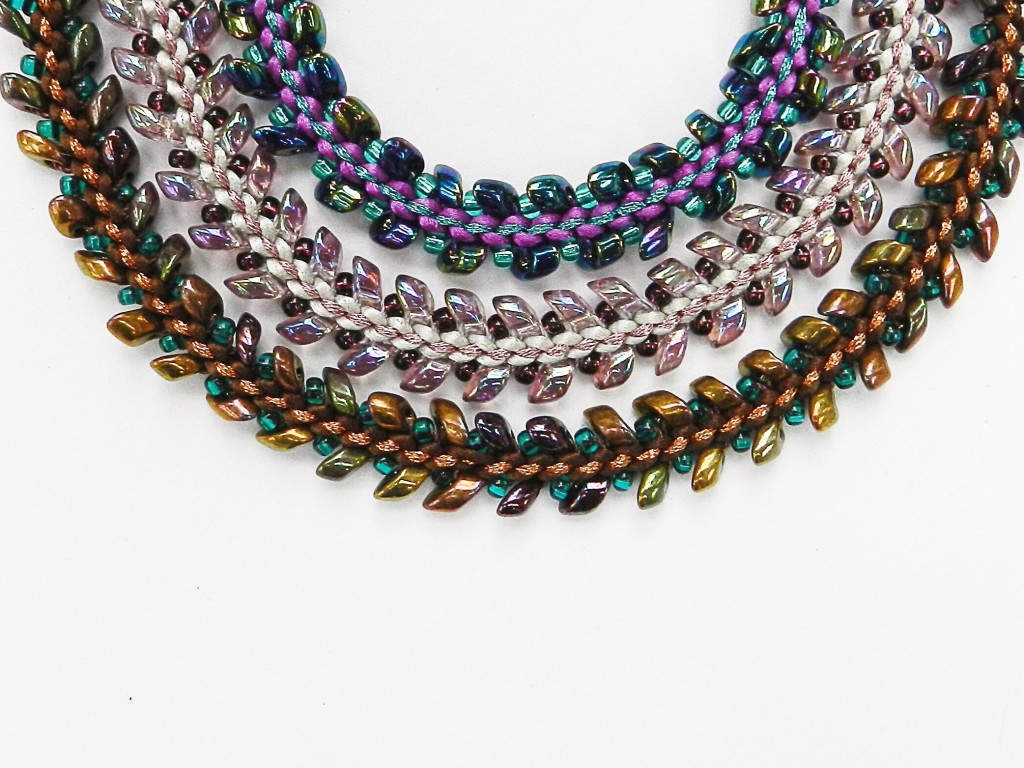 I have been delighted by the reaction to my new disk, the Prumihimo Disk, and I am starting to see some wonderful designs made on it. Thank you to everyone. I plan to feature these designs in a future blog, so please keep them coming. I hope that people will have lots of fun experimenting on the disk and seeing their own ideas taking shape. However, I know that lots of people like to use tutorials  to save all the trial and error involved in working out their own designs and so I have been working on several tutorials. The first one is now ready and it makes use of the ever-popular Long Magatama bead. The braid made on the Prumihimo disk is perfect for a bracelet featuring a row of beads along the sides of the braid. Not only does this method make a great impact, but it is economical too. Perhaps the best part is that it minimises the least popular part of kumihimo, the bead threading!
So what is it about the Long Magatama which makes it so popular with kumihimo braiders? For me the most important and unique aspect of this bead is the angled orientation of the hole. It allows the bead to be used in different ways. In a fully beaded round braid design it can either create an overlapping, scaled effect or a randomly spikey look. When used with the Prumihimo Disk in this design the look is a more regularly spikey effect, but with a little bit of movement due to the fact that the hole is at the end of the bead. This is perfect for beads with AB or metallic finishes. Another great feature of the bead is the generous hole size, which accommodates S-Lon with ease.
Long Magatamas are available in a huge range of colours and finishes and are very widely available, both on-line and in beadshops. My only word of warning is that the position of the hole can be difficult to see on some of the transparent colours, especially those with an AB coating. In my workshops some people have found this very frustrating indeed!
What is the worst part about working with Long Magatamas? It is definitely that moment when you have spent a long time threading on beads and you suddenly notice that one of the first beads was threaded in the wrong direction!
Both the tutorial and the disk are available in the shop,