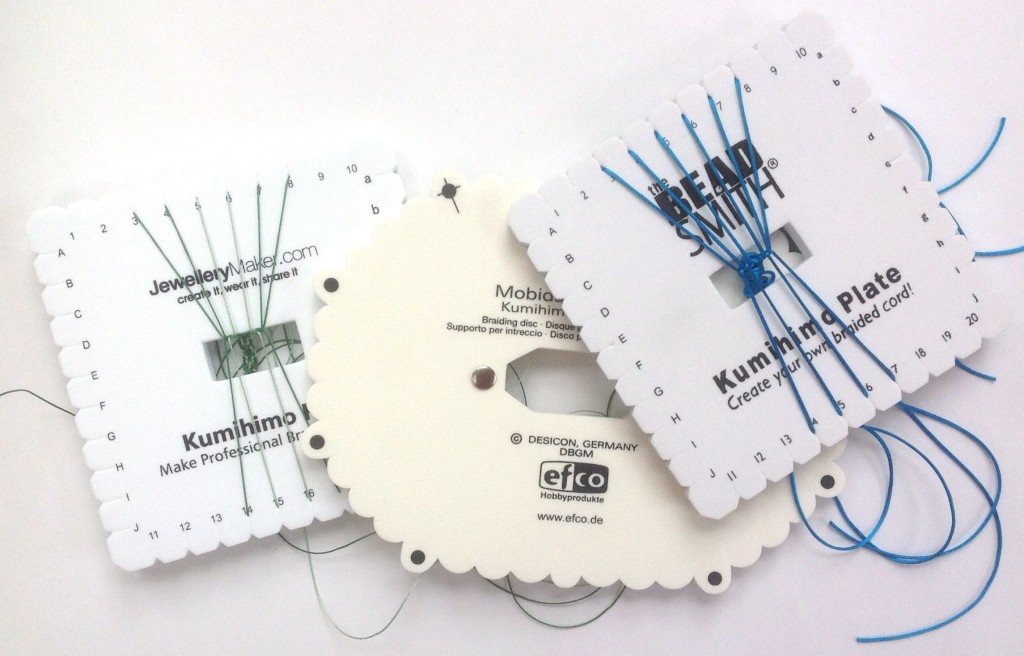 The square plate is perfect if you want to make flat braids. It can also be used to make some of the braids more commonly made on the disk, but this section will concentrate on braids made only on the plate. There are several different plates on the market and the numbering system and notches can vary, but they will all do the same job. They are sometimes referred to as a square disk or a Mobidai disk XL-Stretch.
Far fewer resources are available for the square plate than can be found for the round disk and consequently it is a very underused piece of equipment. The names of the braid structures can be very confusing. There is no common naming system in English and the two commonly used Japanese names (une gumi and anda gumi) do not apply to all of the possible braids. As a result, it is helpful to think about the braids in terms of their structure, rather than the name. Luckily it is far easier to understand the structure of the flat braids than it is to understand the spiralling nature of the basic round braid made on the disk. It is also very easy to play with different moves and 'invent' your own braids, so do not be afraid to experiment.
Most flat braids follow the same pattern. A series of moves are made from the top to the bottom of the disk and when all the cords have been moved, a series of moves are made from side to side to bind the braid together. The surface pattern is determined by the moves from top to bottom. They may be worked from left to right, to create a diagonal design, or they may be worked from the middle outwards, to create a chevron design. They can also be crossed over to create a verticle design.
The shape of the braid is determined by the number of cords crossing from side to side. One cord crossing through will produce a very flat, ribbon-like braid, while 2, 3 or 4 cords crossing over will result in chunkier braids, with more of a rectangular or square profile.
These are the braids I find most useful in my work. There are a few more I will add to the list in due course. (Some of the following braid structures have been developed for use in my tutorials, so I will not be providing free instructions for them)
#1 10 Cord flat braid – Chevron pattern, 1 cord crossover (une gumi)

#2 12 Cord flat braid – Chevron pattern, 1 cord crossover (une gumi)

#3 10 Cord flat braid –  1 cord crossover, diagonal pattern and constuction (anda gumi)

#4 10 Cord flat braid – Verticle/horizontal pattern, 2 cord crossover

#5 10 Cord rectangular braid – Diagonal pattern, 3 cord crossover – See Jangle Dangles Tutorial

#6 12 Cord square braid – Verticle or chevron pattern, 4 cord crossover – New tutorial coming shortly!
#7 8 Cord flat braid – Verticle/horizontal pattern, 1 cord crossover – Instructions to follow
#8 20 Cord flat braid – Chevron pattern, 1 cord crossover – Instructions to follow