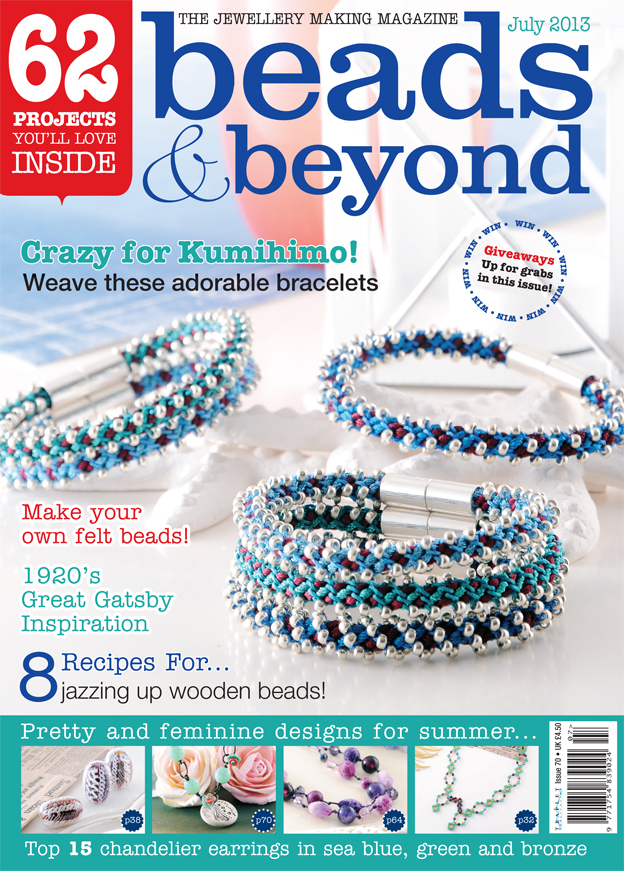 Few things can compare with the sight of a magazine in the local newsagent with your own design emblazoned across the front cover. I know this because it has just happened to me! I am officially a cover girl and I am going to make the most of it! Not only am I pleased for myself to see my design given such prominence, but I am also delighted to see Kumihimo being given such a high profile.
I may be a tiny bit biased, but I really think that every jewellery maker would find Kumihimo skills useful. Why hang your gorgeous lampworked beads, silver clay pendant, wireworked focal or beaded centrepiece on a boring length of expensive chain when you could quickly and cheaply make up the perfect partner with a few old threads?
The way to get more Kumihimo into magazines and onto front covers is to give feedback to editors. They really do take letters and comments seriously, so if you would like to see more you need to write in, email, comment on Facebook and submit photos of your work. Spread the word!