Kumihimo Braid-along – the Sampler Necklace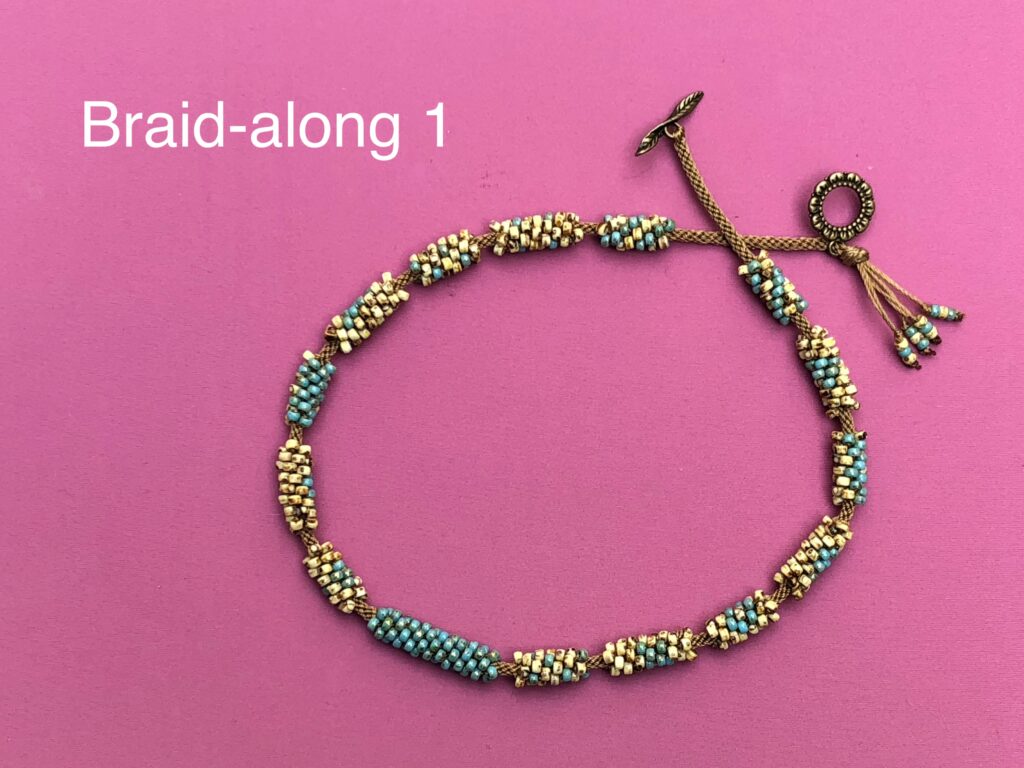 In May I ran a braid-along for the members of my Facebook group (Kumihimo by Prumihimo and Friends). It took place over a 2 week period and involved daily posts with instructions and links to my YouTube videos. Each day the participants made a new beaded section on a braid, which worked up into a beautiful necklace. The aim was not only to have fun and make something pretty, but also to teach new skills. The main skill I wanted to teach was how to create a bead counted design. By that I mean a braid where the beads have to be threaded onto the cords in a specific order to create a particular design. To simplify matters I devised a series of 4 row repeat patterns. These can be repeated as many times as necessary to make a long braid for a bracelet, necklace or lariat. For the braid-along each 4 row repeat pattern was used to make a different beaded section, that built up into a sampler necklace. This can be used to help with design of future braids. I deliberately did not provide a detailed list of materials because I wanted participants to be able to use their own creativity and stash to make something individual to them. Each day I encouraged people to post their work in progress. Over 70 people took part and posted their work, while an unknown number joined in without posting! The daily posts were lively and inspirational and I was delighted to find that a wide cross section of braiders took part. Some of the participants were complete beginners and made huge progress. Some of the participants were very experienced braider and I was very honoured that they chose to join in even though the techniques were not new to them. The feedback showed that everyone really enjoyed it and are looking forward to the next one.
Now that the braid-along has finished it can still be followed and to make it easier I have put all the posts together on this website. I hope it can now be enjoyed by many more braiders. All I ask is that if you use my material and post your work that you credit me with the designs and encourage others to watch the videos.
Click here to find the braid-along.
The next braid-along will be for the Prumihimo disk and will probably take place in July or August. I am currently working on ideas. The Prumihimo disks are now back in stock on this website. They are currently only available either from selected shops in the UK or directly from this website, so if you live elsewhere and you would like to take part in the braid-along I recommend ordering your disks promptly. Inernational shipping can be expensive, so in order to make the best use of the shipping categories and weight limits I have bundled together disks and/or books.
Click here to order disks and books