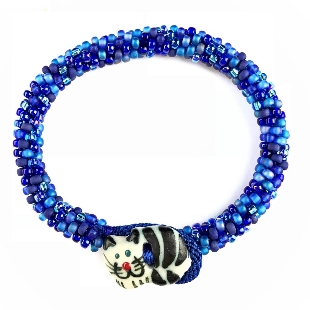 My signature cat button bracelet kit has gone blue for the summer!
This kit has been specifically designed to accompany my second book, Kumihimo Endings – The finishing touch for every braid. The book is full of both popular and innovative methods of finishing off kumihimo braids and other textile jewellery. The chapter I am most proud of is Button Fastenings because I have worked hard to find as many ways of fastening a braid with a button as possible. There are 7 different endings, but the possibilities are way higher than that due to the mix and match cord finishing element of the instructions. There really is something to suit everyone.
My aim was to provide a kit which did not limit people to just one type of button fastening. The kit contains enough beads to make one bracelet, but it includes the materials required to make any of the fastenings in the button chapter. I advise people to look through the chapter carefully to find the ending which suits them. Some are more complex because they involve learning a new braid structure (page 44 and page 48), so they would be perfect for someone looking to extend their braiding skills. Others are quick and easy (page 27), while yet others additional beads and are more decorative (page 50 and page 51). Once the bracelet has been completed you may have a few bits and pieces left over and these can be used in other projects, or used to help you to purchase the best type and size of bead or finding.
My first cat bracelet kit was launched before Christmas and it featured a cheery mix of red tones, which proved to be very popular. For the summer I thought it would be fun to try a different colour, so I went for cooling tones of blue.  The hand made cat button is made by a community business in South Africa, employing local women and using environmentally friendly materials and production processes. Each button has its own individual character, so the illustration is only a guide, but when I buy the buttons I select them carefully in person to make sure they have friendy faces! Apologies to dog lovers, but this kit is only available with a feline!
I sell the bracelet kit and the book together so that I can offer a small saving on the individual prices. I also send an additional tutorial after purchase as a way of offsetting the shipping charge. I am often asked if I will sell the kit separately to those who have already purchased the book and I am happy to do so. Please email me if you would like a kit on its own. Otherwise the kit and book can be found in the shop on this website. The bracelet is made on the round disk and this is not included in the kit.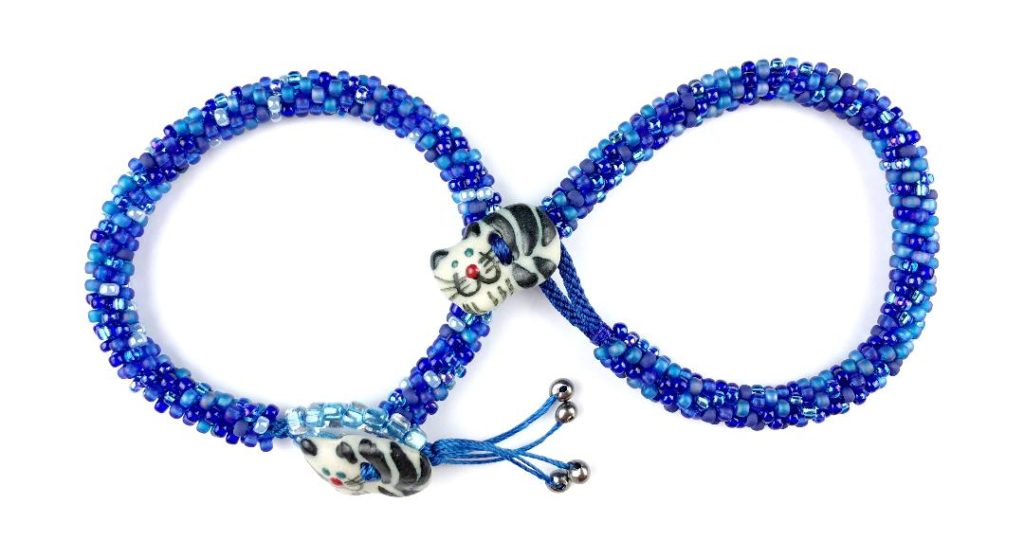 This photo shows just two of the possible endings. On the left is a beaded button hole (page 50) and on the left is a loop button hole (page 42).
Blue cat button bracelet kit and book