Product Description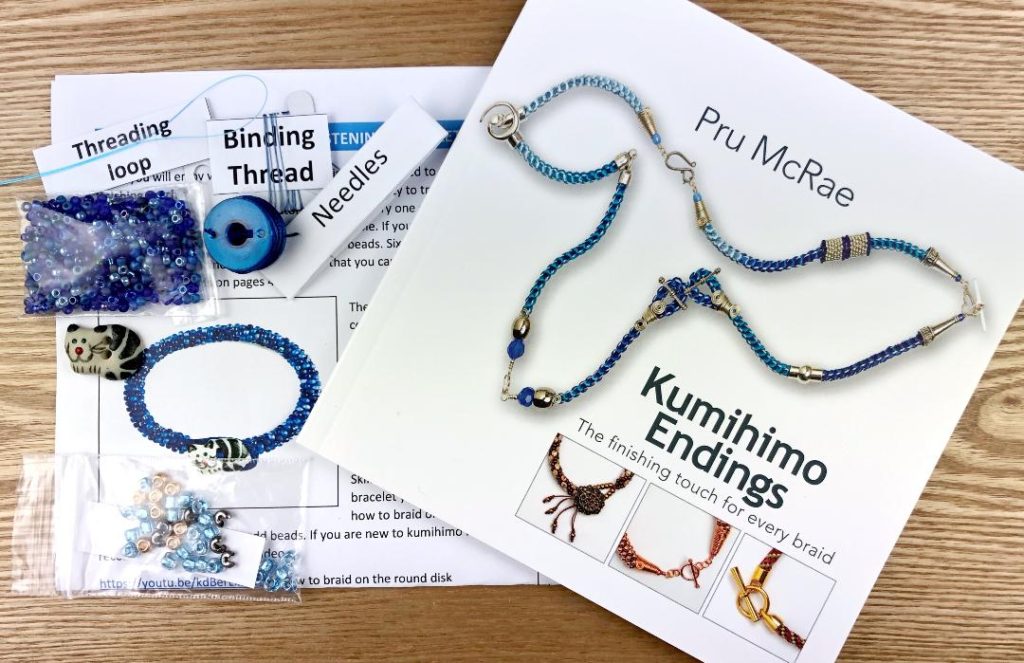 This kit contains :
Book – Kumihimo Endings – The finishing touch for every braid
This is the essential handbook for every lover of kumihimo jewellery and is packed with everything you need to know about finishing off your kumihimo. The concise, fun and easy to use presentation explains a wealth of ending methods, suitable for beginners and more experienced braiders alike. 78 pages 160mm x 160mm.
Tutorial – Full instructions for  a button fastening bracelet, including handy tips for sucess and colour photos.
Button – The hand-made cat button is made by Incomparable Buttons, which is a community business in South Africa, employing local women and using environmentally friendly materials and production processes. Each button has its own individual character, so the illustration can only be a guide.
Seed beads, size 8 – The beads are a carefully selected mix of seed beads in tones of blue, including a variety of different shades and finishes. This is enough for ONE bracelet
Seed beads, size 6 triangles (light blue) – These are provided for use with a beaded loop (page 50 and 51 of the book)
Seed beads, size 6 (gold) – These are provided for use as stop beads
Crimp covers – These are provided to finish off tassels (page 53)
Cord – S-Lon 0.5mm/Tex 210
Binding thread
Needles – sewing needle and large-eye needle
Threading Loop – a handy loop to assist in attaching the button.
Important – To make this bracelet you will need a round kumihimo disk. You may also need a drop of glue to secure the binding. It is not essential, but it is recommended. Most types of glue can be used for this purpost, such as all-purpose glue, fabric glue, clear nail polish, super glue etc
Please note that for international shipping regular airmail will be used and this is not tracked. Although most packages will take approximately 2-3 weeks to arrive they can take longer , so you may need to be patient. If you wish to pay extra for tracked mail please request this in the comments box.
An additional tutorial will be sent by email to help offset shipping charges.
This is just one of the 7 different variations of button fastening in the book!