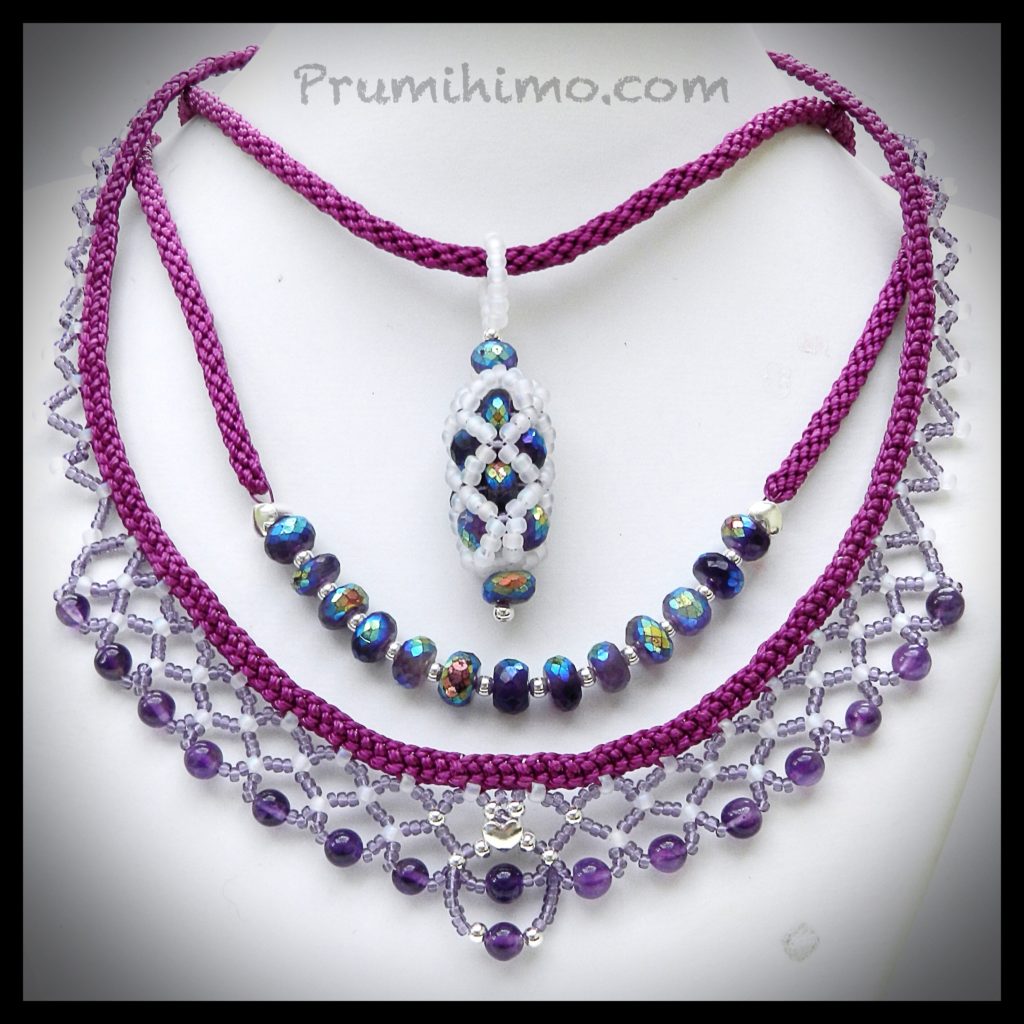 Actors are warned never to work with animals or children. Perhaps TV demonstrators should be warned not to work with tiny, glass seed beads! They certainly fought back when I tried to sew them into some sort of order on my most recent appearance on Jewellery Maker TV. The first difficultly is that I have to work with them at waist height. At home I find it easier to work with seed beads much closer to my face. That is impossible in the studio because I am not allowed to get my head inbetween the beads and the overhead camera. The other difficulty is that there can be a lot of counting involved with seed beads, which is not easy when you are having to talk at the same time. It is very hard to see the hole in transparent beads or very dark beads, especially at a distance, but the biggest problem of all is that seed beads are just plain mischievous! They try to jump away when you try to thread them, they like to slide off the needle when you lift it up and they can leap surprisingly long distances! Why do we put ourselves through this? Many people say they could never work with tiny seed beads, but they really have a way of luring you in. It is so exciting to see a complex design take shape and there is something very satisfying about being able to create something special out of the simplest of materials and the repetitive nature of beadweaving means that designs are often not as complex as they appear.
The key to success is good light, a comfortable sitting position, a proper beading mat and plenty of time.
There are numerous books and videos available for beadweaving designs and I think it is worthwhile learning all the basic beadweaving stitches, such as peyote, netting, brick stitch, spiral stitch and right-angle weave. Then how about St Petersburg stitch, African helix or Cellini spiral. The beadweaving community is very dynamic and there are are always new stiches being devised, such as Albion stitch or Hubble stitch. All of these beading techniques can be used to enhance your kumihimo and here are a few ideas.
Peyote stitch can be used to make tubes to cover the braid ends.
Right-angle weave can be used to make beaded beads to thread onto braids, singly or as a group
Cellini spirals and African helixes have hollow centres which easily accommodate a braid
Flat spirals make lovely pendants or connectors
Which brings me to Netting, which I used for the show to make a pendant for one necklace, a ring shaped focal for another necklace  and for yet another design I used a braid to create the structure for netted design.
Instructions for the designs from the show have now been posted. Click on the kits to find the details.
If you are interesting inexploring further kumi/beadweaving designs you may be interested in these tutorials.