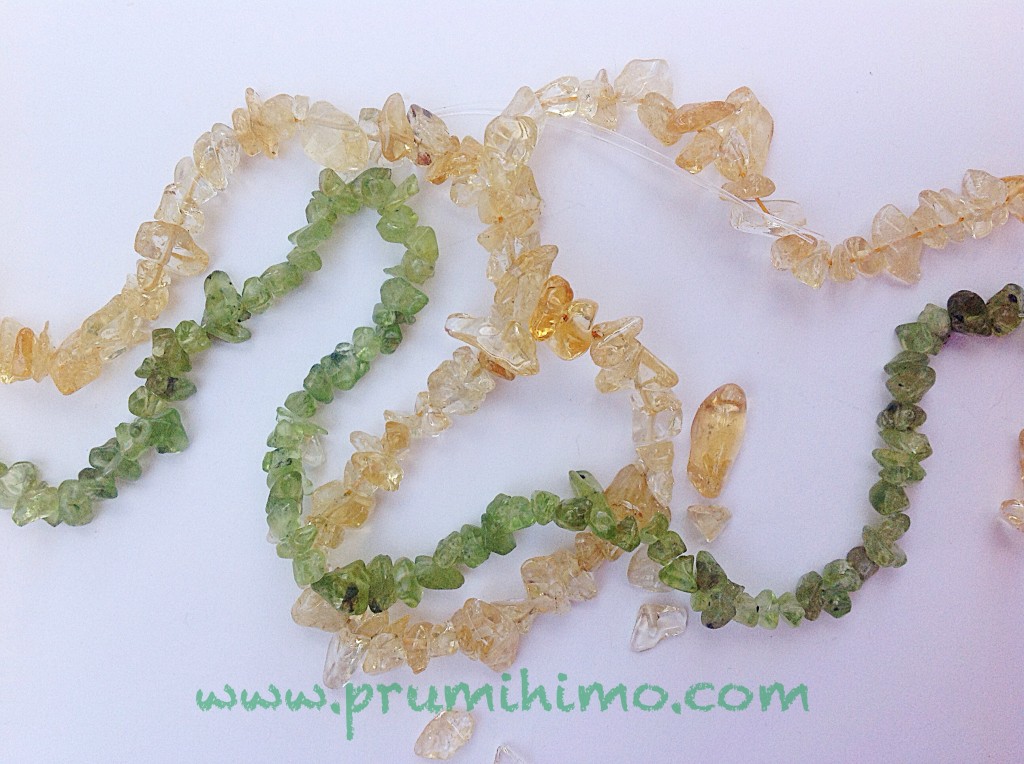 I was surprised, delighted and honoured to find that I had been chosen as Blogger of the Week by Jewellery Maker. I try to post every week, but now I might be encouraged to write far more frequently!
Since last appearing on Jewellery Maker I have been recovering and working on tutorials. I have just sent off a tutorial for Digital Beading Australia and this photo is a little peep at some of the materials. It is a lovely warm combination of citrine and peridot, which work brilliantly together and the chip shape is perfect for braiding.
Writing for a digital magazine is quite different to working for a traditional magazine. First of all the lead times are very short, so the issue this tutorial will appear in should be available within two weeks. By contrast, I am just about to start work on a tutorial for Beads and Beyond, which is destined for the October issue! The other difference is that traditional magazines tend to require designers to work to strict word counts. Sometimes this can be difficult, but it is also very good training and teaches you how to be really precise and succinct. Digital magazines tend to have much looser guidelines, if any. Writing tutorials for sale on this website is my favourite way of writing because I have complete editorial control and can write as much or little as I like, have as many steps as I want and use loads of photos. However, I am glad I have the experience of each type of tutorial writing and I feel I learn from each one.
I would really like to write for one more magazine, preferably a foreign publication and I have got my eye on a couple of possiblilities. As I haven't done anything about making proposals to these publications, this ambition might take some time to come to fruition!
Thank you very much Jewellery Maker for your support and encouragement!