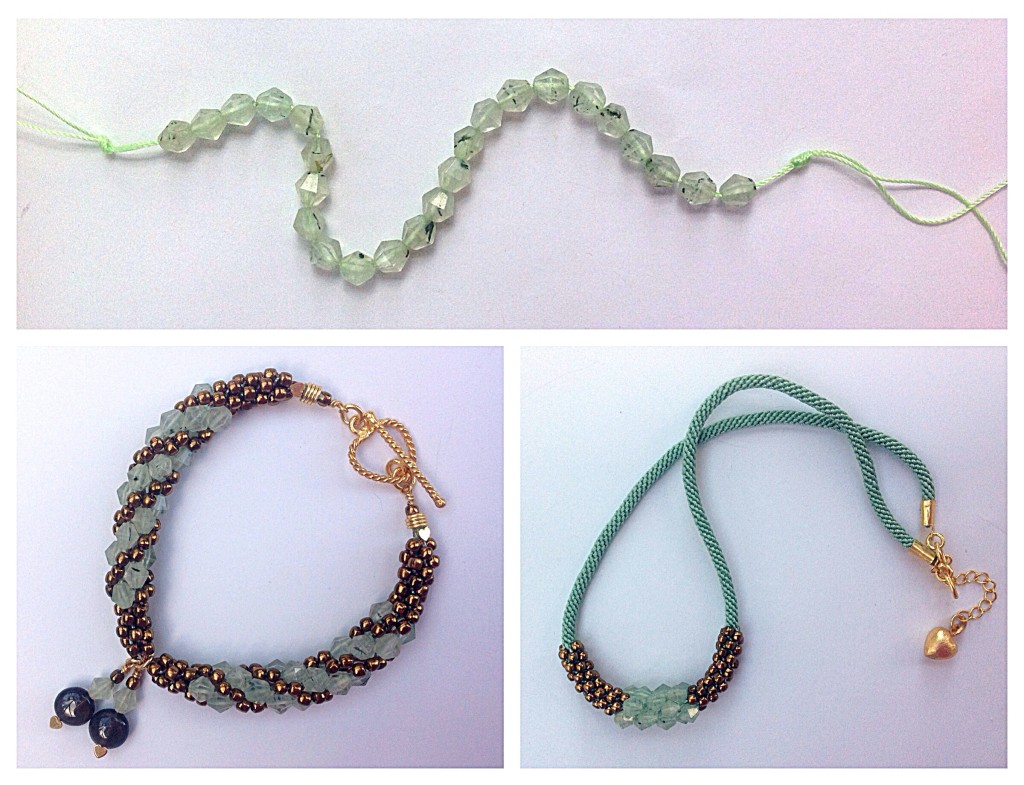 One of the exciting aspects about being a guest designer on Jewellery Maker is having the opportunity to work with genuine gemstones. Each stone is totally unique and adds the sort of individuality to a piece of jewellery which is just not possible with mass produced beads. Sometimes it can be really challenging to find a way to make them work with kumihimo. At other times it is really straightforward. Either way, it has been a great experience and helps to develop my skills as a designer. I thought it would be helpful to share some of my favourite shapes and show how I have used them.
The first shape I  would like to feature is the bicone. The name is self-explanatory, it is two cone shapes joined in the middle at the widest part. Most people will be familiar with this shape as a crystal and will have found it very useful, especially as a spacer. However, it really comes into its own as a larger bead. The beads in the photo are 6mm size and the gemstone is gorgeous Prehnite. I love the way this shape of bead locks together with its neighbours when used in kumihimo. This effect works well when strung on 4 of the 8 cords of a Round Braid, as in the bracelet. I used bronze 3mm beads on the other 4 cords to add contrast and dropped in 2 small beads for every large bead added.  The shape also works brilliantly when strung on all 8 cords, as in the necklace. The bicones fit together perfectly, creating a substantial, geometric focal point to the necklace. This way you get the full effect of the gemstone. The way they fit also means that virtually no cord shows between the beads.
The best place to find these stones is Jewellery Maker. The range is always changing, so it is worth checking frequently to see what is available and the best way is to search by shape to find what you want. Click here for the link to the bicone page.
To see my instructions for the designs in more detail, click here.