Trying Something Different!
Working for Jewellery Maker can be challenging because the designers have no control over what is put in the kits. We have all indicated the sort of materials we prefer to work with, but there is no guarantee that we will get what we find familar and easy. When I opened the parcel for my recent show I really did get a bit of a shock, because almost everything was outside my usual experience with kumihimo. I like to work with tiny seed beads, but I got a big bag of huge wooden beads, measuring up to 3.5cm! I like to work with thin ribbon, but I got  5cm wide ribbon! I like to work with S-Lon, but I searched the box and found none!
However, after a lot of thought and experimentation I came up with some of my favourite Jewellery Maker designs.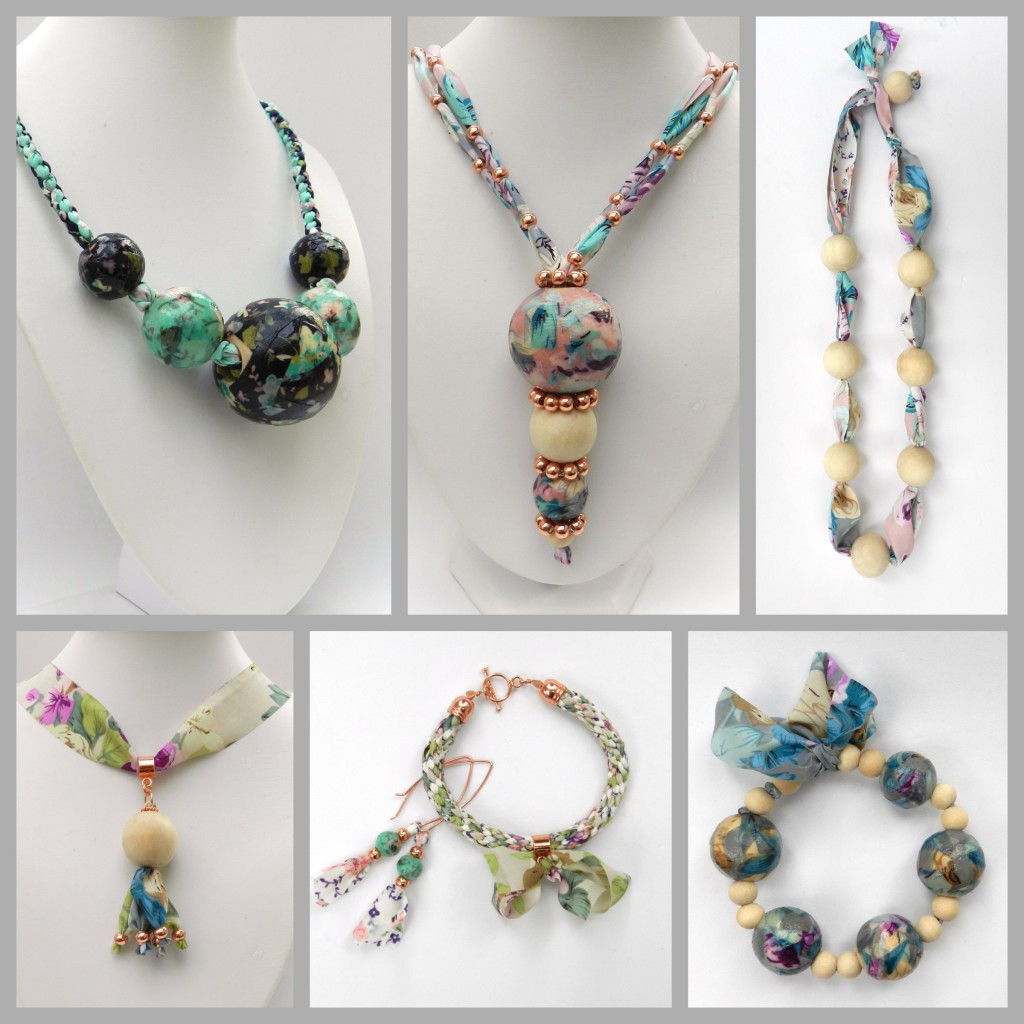 The first kit contained floral ribbons with a bit of a Kath Kidson look, so I decided to use some of the ribbon to cover the wooden beads using the decoupage technique. If you have not tried decoupage I do recommend giving it a go because it is lots of fun and very effective. The ribbon was very silky and fine, so it worked perfectly with the Decopatch glue from my stash. I used some of the remaining ribbon for kumihmo, some for bows and some as a threading material with the large wooden beads. The other advantage of having to try something different is that there is lots to demonstrate on the show and it is fresh and new for viewers.
The instructions for the kumihimo designs can be found by clicking here.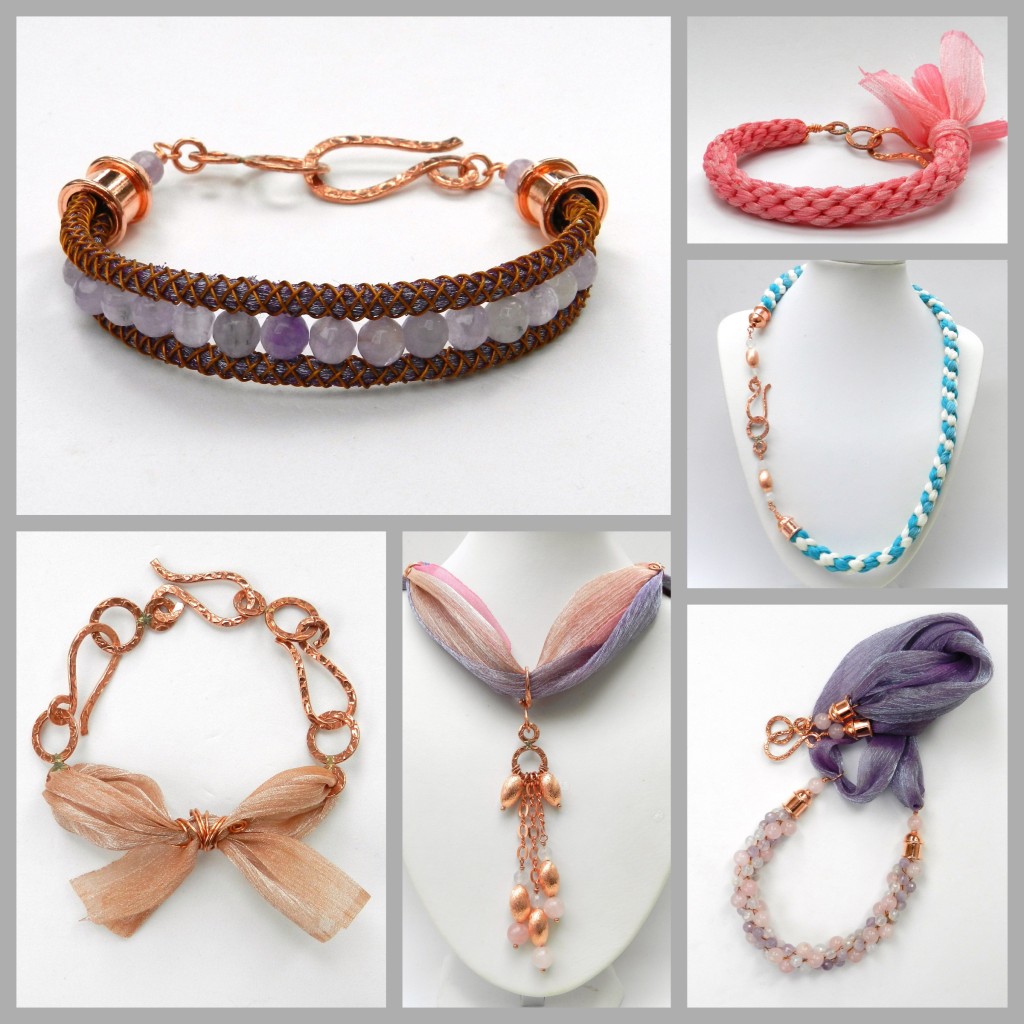 The second kit contained wide organza ribbon, which I found too wide to use in the regular 8 strand Round Braid, but I found that it could be cut in half along the length to make a more manageable braid. I also used it in a 4 strand braid and used it to hang both a pendant and a beaded kumihimo focal section. While I was very pleased with these designs, none of them were complex enough to work as a demonstration piece, so I experimented with what I had left and came up with something quite unusual. I used the flexible beading wire/thread to make a 6 cord Hollow Braid and then introduced the ribbon into the middle of the braid and continued to braid around the ribbon. The effect was far better than I imagined and I am very excited with the potential of this type of braid. For the show I made a bracelet with two braids and a row of gemstones in between. Changing the ribbon colour made a lovely variation. I can't wait to be able to experiment further with this idea.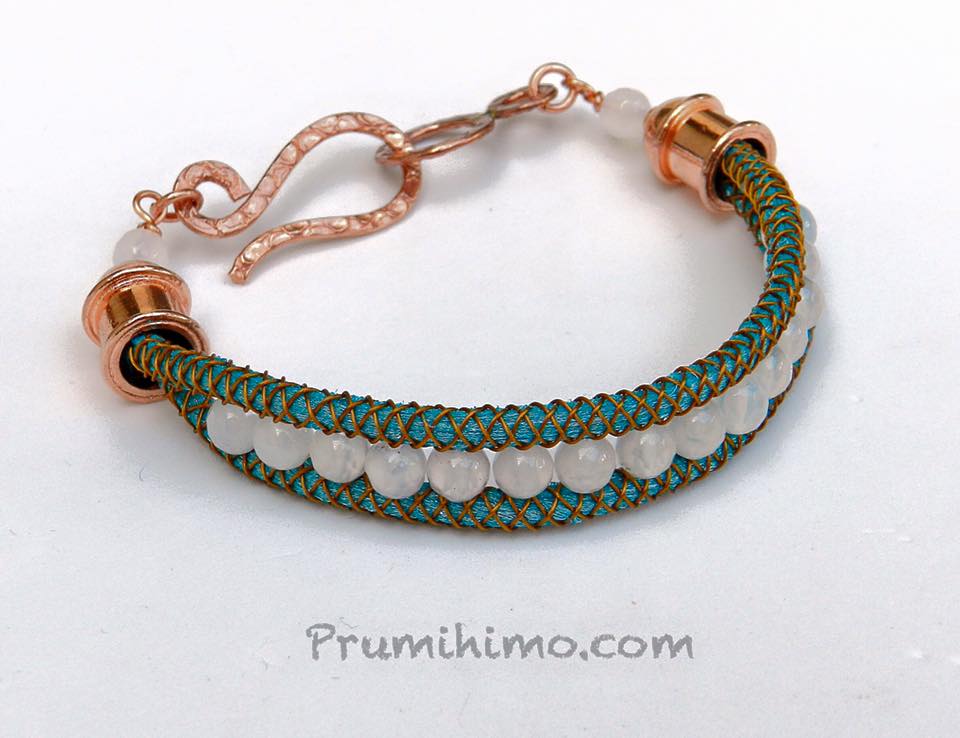 The instructions for the kumihimo designs can be found by clicking here.
To watch the show click here.