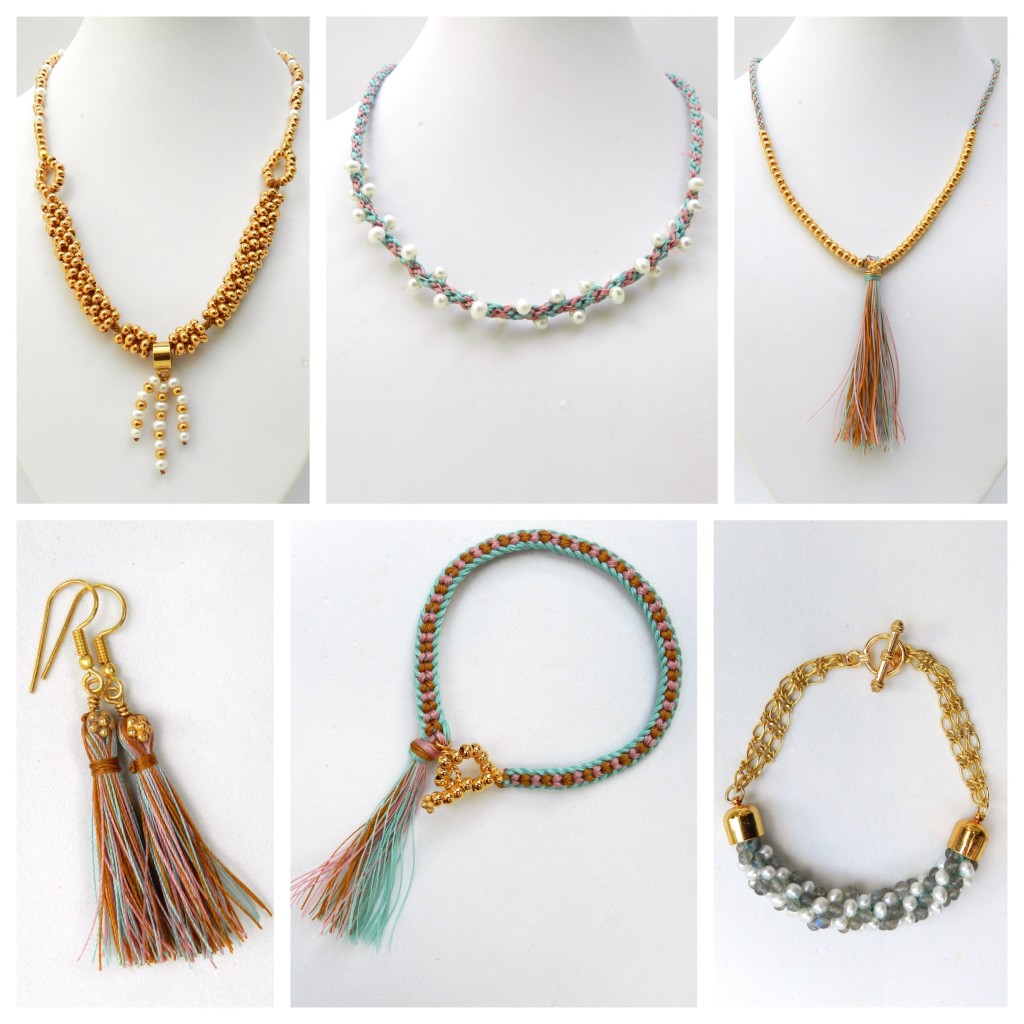 I have just finished putting the instructions for the first kit I demonstrated yesterday JM onto this site. This kit was all about fine cords, so it was a great opportunity for me to explore the potential of finer cords in kumihimo. The most obvious advantage of the S-Lon Tex 135 is that it will fit through most gemstones and pearls, which allowed me to make fully beaded kumihimo with with tiny pearls and labradorite. My favourite design was a braided pearl necklace with the pearls fairly widely spaced, so that the braid was fully visible. I demonstrated this on the show using the pink, gold and aqua colours in the kit and also wore a similar version in blue to match my top. The design is quick to make up because there are only 30 pearls to thread and the cord passes easily through the drill holes. Using multiple strands of cord in some of the slots means that the braiding is not too time consuming.
I hope lots of people saw my way of making tassels and the way I keep the reels of cord under control. It is a really useful technique and works particularly well with fine cord. I also left the cord ends to work as a tassel in several designs, rather than covering them with a cord end.
I look forward to introducing more of the techniques made possible by such fine cord. While the regular S-Lon cord (0.4/0.5mm Tex 210) will always be the 'go-to' cord for beaded kumihimo, many opportunities are opened up by the use of the finer cord. I would definitely recommend stocking up on at least a few reels in black and neutral colours. The cord is fine enough to use with a needle for embellished designs and can be used for bead weaving as well, so it has many uses other than kumihimo.
The show can be seen by clicking here.
The instructions can be found by clicking here.