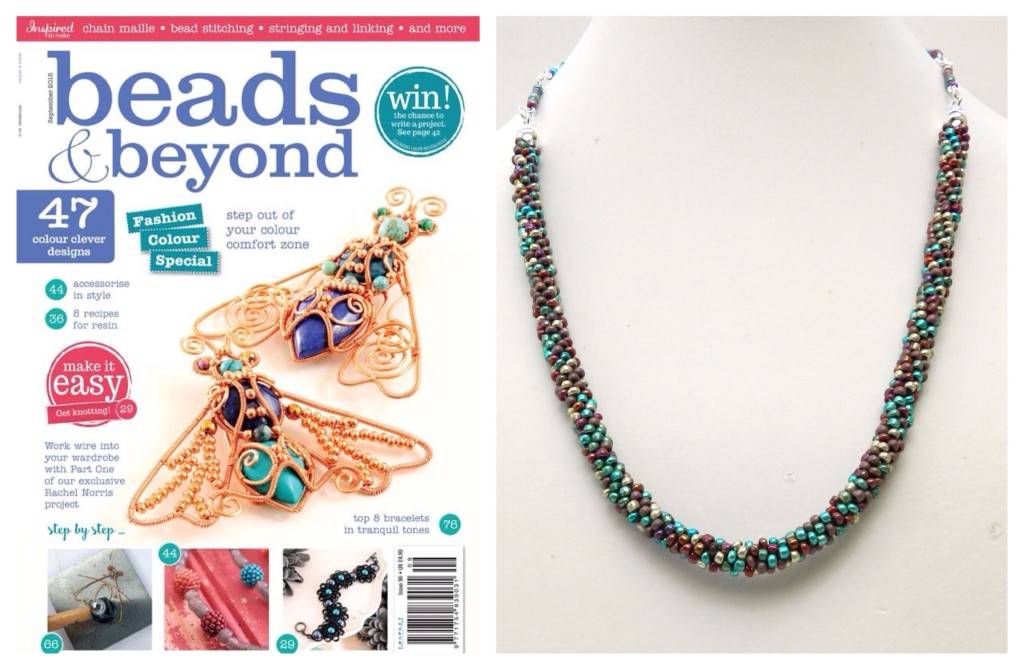 It is always thrilling to see your own work in print and one of my most treasured collections is the stack of magazines which include my work. In most cases the work would be in the form of a tutorial, but there are other types of submission. The Designer Challenge in Beads & Beyond is one of my favourites, for several reasons. The first Designer Challenge I did was for the April 2010 issue and it was the first paid design work I completed. I even had my photo in the New Designers section, so it was a very exciting moment for me and confirmed that this was the direction I wanted my jewellery making to take. Since then I have submitted numerous Designer Challenges. In fact, I am not even sure how many I have done, so I really must update the 'Pru in Print' section of this website to get a clear picture.
For me the most important aspect of the Designer Challenge is the fun! An identical mystery parcel of goodies is sent to 4 designers and 3 designs need to be made. When I start work I always worry that my designs will be too obvious and that my designs might be too similar to what the other designers are making. However, you have no idea who else is doing the challenge, so you just have to hope for the best. The materials may take you totally out of your comfort zone or they may play to your stengths. Either way, you need to come up with something interesting. Brief instructions need to be written up and then the designs and the instructions are sent off to the magazine. Imagine what fun it is to open the magazine to see what everyone else has made. It is my favourite part of the magazine, even when I have not taken part.
Of course, writing for a magazine is not about the payment. It raises your status as a designer and opens up other opportunities. For me that first challenge led to being asked to write a tutorial for the magazine. My first one appeared in the July 2010 issue. This was before I had decided to specialise in kumihimo, so it was for a pretty linked design with weddings in mind. When I look at the tutorial now I can see how much I have developed, but I still wear the necklace! At this point I realised that it would be wise to try to find my own area of specialisation, so that I had something specific to offer editors. I had recently started to experiment with kumihimo, so that was the obvious choice. I certainly have no regrets about that!
For the challenge this month I received a beautiful collection of seed beads, crystals, cords and findings. I particularly liked this pack because it was so comprehensive. Designers are allowed to add a few extra bits and pieces of their own, but everyting I needed was included, so I didn't need to use anything else. I always like to include at least one kumihimo design, so the seed beads were perfect for a braided necklace. I used different techniques for the other designs because I like to keep my other skills in good working order!
The September 2015 magazine is in the UK shops now. It features an amazing wirework design on the cover from my friend and JM colleague, Rachel Norris. Her work was featured in this blog a few weeks ago, so it is worth scrolling down to have a look. Fleur Hastings, who is also a friend and JM colleague, is also in this issue with a stunning chain maille design. There is also a really handy section at the back by Donna McKean Smith called 'Everything you ever needed to know about Kumihimo, but were afraid to ask'. All in all it is a great issue!