This weekend I have been learning a new skill and in the process have been able to give a tiny bit of support to our fellow creatives in Ukraine. There have been many suggestions of how to help those in Ukraine with small businesses by buying digital downloads from Etsy. By searching in Etsy and indicating Ukraine in the filter you can find Ukrainian sellers of downloadable tutorials and this is a great way to help people to keep their businesses going in these terrible times. From my search results it would seem that kumihimo is not well known in Ukraine, so I searched for other items that might work with kumihimo. Ukraine has a long-standing tradition of beaded jewellery and I came across some wonderful patterns for the traditional beaded necklaces, known as gerdans and also for some amazing beaded, fringed earrings. I decided to buy a tutorial for the structure of the fringed earrings, to see how it could be scaled up and used as a kumihimo lariat. I started with a 2-drop brick stitch version. I had never tried this stitch before, but I found it very easy to learn and it worked up quickly. The scaling up was easy because I used size 8 seed beads, instead of size 11. My initial concern was that the whole piece might be too floppy to work with a lariat, but I was very pleasantly surprised by the firm feel of the 2-drop brick stitch part. The lower part of these designs are fringing, which is very easy and it is fun to see how the design develops as you work.
This was my first attempt and I used the tutorial from this shop. (This is 2 drop brick stitch and the shop also has a tutorial for regular brick stitch) At the top I added a simple ring of beads for the connection to the lariat.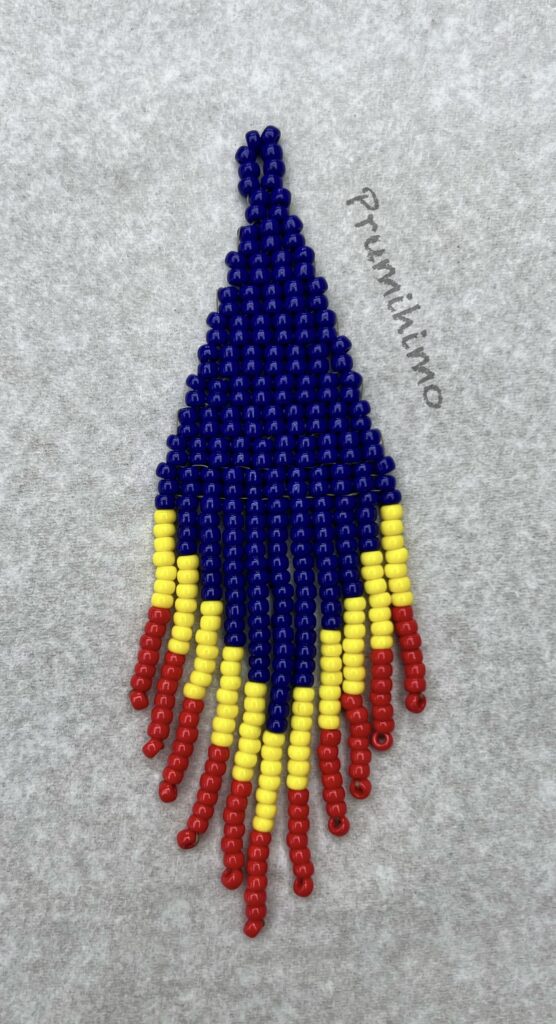 This trial piece proved to me that the idea would work, so I searched Ukranian shops for some other designs. The choice is amazing, so I selected a few to try, spreading my purchases over several shops. The first one I decided to make up is this charming butterfly wing design. I am delighted by the way it has turned out. I think it looks great and it also feels lovely to wear. The weight of the beading makes the whole design hang well and there is very pleasing movement when worn. For this one I used a jump ring as the connection between the beadwork and the lariat. An alternative would be to sew the beadwork straight onto the end cap of the lariat, with or without a thread guardian.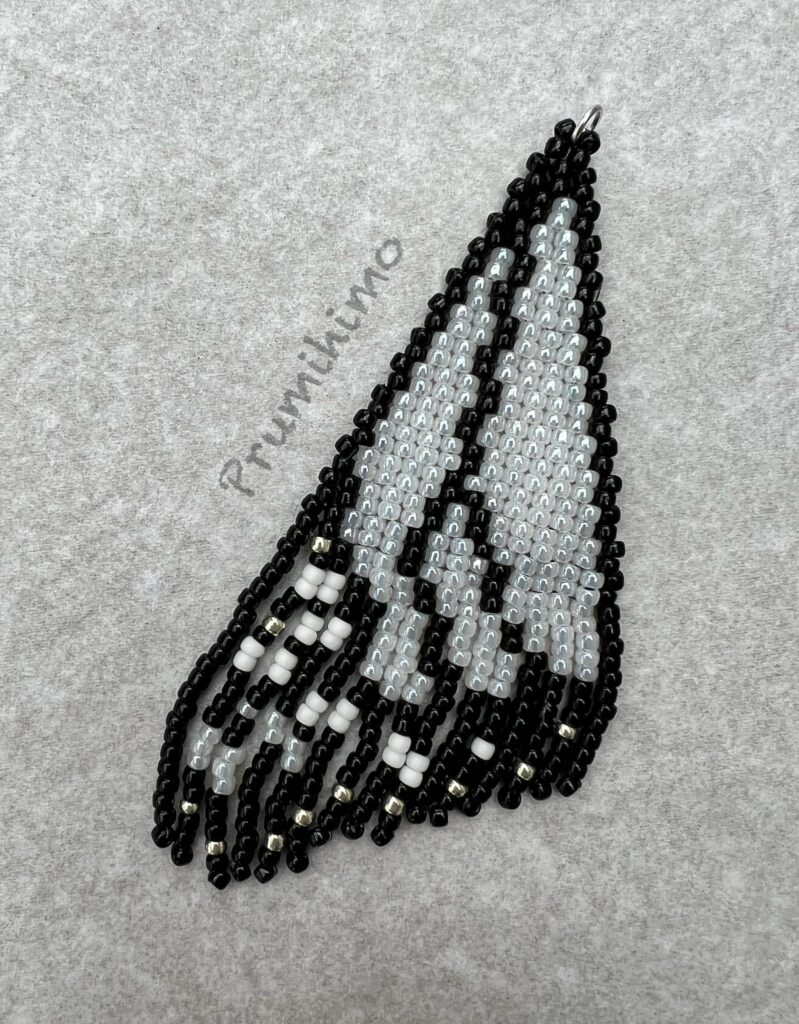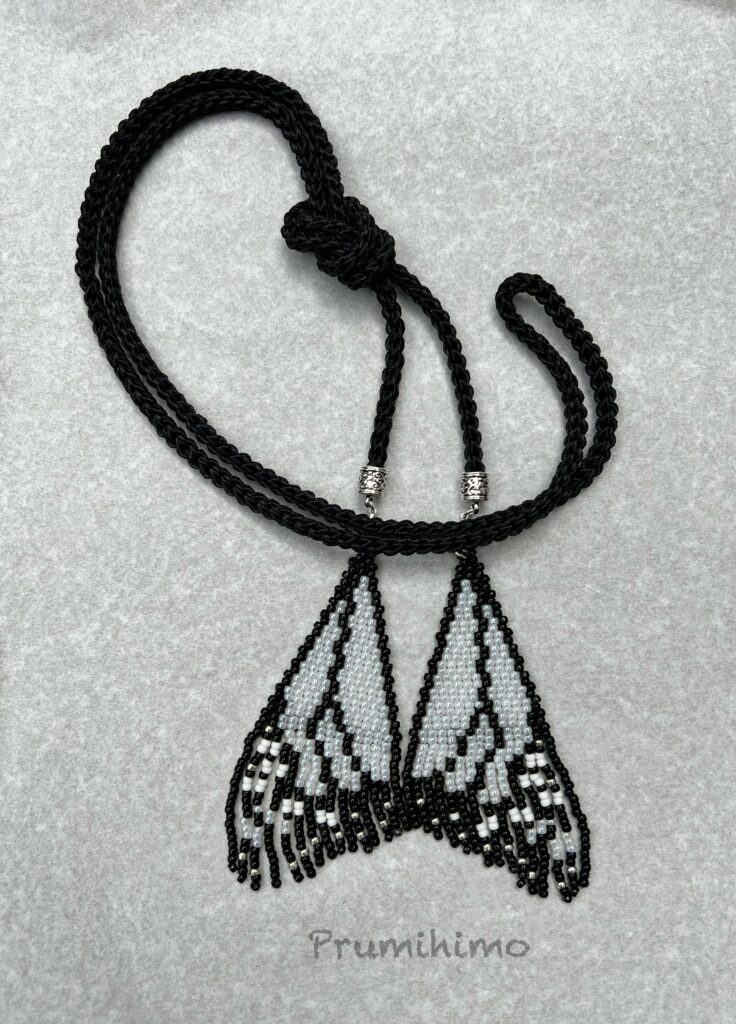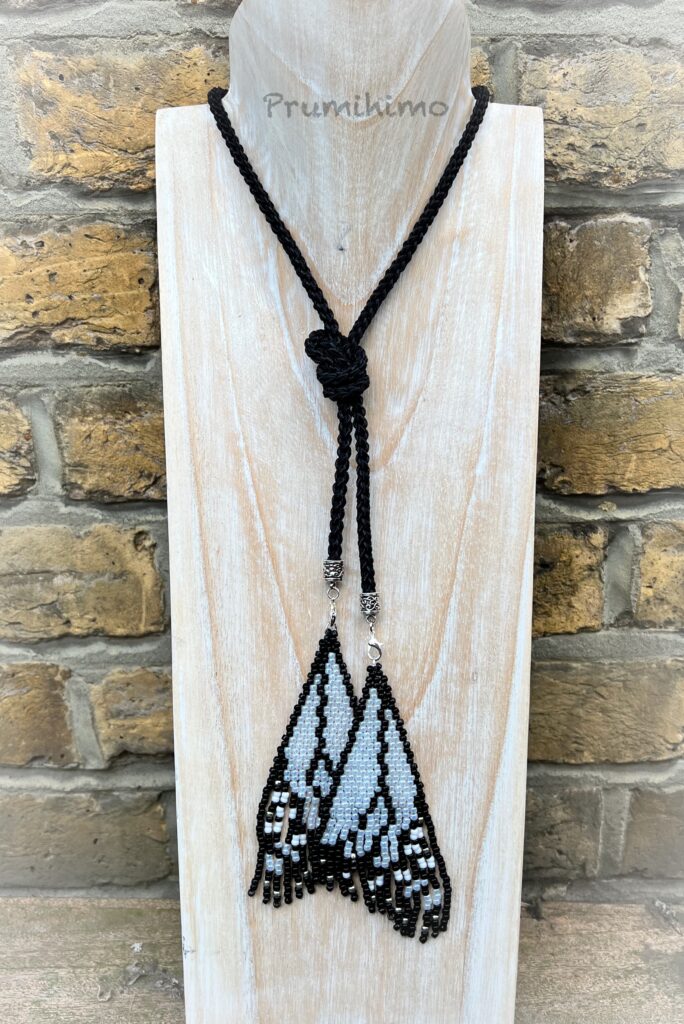 Now my mind is racing with all the other ideas and I am having trouble deciding which one to do next. I am deciding between a traditional Ukrainian style one and a cute gnome one for Christmas. Or perhaps I should go next for one of the Ukranian flag and a heart motif. I have got a few more as well – watch this space!
The kumihimo braid can be whatever braid or length you like. I used black soutache and made the braid on my Prumihimo disk. I used 2m lengths of cord to make a 1m long braid. I finished off the braid with glue-on ends and lobster clasps.
If lariats are not your thing you can make a single beaded piece and hang it from a braid as a pendant.
If you decide to have a go at this yourself you need to be aware of a few things.
The patterns generally do not include the step by step instructions for making the design. They tend to be just a chart for the top triangle and a chart for the fringe, so you need to buy a tutorial for the construction of the beadwork to get started.
There are two main constructions, the 2-drop brick stick, which produces a steeper triangle at the top and regular brick stitch, which produces a shallower triangle at the top. So far I have only tried the 2-drop, but I can see no reason why the regular brick stitch would not work just as well
If you are doing this to help to support Ukranine make sure that the shop you use is based in Ukraine. Click on the filter button and you will be able to enter Ukraine in the drop down menu. Spread your purchases across several shops to help as many people as possible
Make sure you buy downloadable tutorials/patterns (not kits or physical products as these will be difficult for the sellers to ship)
If you use a jump ring or a lobster clasp as the connection you can make just one braid and as many beaded attachments as you like
Feel free to share this idea with others, but please encourage them to buy from Ukrainian sellers
This may just be a small way we can help a small number of people in war torn Ukraine, but small efforts across a large number of people add up to a big effort. The Ukrainian people are showing themselves to be courageous, resourceful and generous and I know that those we help in this way will help others in any way they can.
Here are a few more links to Ukrainian shops selling patterns for these designs, but I urge you to explore further to spread the support as far as possible.