The second group braid-along started on 12th July 2021. As the details are posted in the Kumihimo by Prumihimo and Friends facebook group they will also be posted here and in the blog.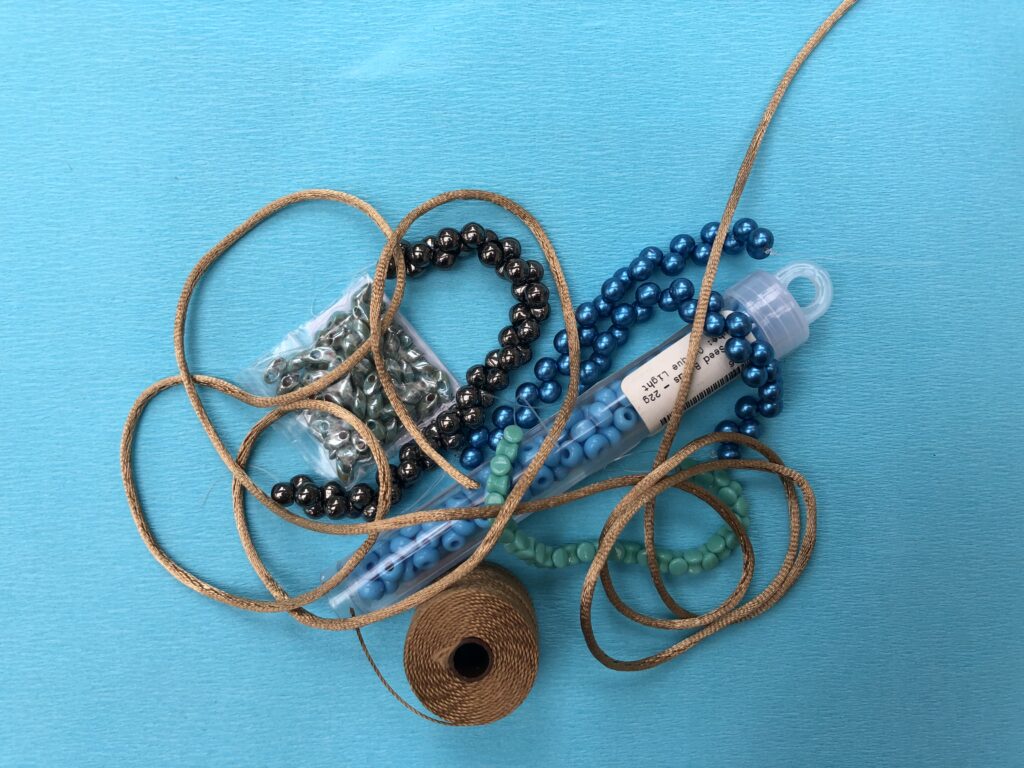 After the success of the first braid-along in my Facebook group during May I have been working hard to put together a new braid-along for the summer. I am now ready to give a few more details.
Start date – Monday 12th July
Projects – 4 bracelet projects, one per week
Duration – 4 weeks
Equipment – Prumihimo disk. The Prumihimo disk was designed by me and it is protected by design patent and trademark. Please respect this and be aware that no other type of equipment is permitted for this braid-along.
Materials – These are just approximate amounts to make all 4 bracelets. You might decide to make them all in the same colour/bead combinations or you might decide to make them all different. If you are not a bracelet person, you could make necklaces instead, which would require 2-2.5 times the bracelet quantities. If you use thinner cord you will need more beads because they will be more closely spaced. Look to see what you have in your stash and be ready to be flexible!
Cord – 10m (11 yards) 2mm satin cord and 12m (13 yards) beading cord (eg S-Lon 0.5mm/Tex210)
Beads – 250 size 8 seed beads, 150 larger beads approximately 4-6mm (eg long magatamas, 6mm top-drilled beads, 4mm gemstone          rounds, 2/0 seed beads, pellet beads, 6mm mushroom beads, etc)
4 clasps, internal diameter 6mm
Skill level – Anyone who can make a basic braid on the Prumihimo disk. My aim is to make this enjoyable and informative for newbies and experienced braiders alike.
How it will work – Every Monday I will post instructions for a bracelet made on the Prumihimo disk and will give a link to a YouTube video for instructions for the technique. You will have one week to make the bracelet and post your work. Some people will probably want to stick close to the pattern I supply, while others will want to try something different. The designs will allow for lots of individual creativity, as well as the chance to use up items from your stash. It makes no difference if you are new to the Prumihimo disk or you have been using it for years, because it is all about joining in, sharing  and having fun. We will all learn from this braid-along and I include myself in that. Seeing how different braiders make use of the same basic instructions will be so interesting and inspiring. Using up forgotten items from your stash will be so satisfying and cost effective. Seeing the progress made by other participants will perk up your mojo. What a great way to spend the summer and strengthen our braiding community.
What will I learn? – You will learn how to use beads on the Prumihimo disk using the single, double, triple and quadruple beading methods. These are the underlying techniques of all beaded designs on this disk. You will also learn how different beads can be used to achieve different effects. You will learn some great colour and bead combinations from your fellow braiders. These skills will allow you to experiment with your own designs with confidence. You will also gain the necessary skills to be able to attend my zoom workshops, which are all aimed at intermediate braiders. Most of all, if you didn't know already, you will learn what fun it is to braid on the Prumihimo disk.
Can the braid-along be completed at any time? Yes it can, but the real fun is joining in when everyone else is at the same stage. The work-in-progress posts, the critique from me, the encouragement of other participants and the time frame are all part of the learning process and the enjoyment. After the 4 weeks of braid-along it will still be possible to work through the instructions on your own because the information will be transferred across to this website as a permanent record.
Preparation – Find your Prumihimo disk or order one if necessary. These are currently only available from the UK, so if you live in another country time to get one is now getting tight. If you order now it should arrive in time, but there is no guarantee! Gather your supplies. Practise the basic braid without beads on the Prumihimo disk. It is important to be able to carry out the braiding moves confidently and accurately. If there is a slight twist in your braid it is ok, but bumps, lumps and irregular stitches are not!
Where will I find the information? – I aim to post the information for each bracelet on Monday 12th July and on each Monday for the next 3 weeks. The posts will be found in the Kumihimo by Prumihimo and Friends Facebook group. Look out for the posts on a turquoise background and they will be tagged #braidalong2 to make them easy to find. The information will also be available in the blog posts on this website and once the braid-along has finished they will be transferred to the Resources section of this website.
Let the fun begin!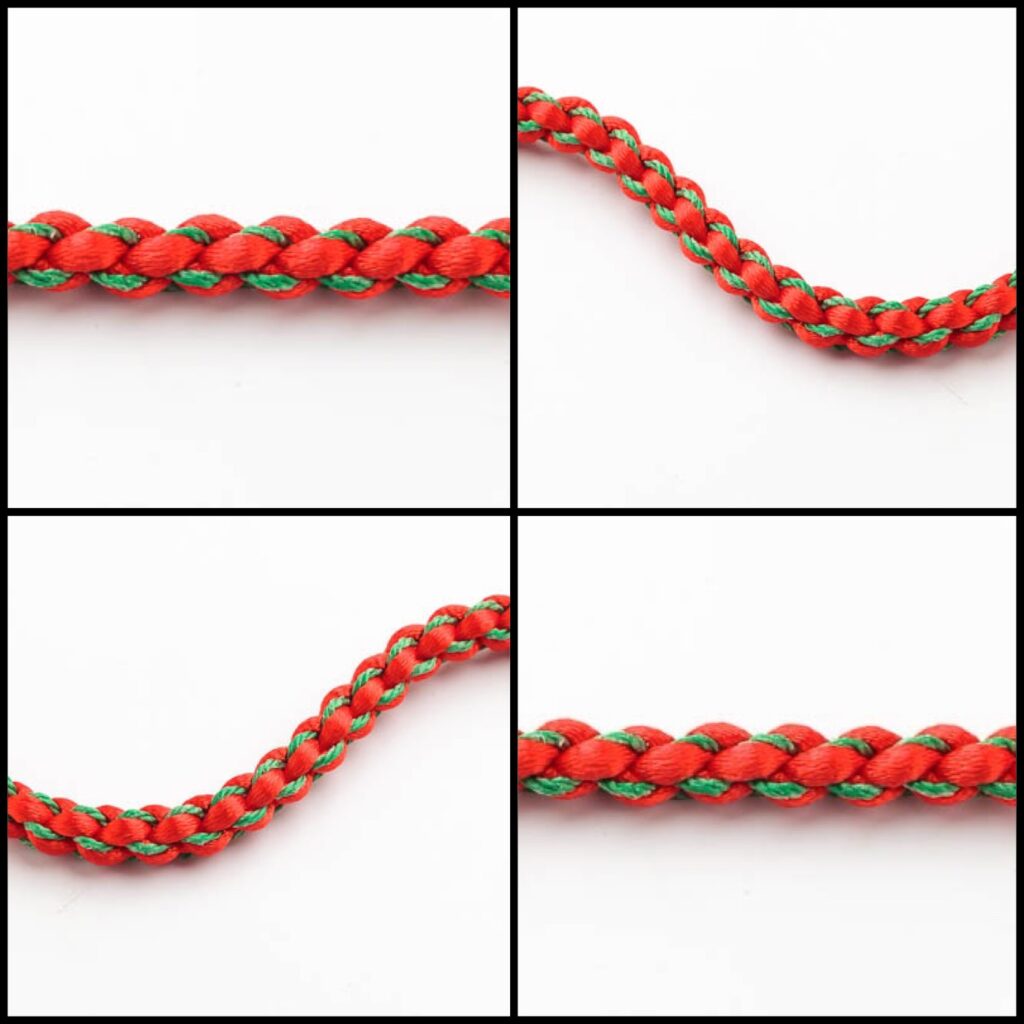 With just over one week until the start of the braid-along it is time to make sure you are ready for it, by learning and practising the braid structure and by gathering your materials.This braid-along is all about beaded braiding on the Prumihimo disk. This unique disk was designed by me and it is my intellectual property, protected by patent in numerous countries, including the US and the UK. Only this disk may be used for the braid-along and I hope that all potential participants will respect this. The disk is available for sale on this website, but with time now running short only UK orders will arrive in time for the start of the braid-along.Lots of people have purchased a Prumihimo disk for the first time in readiness for the braid-along and I have been seeing lots of posts showing that they are learning how to use the disk. This is absolutely what is needed at this stage. The braid-along is about beaded Prumihimo, so you need to know how to use the disk accurately and confidently to make plain braids before 12th July. Failure to do this will result in disappointment! If you do not master the basic braid structure your beads will not form correctly on the braid. When you start to learn the braid it is a really good idea to use contrasting colours of satin cord and beading cord, so that you can identify any errors in your braid. You should be aiming for a smooth braid, with even stitch lengths and the beading cords forming in straight lines along the braid. A gentle curve or twist to the braid is fine. This is a very common, minor tension issue and can be corrected by steaming. You can find out more about steaming a braid here. However, lumps, bumps, kinks and uneven stitch lengths are signs that you are making errors or you are not keeping the braid in the middle of the hole in the disk. This video will help you to get the basics right. Please watch it carefully and practise, practise, practise until you get it right!Prumihimo Disk Quick Start 

Have you gathered your materials? Please refer to the previous blog for the suggested list of materials. This is only intended to be a guide because you are sure to have other suitable beads in your stash and you may change your mind about what you want to use as the braid-along progresses. Each Monday I will post instructions for the task that week. When you see what other people have made that week it might encourage you to be more adventurous the next week. The aim is that we should learn from each other.

More information about the braid-along will be posted during this week both here and in the Kumihimo by Prumihimo and Friends group.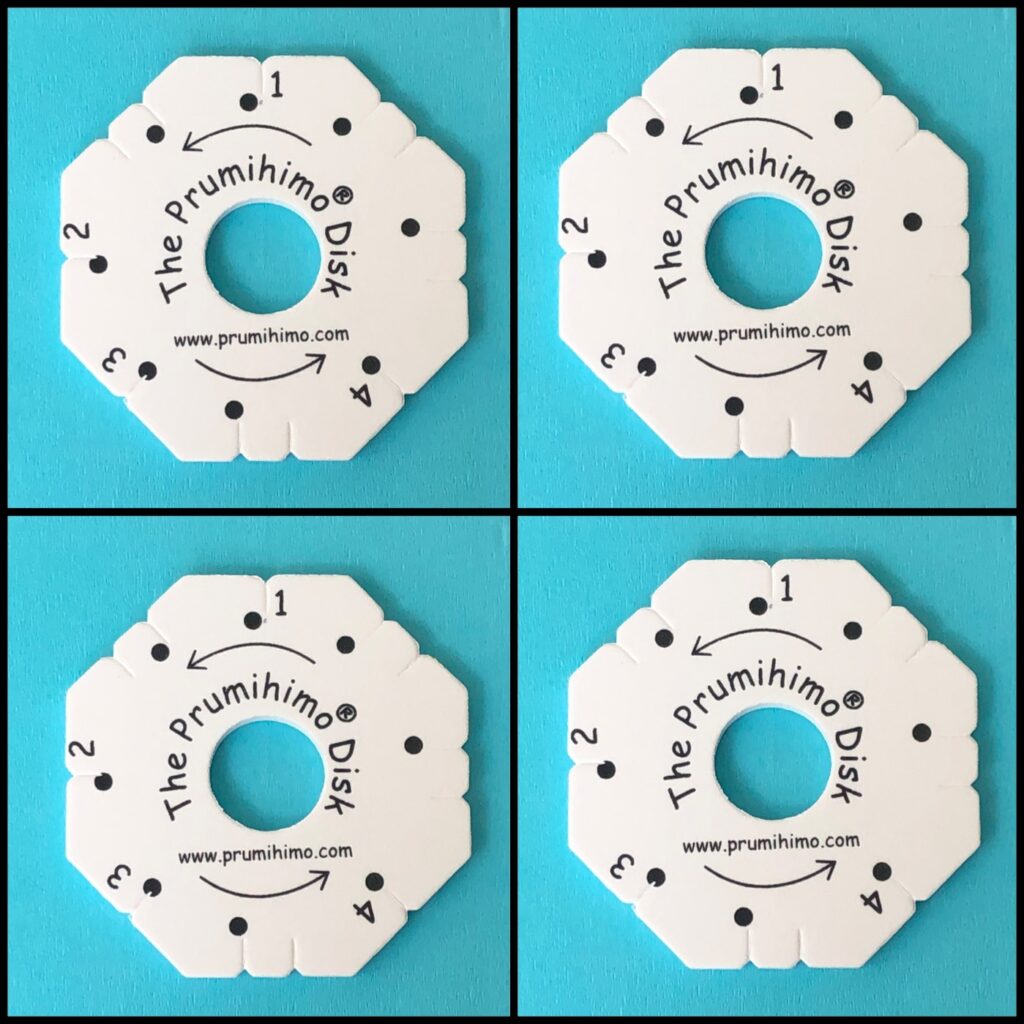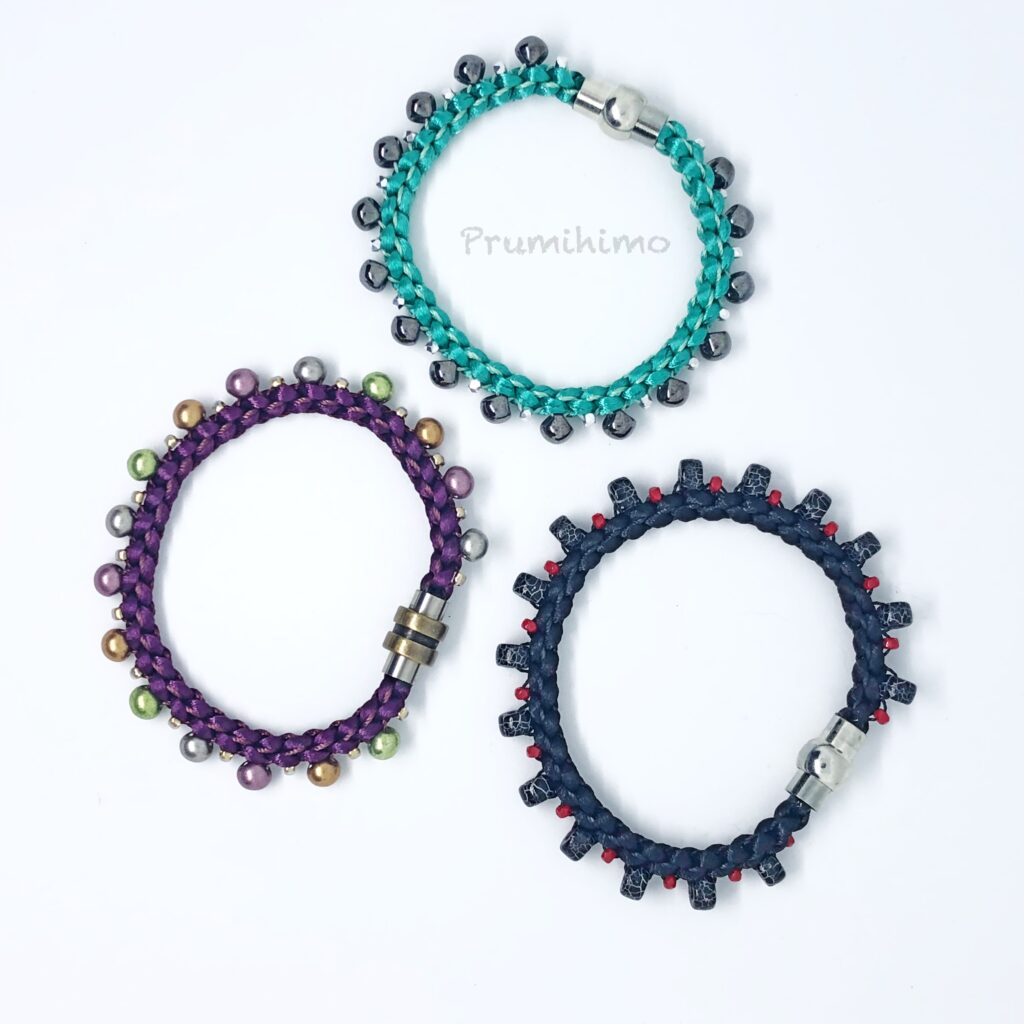 This is the start of the second Kumihimo by Prumihimo and Friends group braid-along. This group activity is all about learning to use beads on the Prumihimo disk and sharing what we make, so that we can learn from each other. For week 1 the task is to make a braid using the single beading method, which creates a single row of beads on one side of the braid. I have filmed a video to explain the technique and I recommend that this is watched first. Then the following bracelet instructions can be used to make a bracelet. If you prefer you can use more cord and beads to make a necklace. You will need to multiply the quantities by approximately 2-2.5 times. The fun comes when everyone shares their braids and we see how different the bracelets can look depending on the sizes, shapes and colours of beads used. I hope that people will get creative and hunt through their stash to find unusual beads. All I ask is that for this first week of the braid-along you stick to single beading, which is beads on just one side of the braid. When you have made your bracelet please post it in the dedicated post in the group. This keeps all the work together and forms a valuable resource for our group. Please be sure to read the comments and questions in the post before asking questions, so that we do not have duplication.
Gather your materials  4 x 60cm (24 inches) 2mm satin cord, 4 x 70cm (28 inches) beading cord 0.5mm/Tex210, 15-18 size 8 seed beads and 15-18 larger beads
Set up your disk. Tie all the cords together at one end and put the satin cord in the top and bottom slots with dots at numbers 1 and 2. Put the beading cord in the top and bottom slots with dots at numbers 3 and 4.
Braid for approximately 2cm (1 inch)
Thread 16-19 size 8 beads onto the top cord at 3. (You will start and end with a small bead, so one more than the large beads is required)
Thread 15-18 larger beads onto the bottom cord at 3.
Continue to braid, adding in a bead from the top cord at 3 in every sequence of moves.
Check your braid. The beads should be forming in a straight line along the braid, alternating between small and large beads.
Continue to braid until the length is correct for you, taking into account the length of the clasp and how much of the braid will be inside the clasp. Make sure you finish with a small bead. Every braid and every wrist is different, so it is never possible to give instructions for exactly how many beads to use. This part is up to you!
Remove your braid from the disk. Knot the braid to prevent unravelling
If your braid is slightly twisted you can straighten it using the steaming method. Click here to find instructions.
Attach your clasp. If you need help attaching your clasp please watch this video.
POST YOUR WORK IN THE WEEK 1 POST IN THE GROUP.
If you like what you have made, try making another one with different beads. If you were left with lots of unused cord you can adjust the cord lengths for the next one. The single beading method is particularly effective for necklaces, so perhaps you could try a matching necklace.
Admire and learn from the work of other members.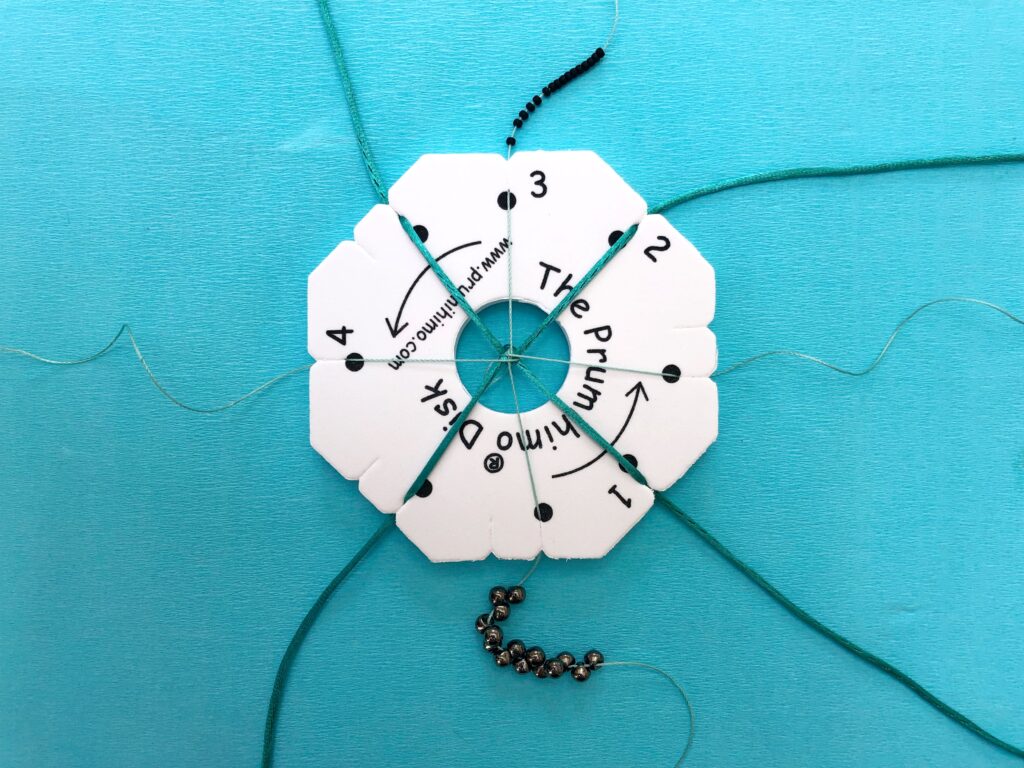 Trouble shooting
If your braid is moderately twisted you can flatten it by steaming it.
If your braid is knobbly, lumpy or kinky you need to return to practising the braid without beads. Watch this video. Make sure you are following the instructions correctly and practise until you can braid accurately and confidently. Then try again.
If your braid is floppy it is probably the result of using cord that is too soft or of using a disk with stretched slots. Try again with a firmer cord. Try using  weighted bobbins or tape a couple of coins to regular bobbins to increase the tension.
If the braid is too long or short make sure you learn from it because this first braid will be used to get the sizing right for the next bracelets.
Many people in the group are very proficient and creative braiders on the Prumihimo disk and this relatively simple task may not seem to be of interest to them, but I really hope they will join in too. There is more to the braid-along than just learning the skills. It is also about having fun and encouraging others, while strengthening our braiding community. The contribution from those at different stages in their kumihimo adventure is what will make this braid-along a success.