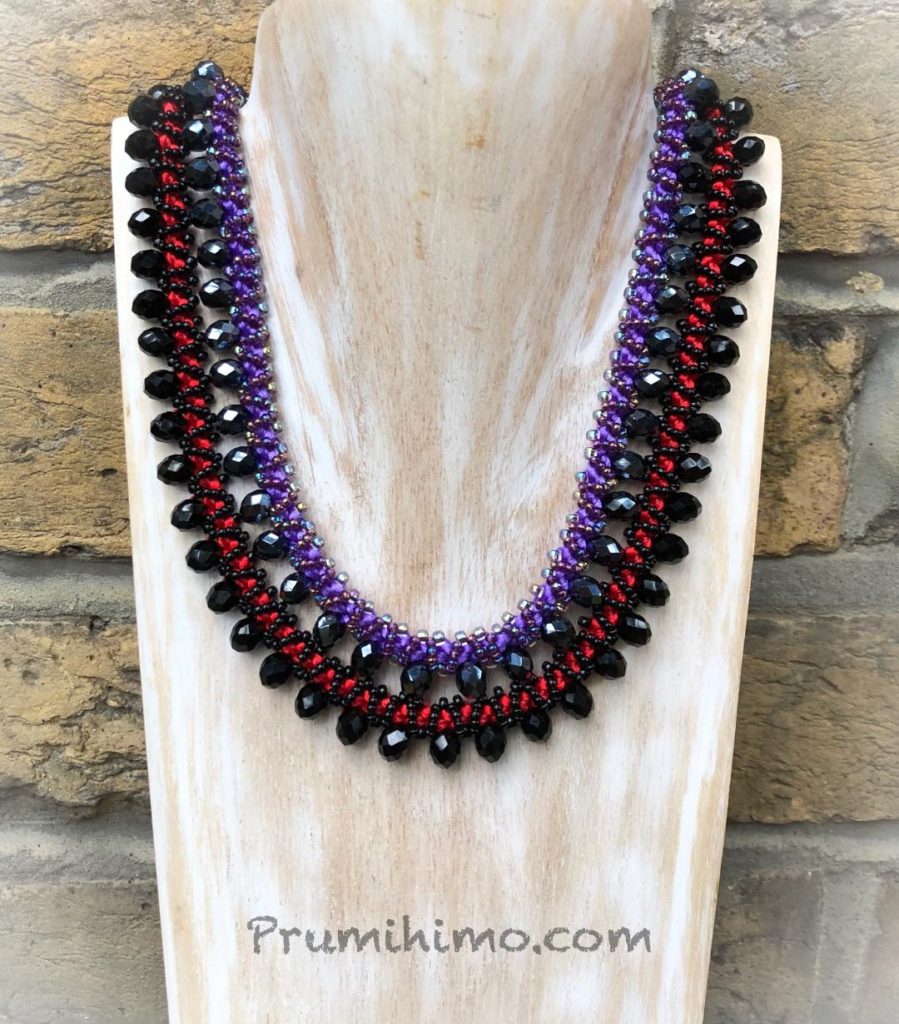 One of my favourite necklaces is the Opulence design, so I have made several for myself in different colours to match different outfits. I have recently made myself a version in a dark lilac colour, as well as a red version. When I show my work on Facebook or elsewhere I am often asked if I can supply a kit for the design. Making up kits is actually very time consuming and my interest lies with design and making, not in counting, weighing and measuring, so I do not intend to get involved with large scale kit production. However, I often find myself with left-over materials and I have decided to use these to make up as many kits as I can and to offer them for sale. Sometimes it will only be one or two, while other times I will be able to make up a few more, but in both cases once they are gone they are gone!
The reasons I love the Opulence design is that it has a lovely weight and flexibility and I also love the way the colour of the cord peeps through the beads. The faceted glass beads throw up a wonderful sparkle while the embellishment provides more subtle detail. For the kit I provide a clever button fastening, which is secure and easy to use. However, this could be substituted for a glue-in clasp or wired-on ends of your own, if preferred. I like my necklaces to be around the 50-54cm (20-22 inches) length, but this necklace also looks pretty when made shorter. Alternatively, it can be made longer by extending the plain braiding at the beginning and end and enough cord is supplied to do this.
I have found it to be a very enjoyable necklace to make. It is made on the Prumihimo disk, using the double beading technique. The thicker cords are 1.5mm thick, which makes it relatively quick to make up. The embellishment is very simple, so it is a good kit for beginners to embellished braids.  Virtually everything required is included in the kit. I include a Prumihimo disk, but you will need a weight of approximately 50g. A bag of coins or beads to this weight can be used as an improvised weight. I do not include glue because of postal restrictions. Glue is not essential, but I do recommend a drop on the binding for extra security. Most glues or even clear nail polish will do this job. Suitable needles are provided and I even pop in 2 beading needles, because they can be fragile, so there is a spare in case one snaps!
In order to keep the cost down for international shipping I have kept the instructions brief, but I include links to helpful material and of course I am always happy to give assistance if required and I can be contacted either by Facebook messenger or by using the contact details on this website.
The dark lilac necklace is sure to appeal to lovers of tones of purple. The colour comes from the cord and it is complimented by hematite coloured rondelles and different tones of purple seed bead. The red necklace is very striking and the strong contrast of the black and red gives is a bit of a Moulin Rouge appeal!
For more information about exactly what is included in the kit please follow these links,
Dark Lilac Opulence Necklace kit
Red and Black Opulence Necklace kit