Product Description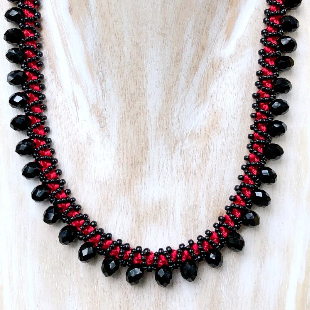 The kit contains:
The Prumihimo Disk – the unique disk designed by Pru McRae
Tutorial – Full instructions for a button fastening necklace with embellishment
Button – Plastic button, bronze colour
Beads, 6mm – faceted, top-drilled glass beads
Seed beads, size 8 – for braiding
Seed beads, size 11 –  for embellishment
Cord – satin cord, 1.5mm width, red colour
Cord – S-Lon 0.5mm/Tex210
Threads – for binding and for embellishment
Needles – 1 sewing needle and 2 beading needles
Note – glue is not included, but it is recommended to add a drop of glue to the binding. This can be fabric glue, all purpose glue or a fray prevention product.
Please note that for international shipping regular airmail will be used and this is not tracked. Although most packages will take approximately 2-3 weeks to arrive  they can take longer, so you may need to be patient. If you wish to pay extra for tracked mail please make this clear in the comments section.