Live Virtual Workshops – the Prumihimo Way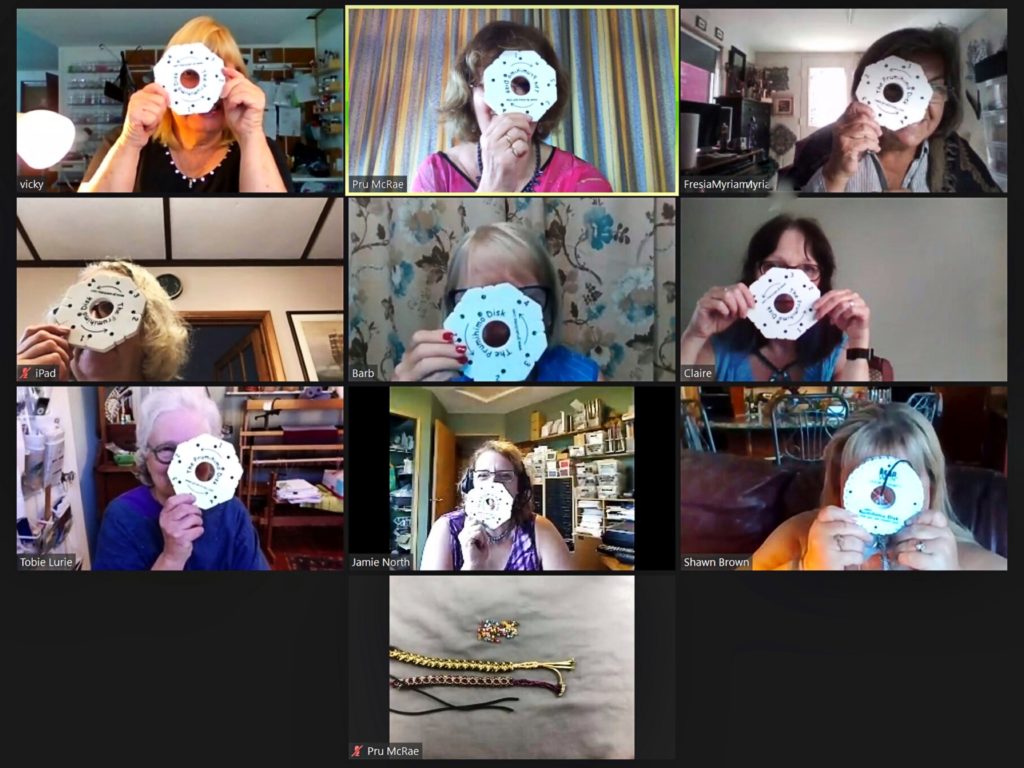 Now that a few of my live virtual workshops have taken place I can offer more insight into how the Zoomihimo by Prumihimo classes work. The tutors of in-person workshops all develop their own style of teaching according to what works best for them and their medium. In the same way we all need to find our own way of teaching effectively in the new world of live virtual workshops and this will differ from tutor to tutor. There are many decisions to be made and I am gradually finding out what works for me and for my type of kumihimo. Some things I have learnt from being a student myself and other things I have learnt from the workshops and trials I have carried out so far, but I know I still have lots to learn.
My aim is to replicate the best parts of the in-person workshop as closely as possible, while taking advantage of the best parts of being able to learn in your own home.
The most important part of any workshop is for every student to be able to see and hear clearly. Many people worry that this might not be possible in a zoom workshop, but they are pleasantly surprised when they find that the close up views are just as good, if not better than in person. This is achieved by having a separate screen for my hands for demonstrations and overriding the gallery view of all the participants and making my hand screen the dominant screen. Demonstrations can be repeated as many times as necessary. The volume can be controlled by the participant, so you will definitely hear everything, but you can also lower the volume if you wish to work more peacefully.
Socialising with other like-minded people comes a very close second in importance to what you learn in a workshop and this may seem challenging in a virtual scenario. However, by controlling the class size and working out a lesson plan I believe that I am able to help students to feel that they are working with a group of people. I do not plan to increase the class size above 12, but at the moment I am limiting the classes further to just 8 students and I will only increase the numbers if I am confident that the ability to teach and socialise is not compromised. The class structure is comprised of periods of demonstration, followed by time to work and some on-topic chatting. At this point the gallery view of all the other participants is available, so they can see each other. From time to time I will spotlight individuals, by making their screen dominant, so that they can show what they are making and talk a bit about themselves if they wish to. Most of my workshops will be split into 2 sessions, which means that the second session starts with people greeting each other like old friends! Feedback from students tells me that this is working well and they are enjoying the opportunity to get to know other braiders, especially as we may be working in many different countries. Most of my future workshops will be timed to suit people in the UK, Europe, North America and similar time zones, so that we can bridge the gap between these countries.
Do not underestimate the convenience of being able to work in the comfort of your own home! Some workshop spaces in traditional bead shops are cramped or you may have to turn round to see the teacher. They may be too hot or too cold for your liking. In a virtual workshop you can sit in your favourite chair and have everything just the way you like it, with everything to hand. You can get up and walk around or eat and drink whenever you need to. There are no worries if you have forgotten something because you can just get up and find it. That works well for me too. Sometimes the conversation may lead us in a direction I did not expect, but I can easily find any sample or piece of equipment I need to show you.
Interaction with the teacher is what makes a live virtual workshop totally different to a pre-recorded workshop or a Youtube video and this is probably the most challenging part for a tutor. I am finding that I can get a reasonably good view of what the work of the students by asking them to hold it close to the screen. So far this has worked well, but if I need a closer look to inspect a particular problem I can ask the student to send a photo of it by email or messenger. At each stage throughout the workshop I ask to see each student's work to check that they are getting on well and assist if necessary. This also enhances the sense of being a group, by enabling the rest of the class to see what others are making and to enjoy their colour choices. At all times students are able to speak to me and each other.
The atmosphere I am aiming to achieve is relaxed and friendly, with quality tuition and a high level of achievement. So far, the feedback has been totally positive so I plan to continue to develop my program of workshops. In the next phase I plan to offer some workshops linked to kits to give me the opportunity to introduce unique or hard-to-find materials. I also plan to offer some Christmas designs and some workshops for the regular round disk. I am open to suggestions about what other workshops I could offer.
If you are interested in joining me on one of my zoomihimo by Prumihimo live virtual workshops I currently have spaces available on the two workshops below. Further information and new listings can also be found under the Workshops tab.
Super Sparkle Bracelet Workshop