Last word from the Mushroom Bead challenge
I have now completed the Mushroom Bead challenge set by Juliet of Spoilt Rotten Beads. On four consecutive days I uploaded a new YouTube video to accompany the design I showed each day on Facebook. Apart from having lots of fun, my aim was to show how different techniques can be used to produce very different results. I started on Day 1 with a fully beaded round braid bracelet and on Day 2 used my Prumihimo disk to make a much more dainty bracelet. which was a very quick make. Day 3 saw me using the square plate for a flat braid bracelet and I finished off with a return to the round disk on Day 4 for an unusual pendant design. In order to highlight the differences in technique I kept to the same colour palette throughout. I was pleased to be able to use the beads in such different ways because the videos are a great addition to the comprehensive kumihimo resource I am gradually building on my YouTube channel. Although the designs were all made using the 4mm mushroom beads the techniques are versatile and could be used with different types of bead amd cord, so I hope these videos will have a life far beyond just this challenge.
I even have a couple of extra designs.
This fully beaded design is made using the set-up demonstrated on Day 4. The reason this set-up works so well for this bracelet is that it allows enough space between each bead for the braid to be sinuous and flexible. Depending on size, you will need approximately 32 beads on 4 cords.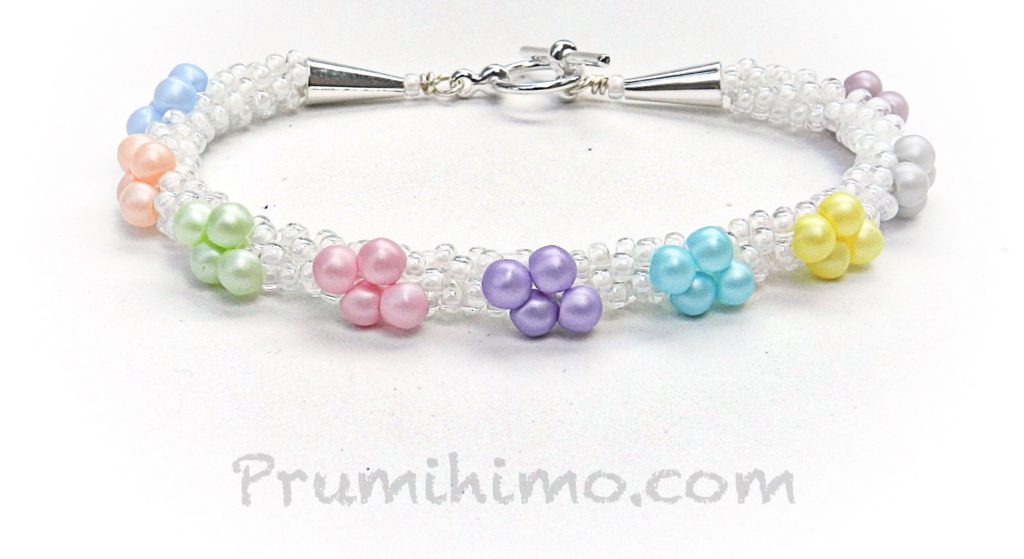 For this bracelet I used the 7 cord braid and I worked out the bead placement using the Kumihimo Bead Designer app. It is very easy to use and makes complicated calculations a thing of the past! The reason I decided to use this braid is that it a little slimmer and more flexible than regular round braid and it is quicker to make up because there are only 7 cords to load with beads instead of 8.
It seems that the videos have been popular and people have enjoyed the challenge. Thank you very much for all the support and enthusiasm.