I am always excited when I come across a new product for jewellery making and my particular interest is to see both how it differs to what is already available and what it will offer me for my kumihimo jewellery. We are used to frequent releases of new bead shapes, but there has been very little recent innovation in the thread market. So I was very interested to try the new DuraThread, especially when I learned that it was developed by an experienced beader and teacher from the UK. The thread  is 0.08mm diameter with a 2.7kg (6lb) breaking strength. The structure is braided, which makes it both strong and flexible. It is very resistant to abrasion and virtually non-stretch.
I use thread widely in my kumihimo designs and its use falls into 3 main categories.
Binding
Embellishment
Beadwork focals, bails etc
Binding
With  2.7kg (6lb) breaking strength and a highly flexible structure this is a great thread for binding because you can pull really hard and achieve a very tight binding. I use bindings widely in my work. Sometimes they are hidden under an end cone so the colour does not really matter, but they are often used with button fastenings, where they are visible. I found that the white DuraThread was easy to dye with a permanent marker pen to match the braid and the ink sinks in well to the braided structure of the thread to provide good colour saturation. I ran the thread under the tip of the pen, wiped off the excess ink and left it for a couple of hours for the ink to set. There are detailed instructions for bindings in my book, Kumihimo Endings.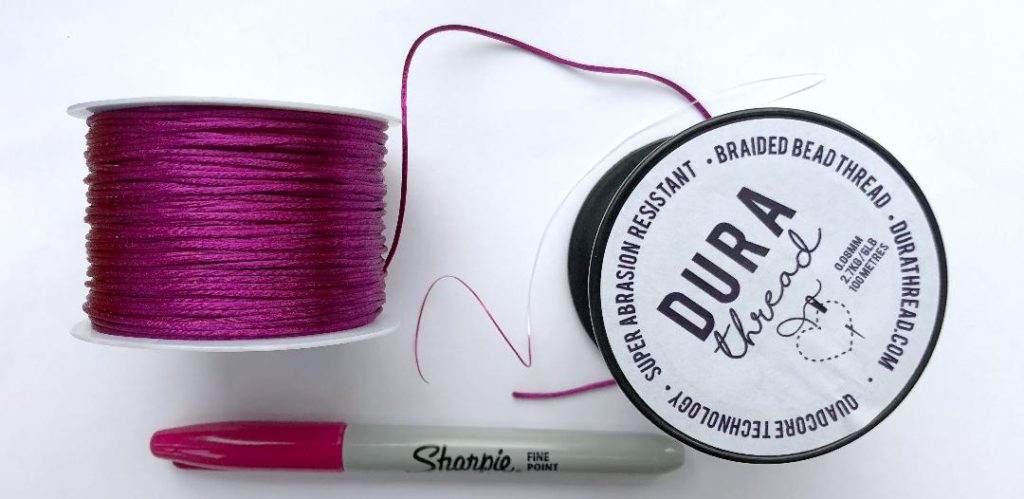 Embellishment
A lot of my work involves adding embellishment to a braid using beading thread and a beading needle. In most cases this involves additional beads being suspended between beads incorporated into the braid. I really liked the flexibility of the DuraThread for this purpose because it curves gently around the braid without distorting the anchor beads. I also found the flexibility and smoothness of this thread particularly useful for designs where I needed to pull on a whole row of beading to create a curve, as in the necklace below. This necklace was made using the Cordelia tutorial, which can be found by clicking here. It was made on the Prumihimo disk.

Beadwork
Beadweaving and bead embroidery find their way into much of my kumihimo work, such as in beaded focals, peyote sleeves or stitched bails. There are lots of beading threads available and each one will have an effect on the beadwork, so it is important to choose the right one for the effect you want. For instance, if I want something fairly stiff and rigid I would use Wildfire. Fireline provides a bit more flexibility, but is still fairly firm. However, for something more fluid and sinuous DuraThread is perfect, but at the same time it is extremely strong and abrasion resistant. I found it easy to thread and knot and I did not get any tangles or unintentional knots. As with some other black threads, I did find some dye transferance with the black thread onto my fingers, but I found that using thread conditioner minimised this. It is synthetic, so it can be used with a thread burner and it is strong enough to be used safely with crystals or other beads with sharp edges, such as metal seed beads. For this necklace I used black DuraThread for both the beaded bail and the embellishment on the braid and I really enjoyed the soft and silky feel to the thread as I worked. The bail is a warped square construction, which is ususally made with stiff thread and tight tension to create an an angular shape. However, that was not what I wanted because I needed the bail to curve and conform to the curve of the braid. Using DuraThread allowed me to achieve exactly the effect I wanted.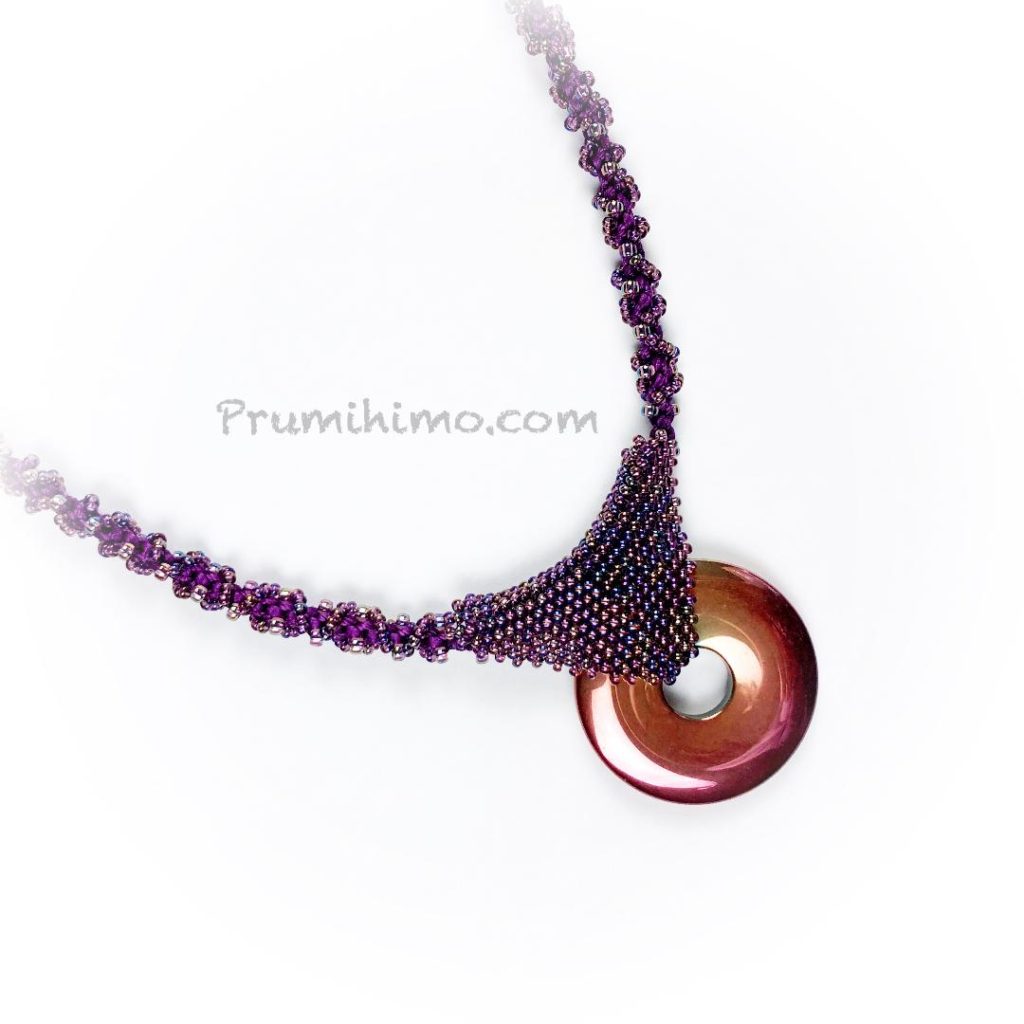 When a new product comes onto the market it often means more expense, but the great news is that DuraThread is round about half the price of the market leaders. It comes on generous 100m reels, which is much more convenient than smaller reels, which seem to run out so quickly.
So to conclude,  I think DuraThread is a great choice for anyone who wants just one good quality all round thread at a reasonable price.  For those who already have several different beading threads I think DuraThread offers the opportunity to achieve a softer, more fluid effect with all types of bead, including crystals, so this would be great addition to their collection of threads.
I got mine from Spoilt Rotten Beads.
If you want to find out more about DuraThread you can can read this product guide.