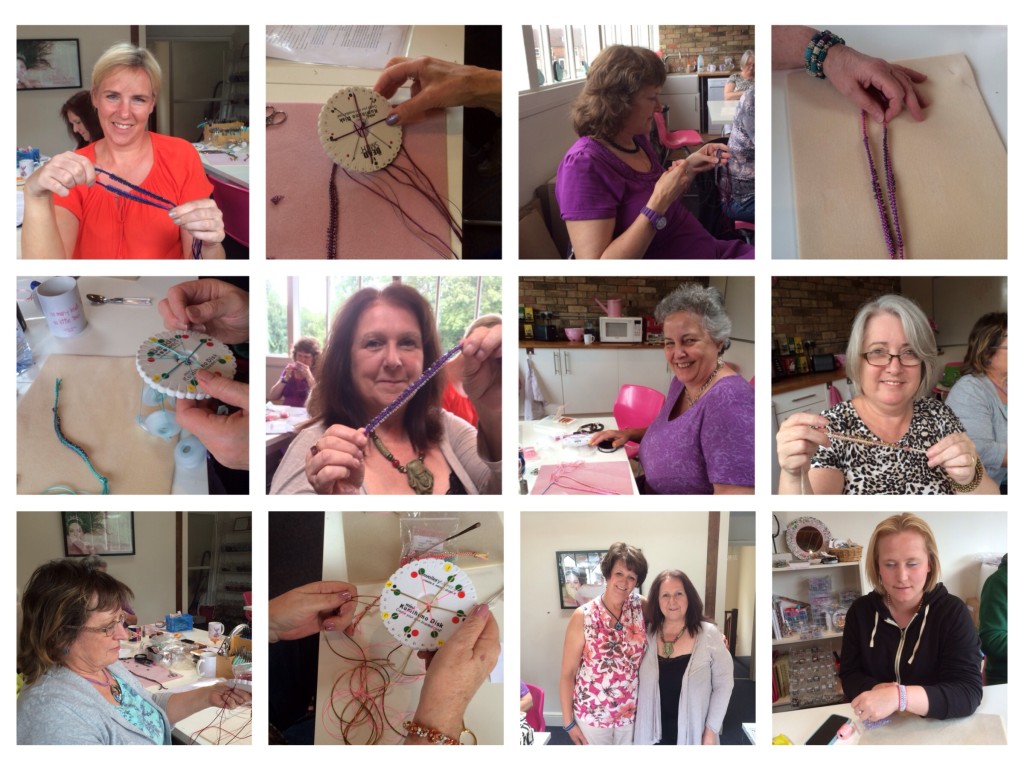 Instructing at a workshop is great fun and so rewarding. Yesterday I went to the pretty village of Haddenham in Cambridgeshire where Spoilt Rotten Beads is located. When I arrived I was greeted by lots of familiar faces as well as some new pupils and I really couldn't have wished for a better group of people. The class was intermediate level and the bracelet design requires lots of concentration and hard work. I got both in abundance from these lovely ladies. The design is a variation of the Windows design I taught last month and it seems to work well all round to offer variations of a design to different workshop hosts. The basic design is something I  have worked hard to develop and always generates interest when I show it. It is fun for me to explore different effects and it means that I can offer something unique to each bead shop. This helps them to market the workshop. While the main technique is the same,  each bracelet requires slightly different supplementary techniques and the bead threading sequences are different. I have already started working on a third variation of this design and I believe there are many more possiblilites.
I have been asked many times if I will be releasing this design as a tutorial. I have no immediate plans to do so because I think it is better to keep some designs exclusively for workshops. Once I feel that this design has run its course in workshops I will write up a different version as a tutorial.
My photo collage is made up of lots of faces and hands. Each attendee is represented, but I understand that some people prefer not to have their faces photographed. At my last workshop I tried to edit the photographs to exclude the shy ones, but it wasn't easy. This time I asked each person 'In or out?' and took the shot accordingly. I rather like the effect!