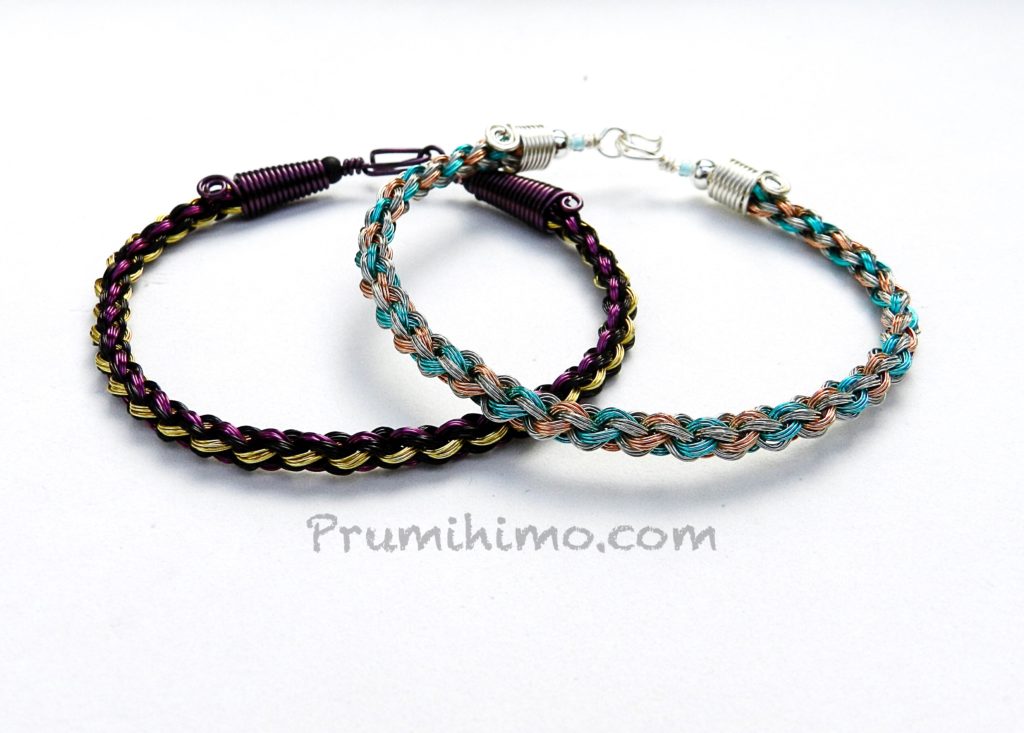 I am very excited to be bringing a wire kumihimo workshop to Riverside Beads in Lincolnshire on Saturday 9th June. Wire is a popular medium for kumihimo and there are many different ways of using wire effectively in braiding. I have been working with wire for over 6 years and my favourite approach is the muti-strand method. In this workshop I will pass on my secrets for success with this particular way of working with wire. Wire can be tricky to work with unless it is handled in the correct way and kumihimo has its own particular challenges, so I will be able to share what I have learnt over the years. The class project will be this striking wire kumihimo bracelet, made on the Prumihimo disk and finished with wire cones and clasps. This bracelet feels wonderful when worn because it has a great weight and hangs well on the wrist. Students will learn what sort of wire works best, how to handle it, how to braid with multiple strands and how to finish off the braid securely. Finishing a braid into a piece of jewellery is as important as the braiding itself, so I will be teaching a great way to create neat ends and a lovely clasp. This method can also be used for cord kumihimo, so it is a great skill to learn and be able to use for other designs. As usual, my aim is to teach far more than just the class project and to give students the confidence to develop their skills on their own. Once the basics have been mastered it is possible to create a huge variety of effects with this wire method, including working with beads and with different braid structures.
One of my first successes with wire was this necklace, which was a finalist in the Jewellery Maker of the Year competition in 2011. A necklace like this requires very long lengths of wire and takes a bit of time to complete, so it is not suitable for a workshop. However, once the key elements of braiding with multiple strands of wire has been mastered this is the sort of design which could be achieved.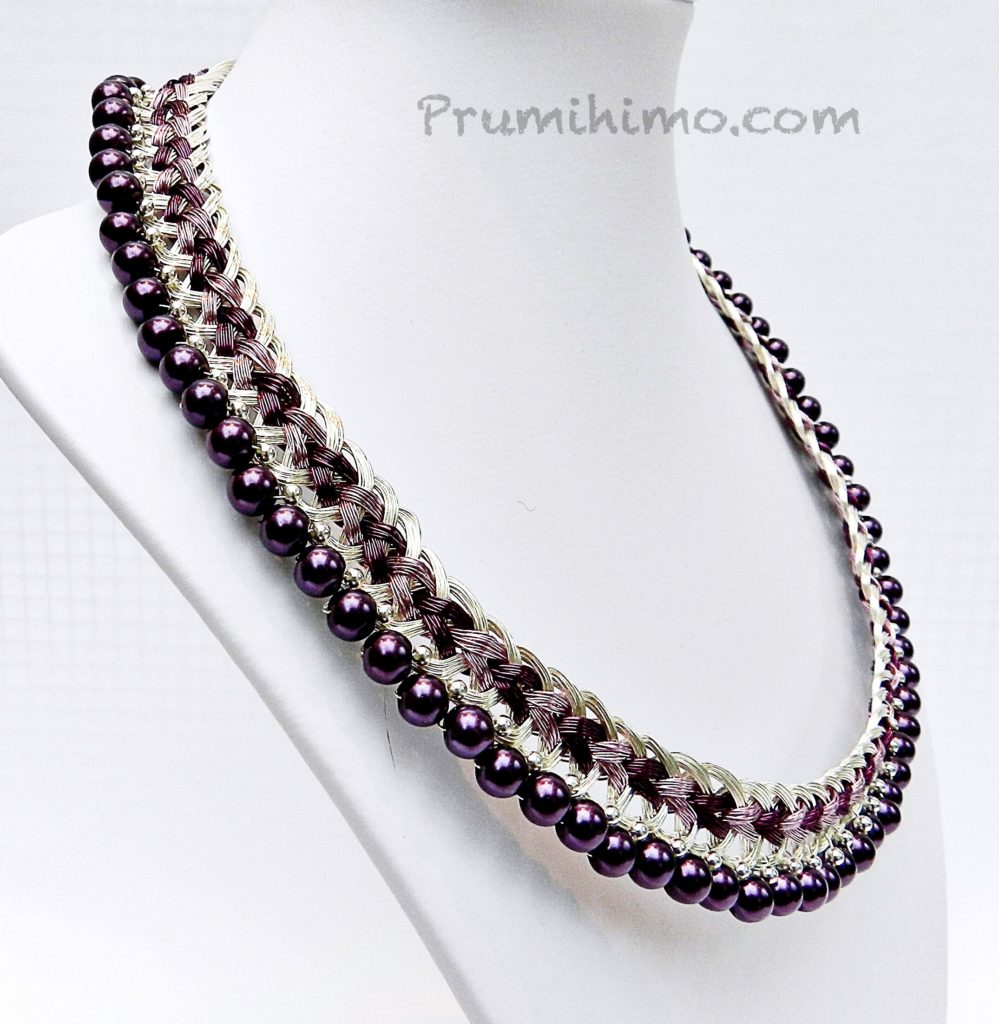 In 2013 a tutorial for one of my wire designs was published by Beads & Beyond magazine and even made it onto the front cover! This type of design could also be made once the multiple wire braiding method has been learnt. It is all a matter of learning a new braid structure and applying what has been learnt in the workshop.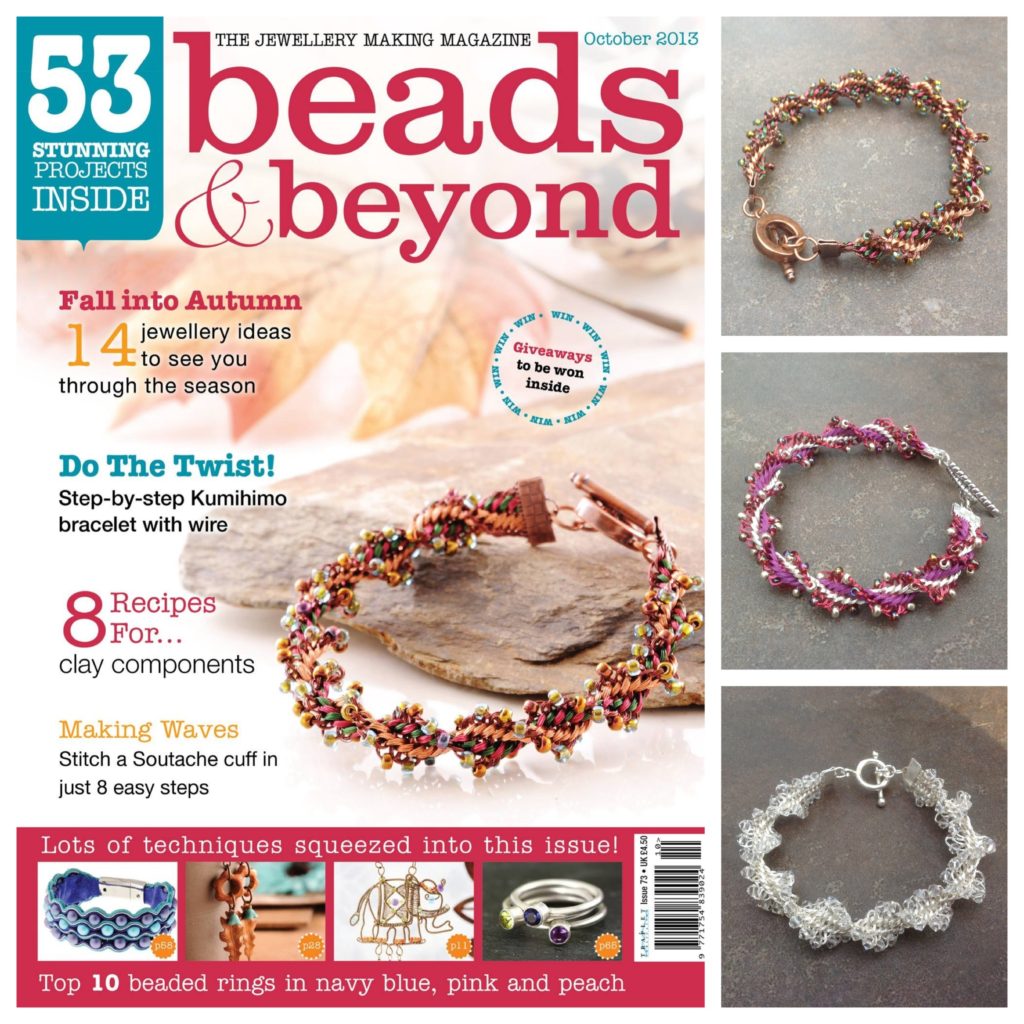 Riverside Beads is located in the charming town of Market Deeping in Northamptonshire. Riverside Beads is a very well-stocked beadshop. The owner, Donna McKean-Smith, is a keen braider whose work is often seen in magazines as well as her excellent book, Bead-Braid-Twist, so you can be sure that braiders are very well catered for! The workshop is spacious and comfortable, with plenty of tea and coffee all day.
The workshop is great value because all the materials will be provided and included in the price.