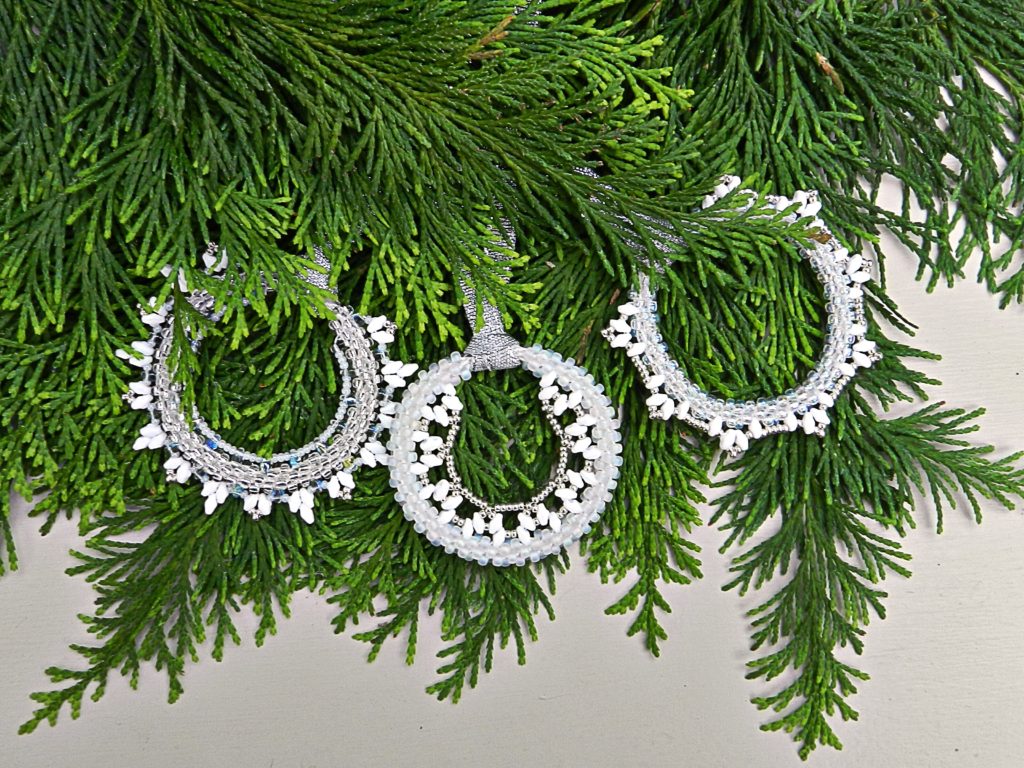 Snowflakes in November means we will be having a cold winter! I have just uploaded my new Snowflake tutorial. It is very, very pretty and is one of those quick makes which become rather addictive, but as you can never have too many decorations on your tree it is fine to indulge yourself and make as many as you want.
All my recent tutorials have been for designs made on the Prumihimo disk, so it has been refreshing to make this one on the regular round disk. The braid structure is the 7 cord braid, also known as Fill the Gap, which has its origins in Europe, rather than Japan, so strictly speaking it is not kumihimo. However, as it is made on the kumihimo disk it is often referred to as kumihimo and it is becoming very popular as an additional technique for lovers of Japanese braiding. The 7 cord braid can be plain or beaded and when fully beaded it is very similar in appearance to Round Braid. It is slightly slimmer and more flexible and with one cord less it takes less time to load up the beads. The great advantage of this braid is that it can accommodate beads of varying size and shape far better than Round Braid.
This braid is often worked with a template or with numbers or letters written onto the disk, but I prefer to teach it the more traditional way, where the slots are counted. Don't be put off by the sound of that because you only have to count to 3! The reason I prefer this method is that I find people quickly pick up the rhythm of the braid and no longer need to count the slots. This allows them to braid very quickly and accurately, with even tension.
Japanese braids are very symmetrical, with the moves being repeated on each side of the disk, so it makes little difference if you are left or right handed. This braid is different because it is most comfortable with the moves being performed by the dominant hand. The usual instructions favour right handers, so in the tutorial I have provided the reversed instructions.
The aim of the tutorial is to teach the structure plus the embellishment method and then to encourage people to try their own ideas. I have provided two different bead layouts and explained different types of embellishment, so it will be easy for people to explore and make use of what they have in their stash.
This is a counted design, which means that the beads are threaded onto the cords in a specific order to produce the effect. If you want to try designing your own you can try the Kumihimo with Beads app created by Janet Nijman. This is a way of having all the fun of design without the maths!
If you would like to fill your home with snowflakes you can find the tutorial here.