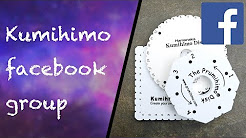 Kumihimo by Prumihimo and Friends Facebook Group
If you are interested in interacting with other braiders then this Facebook group might be just what you need! There are lots of different kumihimo groups on Facebook and each one has its own flavour. After several years as an admin on a very large group I decided to set up my own group. My intention was to develop a highly active group where members could support and inspire each other. I try to make sure that all members are genuinely interested in kumihimo and I try to encourage members to join in by commenting, liking and most of all posting their work. A group is only as good as its members and without them it is no more than a blog! The discussions and posts cover all aspects of kumihimo, whether it is made on the round disk, the square plate, the marudai or the Prumihimo disk. We have members of all different levels of experience, from those who have not yet got started right up to those who have been teaching for years. It is important to remember that newcomers are very valuable because they bring with them fresh ideas and enthusiasm, so don't be shy about posting your work or asking questions. We have lots of experienced braiders who are always very generous with their knowledge, so I am confident that someone in the group will always have the answer you seek. If you would like to join please click here and be ready to answer 3 quick questions. These are designed for me to screen out spammers and to make sure that applicants are actually interested in kumihimo.
Kumihimo by Prumihimo and Friends
If you would like to hear and see what I have to say about the group please click here.