The Stitchncraft workshop programme for 2018 has been released this morning and I am very proud to be able to say that this will be the fourth year I have been involved in the programme. Lynn Firth, the owner of Stitchncraft, works so hard to put together a a wide range of styles and techniques, from a wide range of UK designers, topped off with a sprinkling of well-known international tutors. The workshops are always very popular, so the programme is available to view for the next two weeks and then bookings will be taken from Tuesday 31st October. So there is plenty of time to download the file, grab a coffee and have a good look through. You have got plenty of time to choose something which will be just right for you.
Click here to visit the Stitchncraft and download the programme
What are the benefits of attending a workshop?
First of all, obviously, is the chance to learn how to make the featured design. The tutor will have spent a great deal of time, effort and thought in the making of this design. The subtleties of the design, will not necessarily be evident from the image you see. Some people may think that they can just take a look at the photo and work it out for themselves, but they are unlikely to make a good job of it. A good design is just as much about what you can't see as it is about what you can see. A piece of jewellery needs to hang correctly, feel comfortable against the skin and stand up to wear and tear. These issues will have been considered by the designer and the final piece is likely to have undergone many enhancements before the designer releases it.
The second benefit, which may be even more important that the actual design, is meeting and working with other people. In our increasingly digitalised world we often work in isolation in our own homes. Sure, we have the sense of community from social media, but there is no substitution for real human contact. Spending the day with like-minded jewellery makers is very inpiring and can be the basis of life-long real friendships. It is also lots of fun and the day is always filled with laugher. Many of the people who come to my workshops are 'repeat offenders', so I must be doing something right!
The third benefit is shopping! Stitchncraft is unique among bead shops for its very calm and spacious environment and its range of beads is truly inspiring. While you are able to access all the goodies on line, to be able to see them with your own eyes is a different experience. My advice is to take your time to look through everything, taking note of all the colours, shapes and special finishes. This will be so valuable when you are buying on-line in the future. It is also a great opportunity to match up colours, which is particularly difficult to do on a computer screen. There are always new bead shapes to consider and you will find that the tutor and fellow students will have all sorts of great ideas to share on how to use them. I often find that one person will pick up something interesting and show the class, a discussion will follow and then everyone wants some!
The fourth benefit is a chance to visit our lovely British countryside. Stitchncraft is situated in Dorset in a historic barn conversion among a cluster of old farm buildings. There are some charming villages and towns nearby, as well as lots of B&Bs, so why not have a long weekend and explore the area.
The fifth benefit is supporting our dwindling number of beadshops! Each year brings new shop closures and if we do not support our shops we will lose them. It would be a tragedy, so please do your bit!
These are the workshops I will be teaching.
Thursday 10th May – Kumihimo Braided Pendants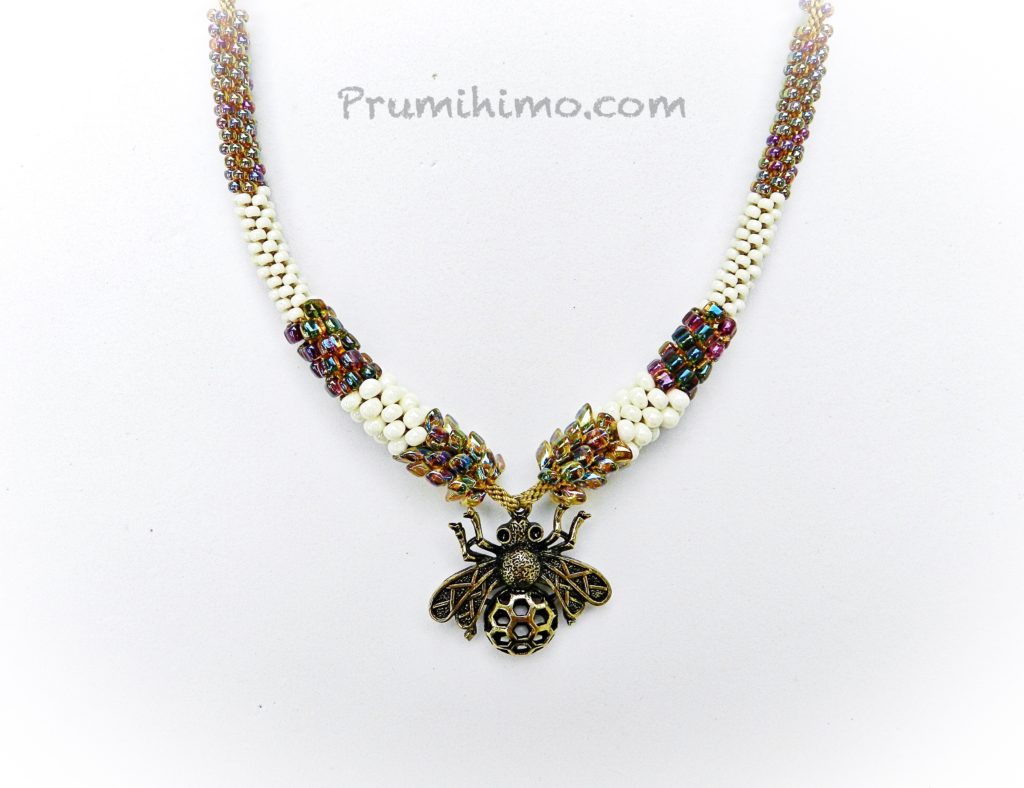 In this workshop I will teach you how to attach kumihimo to a pendant and braid pretty, graduated sides to the necklace. Please bring your own pendant to this workshop and I will show you how best to attach it to make a neat connection. I have worked out a very pretty loop and ribbon fastening to finish off the design. The regular round disk will be used. This workshop is suitable for everyone, even complete beginners to kumihimo, but even if you have already done some braiding I will still have plenty to teach you!
Thursday 5th July – Granny's Button Box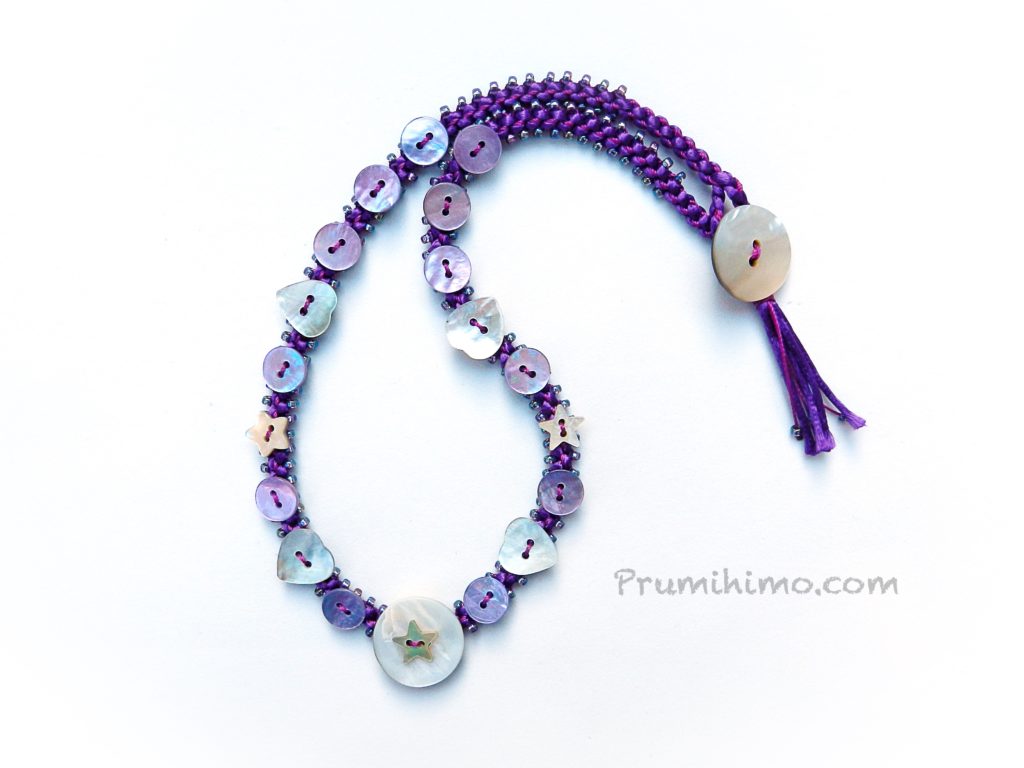 For this workshop we will use the Prumihimo disk because the braid made on this disk is straight in structure and perfect for braiding with larger beads, or buttons as in this case. The idea is that you can bring along an ecclectic mix of favourite buttons and we will make them into a quirky necklace. Alternatively, you can bring matching buttons to make something more elegant. Either way this workshop is sure to get you going with my special disk and open up other design ideas. The necklace is finished off with a clever button clasp, which frees you from the need to use findings and can be used for all sorts of other pieces of jewellery. While I do sometimes teach braiding on the Prumihimo disk to people who have not braided before, I do feel that it is best if people have used the regular round disk already, so I have submitted this workshop as intermediate level.
Thursday 1st November – Christmas Decorations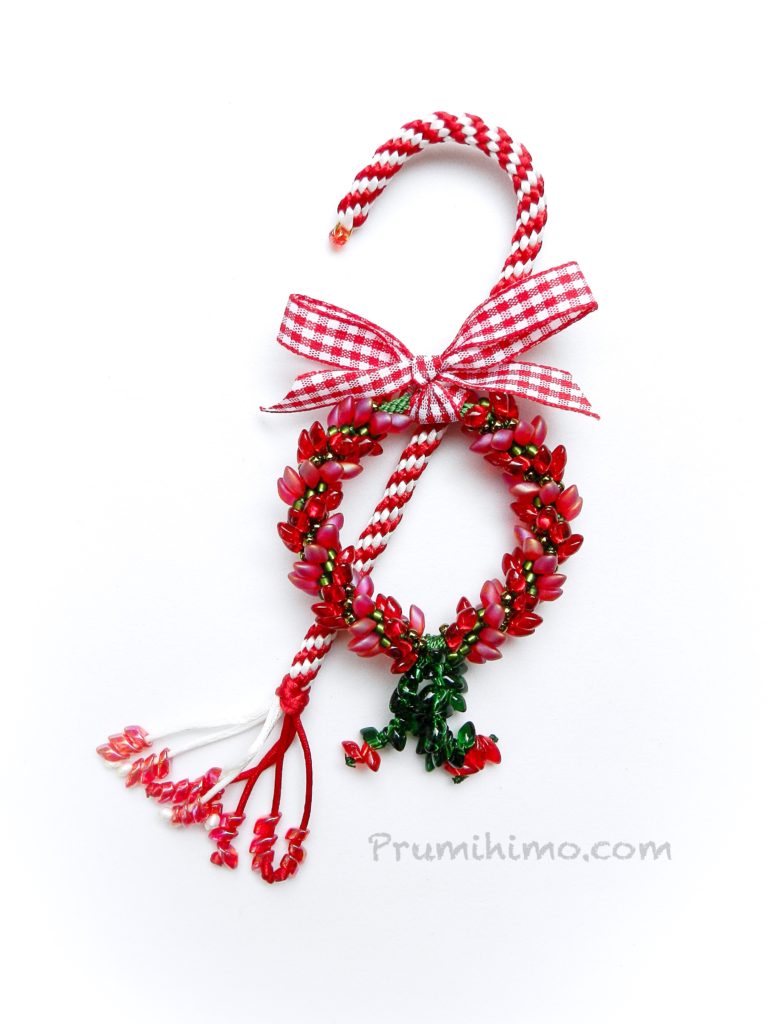 Christmas decoration workshops are always very popular and I am expecting people to love this one! The main project will be the Poinsettia wreath and although this design is small there are several excellent techniques involved, which are useful transferable skills for braiders. The candy cane design is also included in the workshop. It is a quicker make, using the skills learnt for the first design and the two will look totally adorable together on your tree. This workshop is suitable for everyone, including complete beginners. I am confident that by the end of the workshop everyone will have learnt something new!
I am looking forward to seeing old friends and making new ones at these Stitchncraft workshops in 2018.