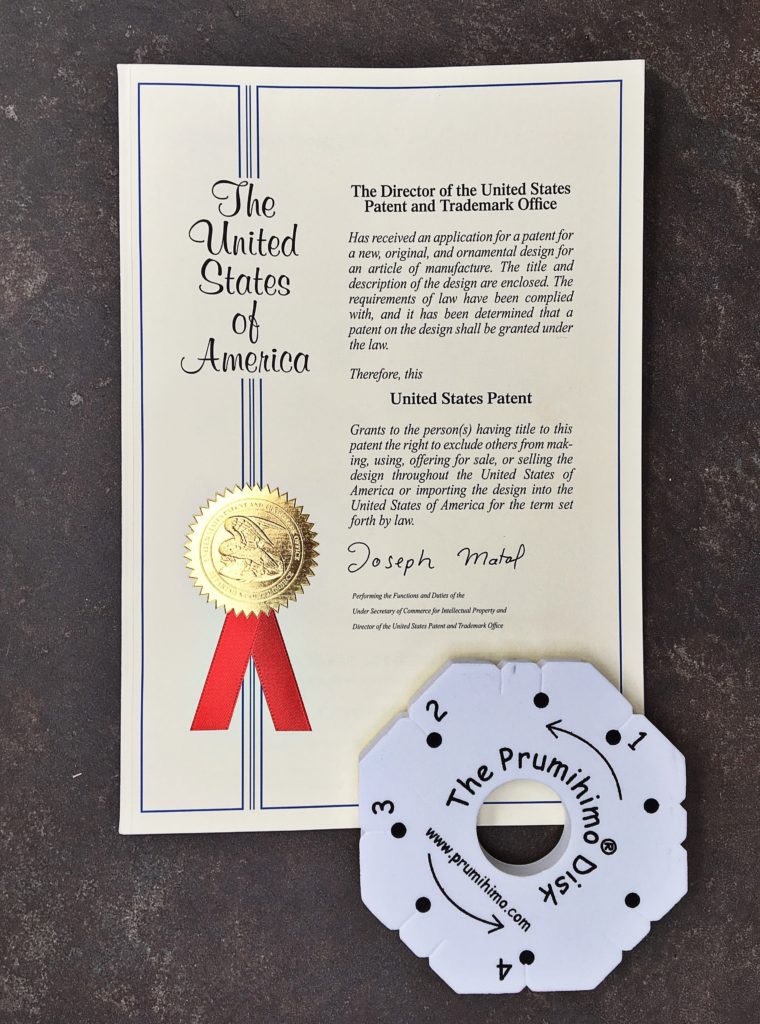 The post this morning brought the long-awaited certificate for the US patent for my Prumihimo disk, which means that my intellectual property rights are acknowledged and my disk is fully protected in a total of 29 countries. This has been a long journey because I appointed a patent lawyer to file for these patents nearly two years ago. Filing for patents is complicated and it is important to have professional help to get exactly what you need. The lawyer was able to advise me on how best to protect the key elements of my design and to which countries I should make the applications. They were able to carry out all the paperwork and ensure that professional diagrams were drawn up. This eliminates unecessary delay and ensures accuracy. Once an application has been filed the design is protected, as long as the patent is eventually granted. Application registration numbers are provided so that it can be proved that the patent is pending and they can be used in legal action, if required. All the other patents were approved and finalised within 6 months, but it is a longer process in the US and I knew it would take at least a year. So it was with great excitement that I opened the registered envelop and found this very fancy document inside! All the other documents are very simple, so perhaps it was worth waiting the extra 18 months for the seal and ribbon! What it means is that I have the legal right to prevent anyone from making any sort of disk, template or other device of this design (these slots and/or numbers and/or dots) and from selling it or importing it into a total of 29 different countries around the world.
It is a great relief to know that my little disk is safe from predators!
However, it is a sad comment on the creative world that this should be necessary. No one would dispute that the key design elements of this disk are completely my own work, but that is not enough to protect it from copying. Acquiring patents is a very costly business. I do not wish to say exactly how much this has cost me, but I can tell you that the final bill is significant. If you are considering filing for a patent you need to do your sums carefully and be very sure that the product or design you want to protect will bring in enough profit to make the outlay worthwhile. You also need to be prepared to pay legal bills should it be necessary to enforce the patent. My advice is to put aside money for this eventuality, so that you can afford to do what needs to be done and act quickly should the need arise. Lawyers are expensive, but they will give initial advice and costings for free, so it is worth consulting a specialist if you are considering a patent. Make sure you make good use of that first free consultation by discussing the issue thoroughly and be prepared for the final bill to be higher than the original estimate!
Was it worth it? Luckily for me the disk sells well and continues to do so. It has been the basis of my first book and it has enabled me to offer unique workshops around the UK. It has also been the subject of numerous tutorials and YouTube videos produced by me. However, it is also a matter of principle for me. I have seen several friends come up with wonderful ideas, only to watch helplessly as they are poached by others, so I was determined to stand up for the little person in the increasingly globalised creative world. For that alone, it was very well worth the time, energy and expenditure!
The disk and book are available in the shop on this website. Click here.