Playing with colour and texture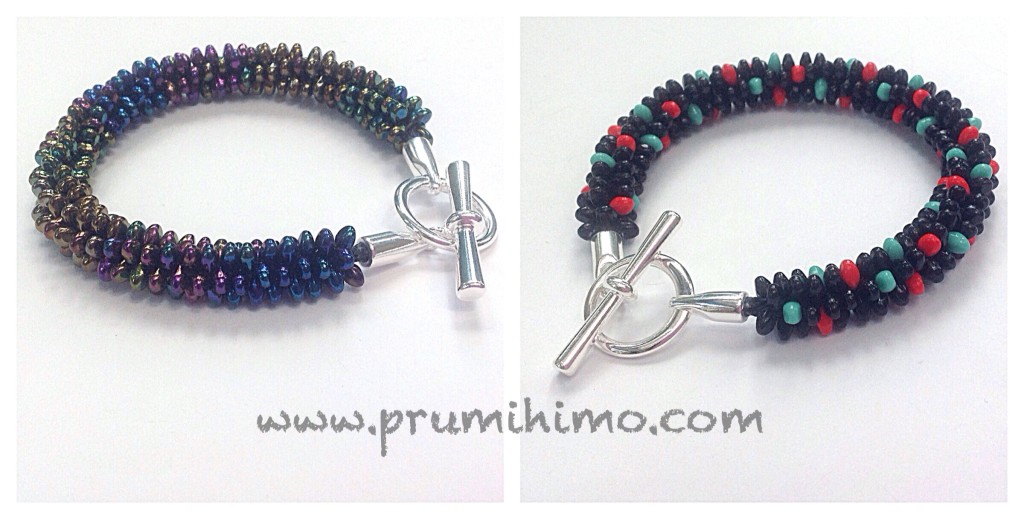 This is my last experiment with Solo beads for the time being. I wanted to use them on their own in a a couple of bracelets to see how they worked in comparison to round seed beads. They braid up really well into a tight, firm braid. There is plenty of flexiblilty in the braid, so it makes a comfortable bracelet. Some very round beads, such as 4mm rounds can result in a squashy braid, but with Solos the narrow ends of the beads fit tightly together into the braid, so they can be used to make a fairly chunky look, without the need for a core.
The Solo beads with AB coatings work very effectively in kumihimo. The bracelet on the left is made with 4 different colours of bead. On all 8 cords 4 beads of each colour were threaded on and then repeated, to give 32 beads in total.
These beads also come in lots of bright solid colours and the versatility of Round Braid offers a multitude of design possibilities. For the bracelet on the right bright red beads were threaded on one cord and teal blue beads were threaded on the diagonally opposite cord (eg slot 1 and slot 17).
By playing with a new bead shape in lots of designs it is possible to get to know its strengths really well. These beads are very reasonably priced and their size and shape makes them compatible with many other commonly used beads. So far I have only used them with round beads, but I think they could produce interesting results when used with Long Magatamas, Daggers or Drops.
Bead manufacturers have been offering jewellery makers lots of different new shapes over the past couple of years and this trend seems set to continue. I have heard that Preciosa will shortly be launching a brand new shape, called the Pip bead. I don't know any more than that, but I am looking forward to giving them a test drive!