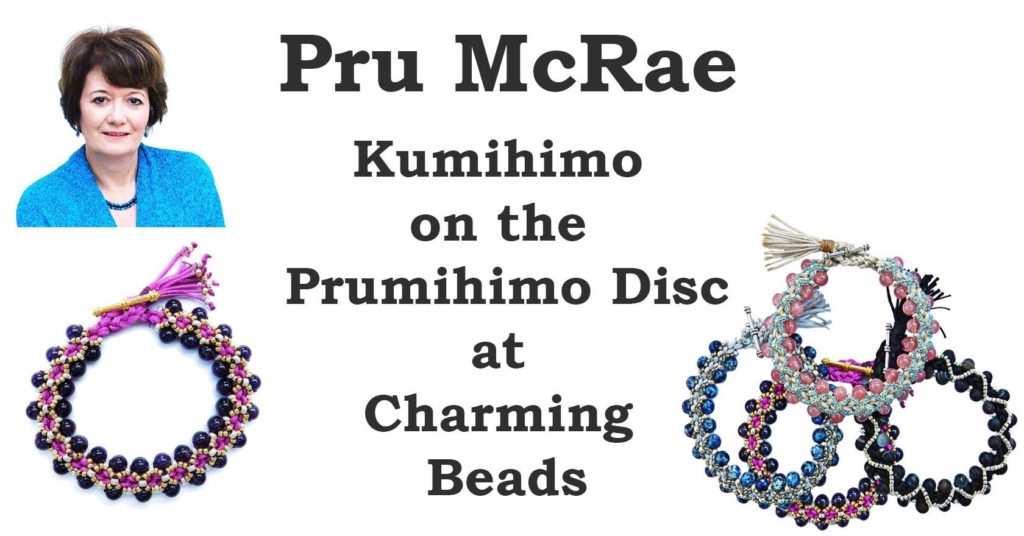 Over the past four years I have taught at workshops in five different locations and I currently have workshops planned for 4 of them for this year. I have often been invited to teach in other places, but I have declined the offers because I have not felt they were quite right for me However, a new invitation came my way this year and I felt that it would be a good addition to my current programme of workshops. Charming Beads in Monmouth will be hosting a brand new workshop from me on Saturday 28th April. The reason I have accepted is that the set up will be a little different to elsewhere. Charming Beads have created a brand new workshop space for this year, complete with TV screen streaming for close-up detail. I think this will be particularly useful for some aspects of kumihimo, such as the positioning of beads in a braid and attaching the clasp. There will be a dedicated workshop co-ordinator, fellow kumihimo enthusiast Helen O'Connor, who will be making sure everything runs smoothly, as well as providing us all with a delicious buffet lunch, teas and coffees and even cake! I think this will make the day particularly sociable and friendly and the opportunity to connect with other braiders is a very important part of attending a workshop.
The materials and equipment needed for the workshop will be provided and are included in the price, so there are no hidden extras and you know you will have exactly what you need. There will be a choice of colours and gemstones on the day. You will be provided with your own Prumihimo disk and 50g weight not only to use in the workshop, but also to take home with you, because I am really keen that you should be able to continue the Prumihimo journey when you get home.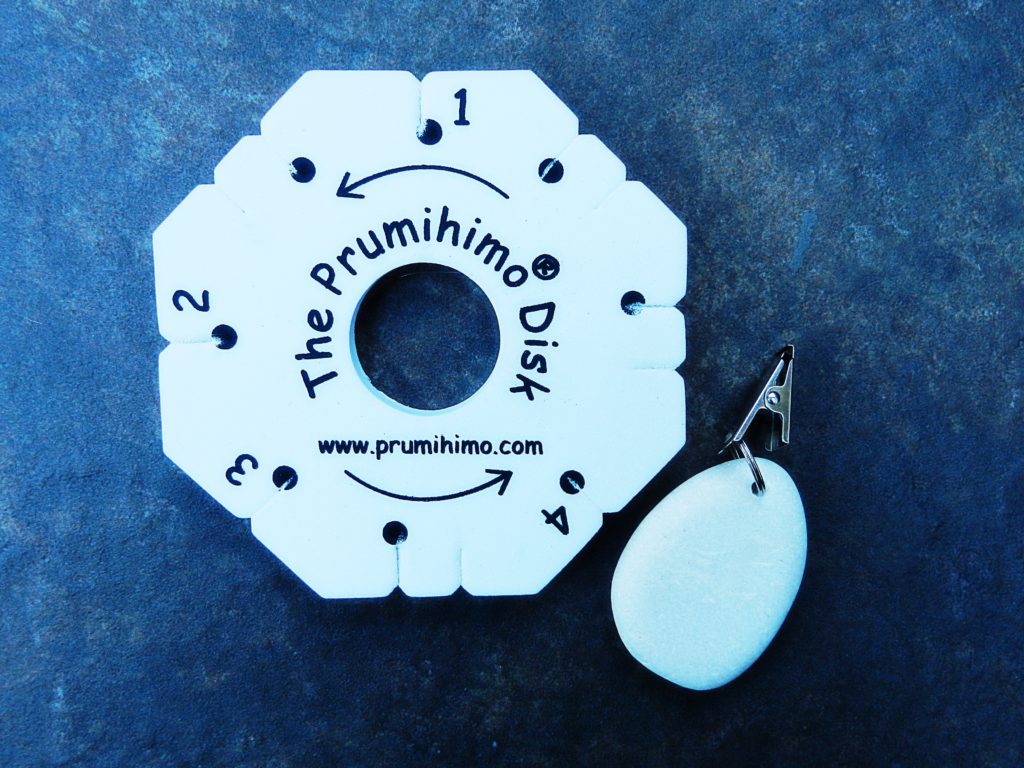 The day will finish with the opportunity to shop. Charming Beads is an on-line shop, so this is a rare chance to be able to see before you buy. This is so valuable when it comes to all the fabulous gemstones they stock, because each and every bead has its own character, which can only be fully appreciated when you are able to see them in real life. Charming Beads also stock a great range of clasps, end caps and other findings which are the key to a good kumihimo stash. I will be on hand to advise on how different beads and findings can be used in kumihimo, as well as how you can build a really useful collection of components, beads and cords.
Of course the surroundings, the hospitality, the facilities and the shopping are only part of the story. The design I have created especially for this workshop features some of the lovely gemstones Charming Beads are known for. The Prumihimo disk is the perfect tool to combine traditional braiding with beads of all different shapes and sizes, so in this workshop I will teach how to braid with both smaller and larger beads. Then participants will learn how to embellish a braid with beadwork before finishing off with one of my signature kumihimo fastenings. This workshop will open up a whole new world of kumihimo braiding to those who have already tried basic braiding, but it is also suitable for complete beginners because I will teach each skill in detail and build your knowledge and confidence gradually throughout the day.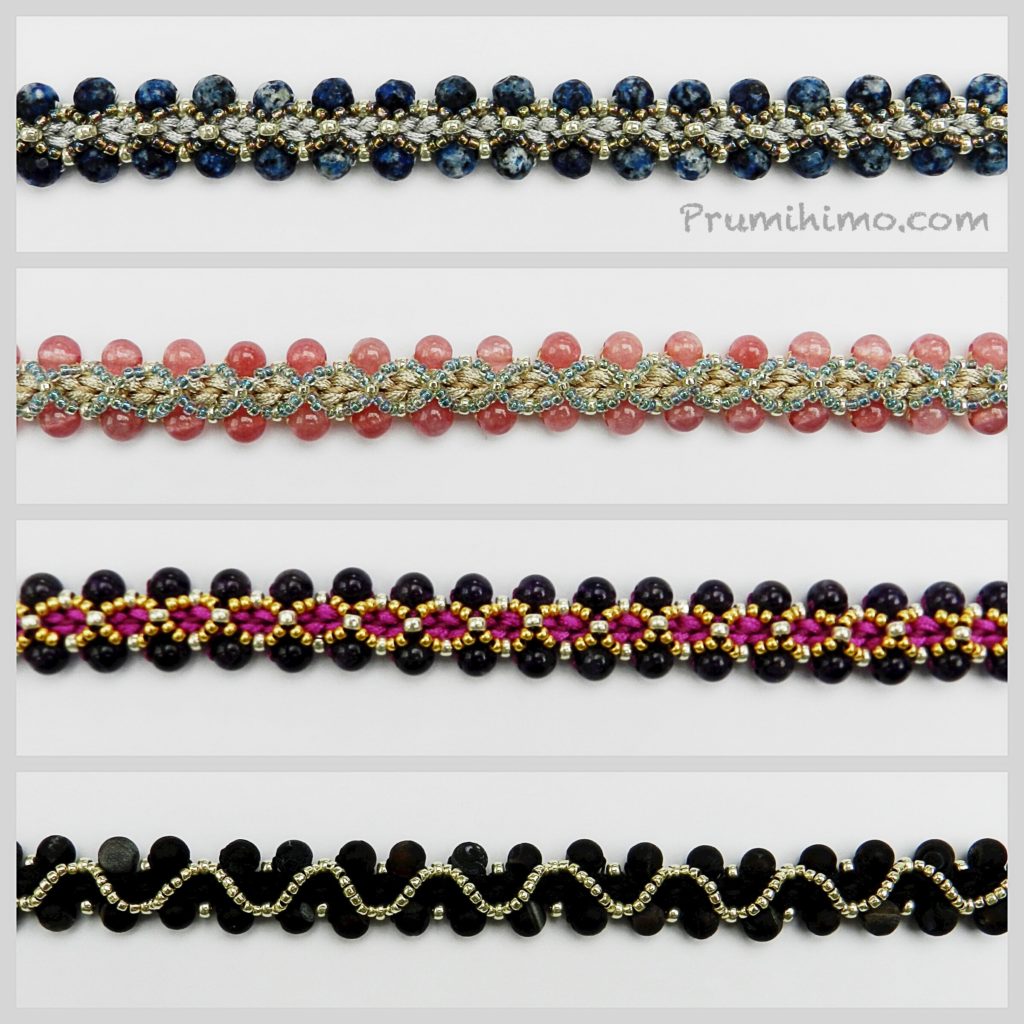 Monmouth is a historic town in Wales, situated in the beautiful Wye Valley, known as a place of outstanding natural beauty. Castles and pretty villages are within easy reach and the vibrant capital of Wales, Cardiff is not too far. Those planning to stay a few days to explore this very special part of the UK could try the Stonemill.
If you are not tempted by this particular workshop (why not?!) you could try one of the other workshops delivered by an inspirational team of tutors. In April you could learn from Rachel Norris, Karon Crawford, Jem Hawkes, Helen O'Connor or Michelle Naylor and there are plenty more to come.
To book the workshop please click here