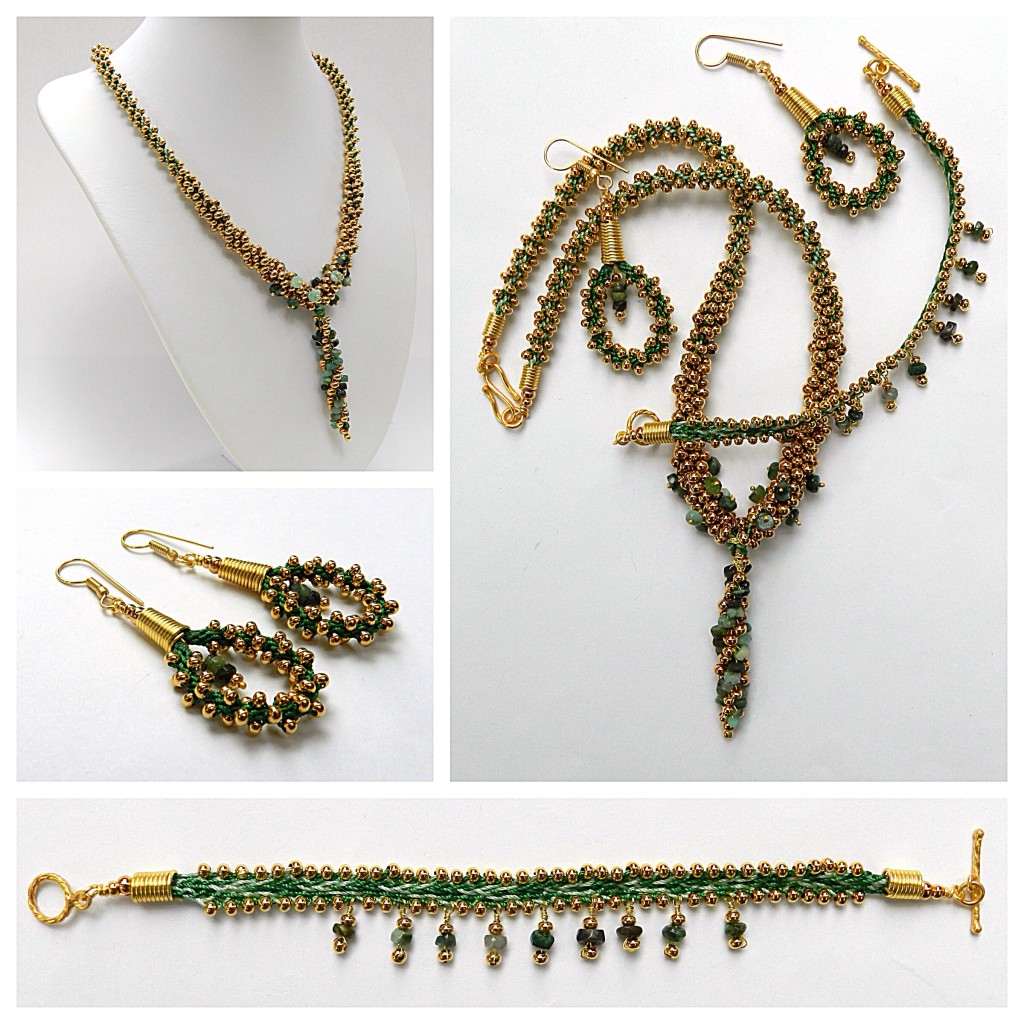 It is always exciting to work with something as special as genuine emerald, but the small size of the drill hole on such precious stones is generally too small to accommodate S-Lon, so a range of techniques needs to be employed to work them into the designs. Gold seed beads perfectly compliment the rich green of the emeralds and they work together to create an opulent, ornate effect. These designs were shown on 24.6.14 and the show can be seen on YouTube by clicking here.
Bracelet with charms
This bracelet is very quick to make and requires very few beads and gemstones, making it very cost effective too. It could be made a little longer to become a Bollywood style anklet. Use the flat plate to make this design.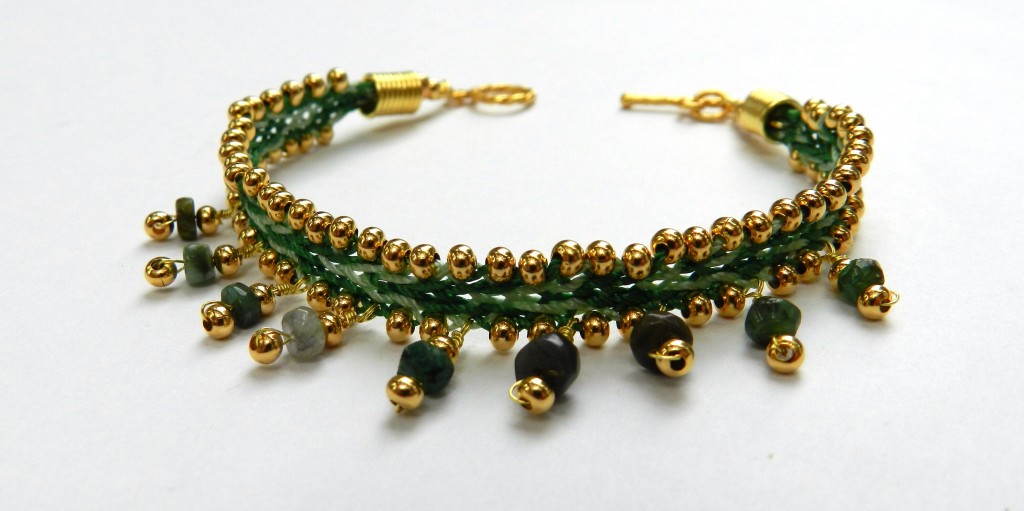 1. Make 9 charms using size 8 gold seed beads and emeralds. Use fine headpins and a wrapped loop if they are available. Otherwise use 0.25 wire, centre a seed bead on the wire, feed both ends through the emerald and another seed bead. Finish with a wrapped loop, using both ends of wire at the same time.
2. Cut 6 x 60cm dark green S-Lon and 4 x 60cm pale green and set up the square plate with the dark green in slots 3, 4, 7, 8, 14 and 17. Pale green in slots 5, 6, 15 and 16.
3. Braid using this link for  10 cord flat braid instructions. Complete approx 2cm.
4. To add beads use the cords at either end of the top of the disk, slots 3 and 8. The beads will be kept in position when the cords in slots E and e are moved back up to the top of the disk.
5. Add 8 beads on both sides, then add a bead on the left and a charm on the right. Braid with just beads twice then add another charm. Continue with this pattern and then complete the bracelet with a further 8 beads on both sides.
6. Finish the bracelet with either glue-in clasps or wired-on clasps. A coil of wire can be used to hide the ends.
Gold and Emerald Pendant Necklace
This is a real statement piece, featuring an emerald pendant and a graduated necklace.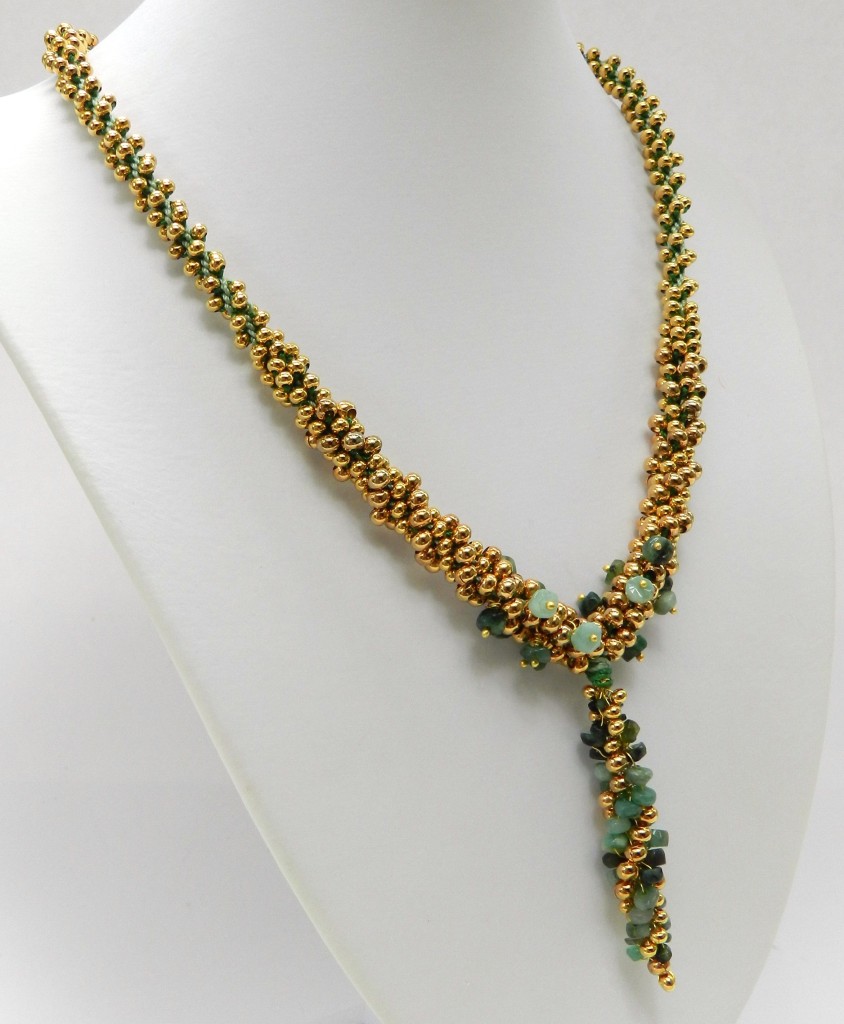 1. Use 0.25 wire to make the pendant. Cut 4 x40 cm and thread them through a size 6 seed bead.
2. Position the wire on the disk on either side of the dots and hold the bead in the middle of the hole. Braid using Round Braid for 8 moves to secure the bead.
3. Thread 8 emeralds onto the 4 wires on either side of the north and south dots.
4. Thread the following beads onto the 4 wires on either side of the east and west dots, 2 size 8 – 4 size 6 – 2 size 8.
5. Braid in the beads and braid without beads for a further 4cm.
6. Make a large wrapped loop using the unbeaded braid.
7. Cut 2 x 120cm pale green S-Lon cord and 2 x 120cm dark green cord. Fold in half, thread the fold through the wrapped loop and make a lark's head knot. There are now 8 cords.
8. Make 10 charms using fine headpins, emeralds, size 8 beads and a wrapped loop.
9. Thread on the following beads,
32 and 16 = 10 size 6, 60 size 8
1 and 17 = 16 size 6, 6 size 8
8 and 24 = 5 size 6, 4 size 8
9 and 25 = 5 emerald charms, 6 size 8
This does not need to be precise, just make sure that the larger beads go on first.
10. Braid in the beads and then braid without beads to make the required length.
11. Repeat for the other side and finish off with either glue-in or wired-on clasps
Emerald Hoop Earrings
Finish off the emerald collection with these striking earrings.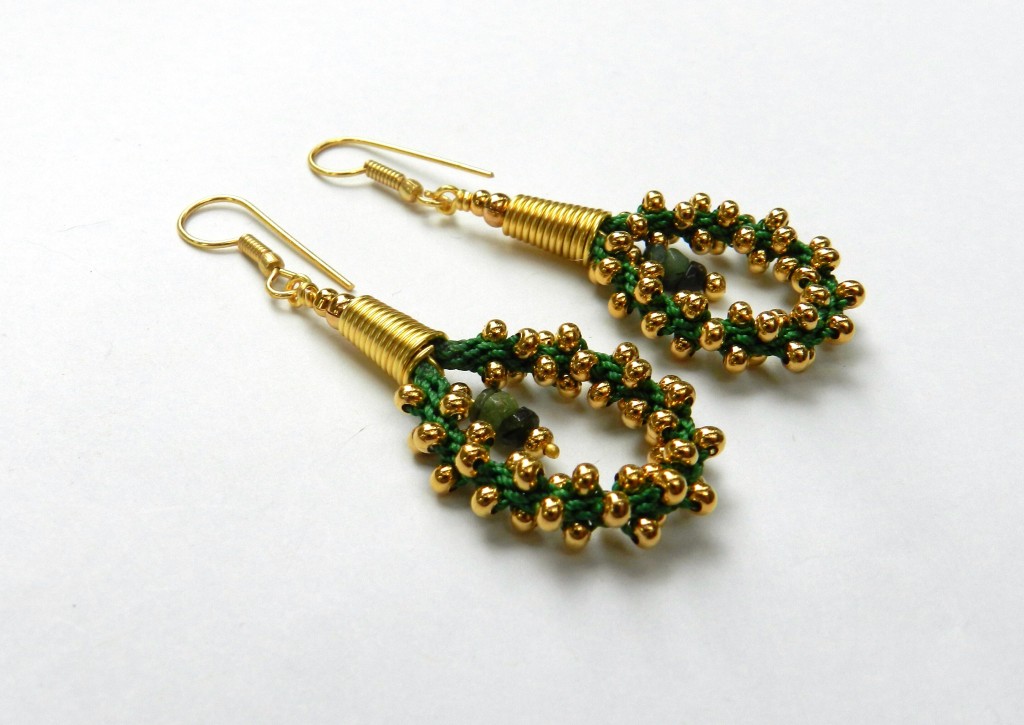 1. Cut 8 x 30 cm cord.
2 . Thread 25 size 8 beads onto the cords in slots 32 and 16. Braid using Round Braid.
3. Bind and glue the ends of the braid. Thread a selection of emeralds and size 8 beads onto a fine headpin. Bend the braid into a loop and use the head pin to wrap around the cord ends. Slide on a cone of wire and form a wrapped loop.
4. Attach earring hooks.