Description
This is a limited opportunity for UK customers to purchase the extra-thick disk designed by Sally Battis. Tax complications mean that this disk cannot usually be sent to the UK, but I have managed to secure a small quantitiy of these unique disks, with the additional template for the 7 cord braid. (US customers are advised to purchase from Sally Battis's site directly to avoid the international shipping charge)
This disk was designed specifically to achieve tight and even tension for beaded braids. The double thickness of the foam allows the slots to maintain a firm grip on even the thinnest cords, which not only makes it easier to keep the beads in the correct position while they are added into the braid, but also produces even stitch length and a tight braid.
A unique feature of this disk is the well, carved out on the underside around the hole. This makes it very comfortable to hole for average-sized hands. For those who like to hold the braid rather than the disk as they braid, this well provides space for your hand.
If you follow patterns using the numbered slots you will know that there can be confusion because most other disks have the numbers printed in between 2 slots. The SallyBeadJewelry disk has the numbers printed directly below the slots, which avoids any confusion.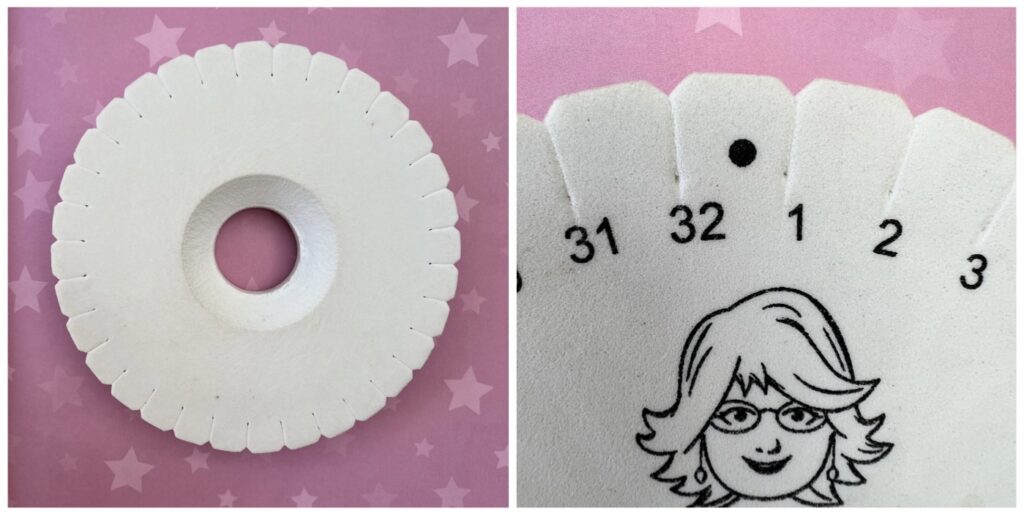 The card template is designed to guide the braider through the moves of the 7 cord braid, which is another great braid structure for beaded braids. It can be placed on top of the disk and it will be held in place by the cords. It can be rotated to make use of different slots each time to regulate the wear on the disk.
Disk dimensions – 14cm (5 1/2 in) diameter and 2cm (3/4 in) depth.