Product Description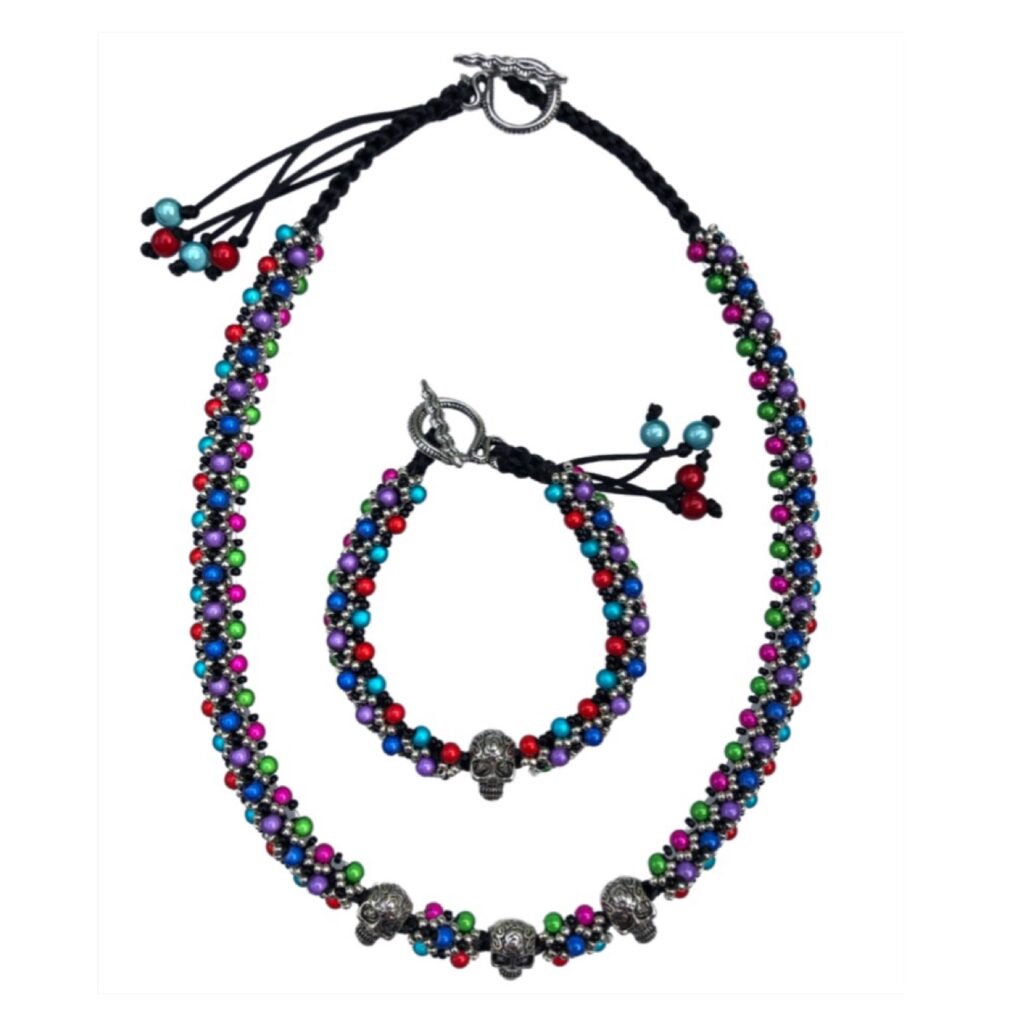 This combined necklace and bracelet kit not only offers a big saving on buying both items separately, but there is also a saving on the  shipping because both items can be shipped for a single shipping charge.
This necklace and bracelet  kit was inspired by the pretty skull beads, which are reminiscent of the sugar skulls of the Day of the Dead/Dia de los Muertos celebrations. Vibrant miracle beads are used to add to this effect. Miracle beads are an acrylic bead coated with several layers of lacquer to create the illusion of depth. In some lights the beads seem to light up. These beads are framed with silver coloured seed beads to emphasisethis effect. The necklace and bracelet are made on the Prumihimo disk (NOT INCLUDED) with additional embellishment added with a needle and thread. It is finished off with a snake toggle clasp and a beaded tassel.
Skill level : This is an intermediate project. You need to be able to braid accurately on the Prumihimo disk before starting the kit. You will learn a new way to attach a charm bead and the clasp, so this is a great learning project.
Kit contents (in two separate packages)
Tutorial – Full instructions for the braiding, embellishing and finishing of the bracelet. If you find the instructions difficult to understand I am always ready to give additional assistance, so please do not hesitate to ask.
4 Skull charm beads
2 Snake toggle clasps
Satin cord and beading cord
Miracle beads in 6 different colours (acrylic/plastic)
Size 11 seed beads in 2 colours, Miyuki brand
Beading thread, Fireline brand
4 Beading needles, John James brand
Shipping – Regular international airmail is used for international shipping and this is not tracked. Although most packages will take approximately 2-3 weeks to arrive they can take longer, so you may need to be patient. If you wish to pay extra for tracked mail please make this clear in the comments section.