Product Description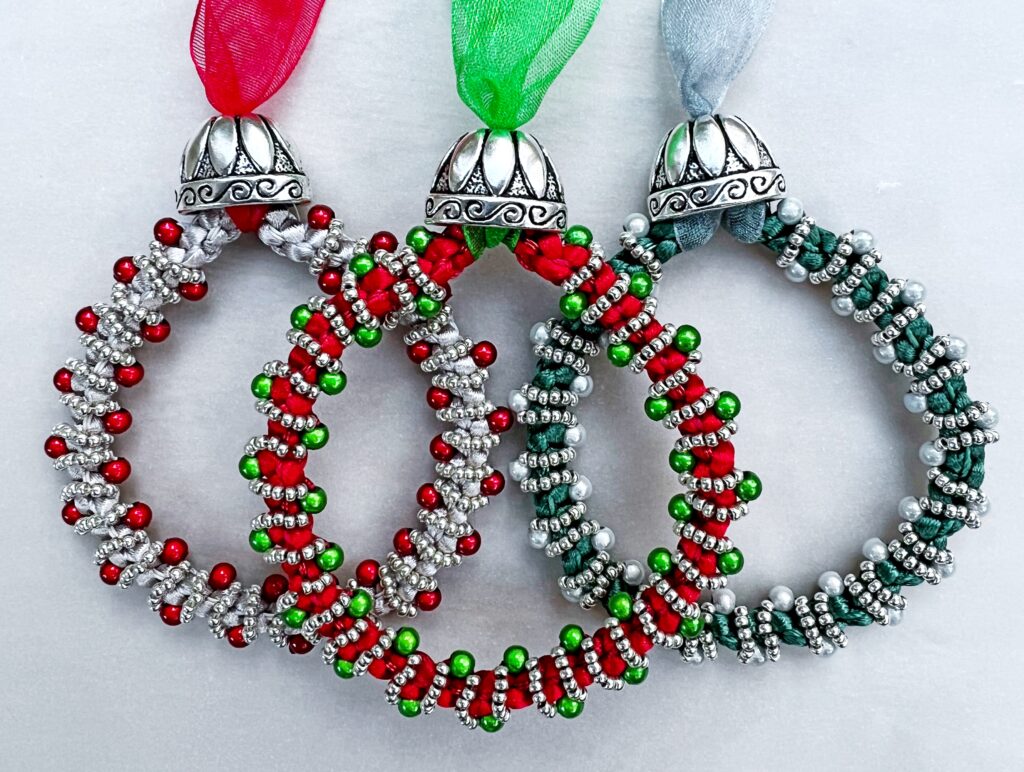 This kit makes 3 different braided wreath decorations. Materials are provided in red, green and silver so that you can mix and match them in different ways to create several different effects. Miracle beads are perfect for decorations because they have a special optical effect, which makes them seem to glow in certain light conditions. The braid is made using both cord and wire, before being  embellished with seed beads and being finished off with charming oval end caps and organza ribbon.
It is recommended that you are able to braid accurately on the Prumihimo disk before starting the wreath  because it can be difficult to reverse braid to correct mistakes. Cord and wire is provided so that the technique of working with wire can be learnt. This make this kit a true learning experience that goes much further than the 3 decorations!
The Prumihimo disk is not included with this kit, but can be purchased from this website. You will also need some glue, such as clear all-purpose glue or fabric glue. Wire cutters or strong scissors are also required. A weight is optional.
Kit contents:
A set of cords and wire for practise
Satin cord, 3 colours
Beading cord, 3 colours
Wire, 3 colours
Miracle beads, 3 colours
Ribbon, 3 colours
Miyuki galvanised silver seed beads
2 beading needles
Beading thread
3 oval end caps
Shipping – Regular international airmail is used for international shipping and this is not tracked. Although most packages to the US will take approximately 2-3 weeks to arrive they can take longer, so you may need to be patient. The shipping to Canada can be very slow and can take a month or more. If you wish to pay extra for tracked mail please make this clear in the comments section.
This photo shows how you can change the combinations to create different effects. The kit makes 3 wreaths.