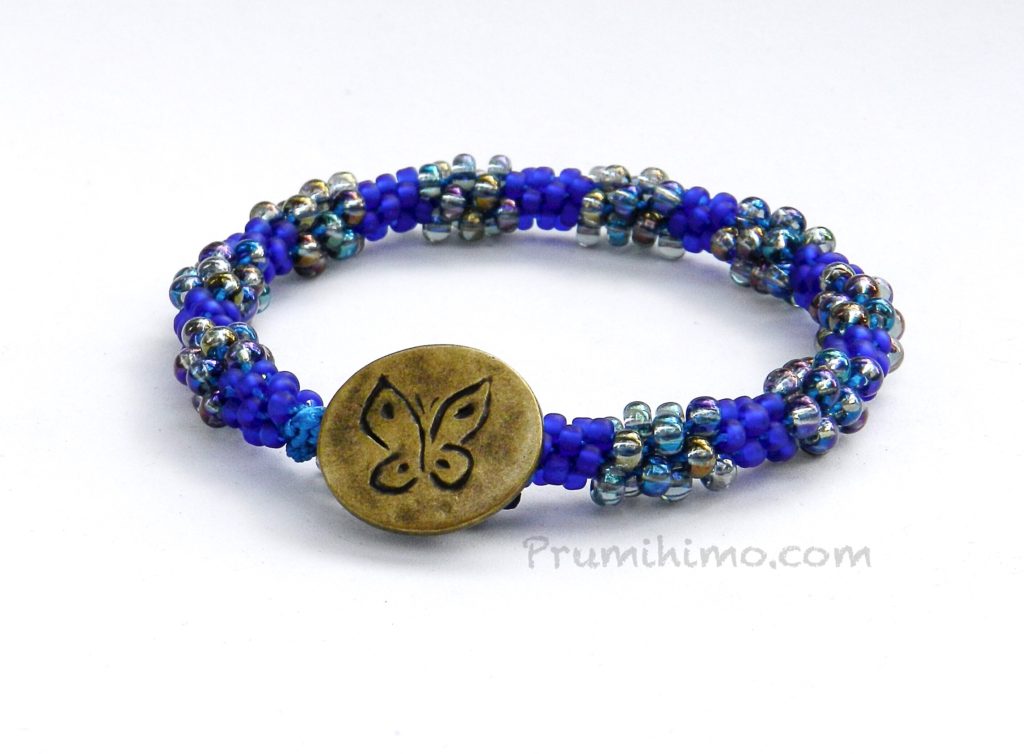 The 7-cord braid is a traditional English/European braid which can be worked on the regular round kumihimo disk. This workshop is suitable both for complete beginners and for those who would like to learn a new braid structure. The braid is very easy to learn and in this workshop we will concentrate on becoming familar with the rhythm of the braid by braiding with satin cord, before moving on to adding beads into the braid. I will teach the blue banded design above because the bead threading is relatively speedy, but alternative designs, such as those below, will be available if preferred.
I will teach my own version of a button fastening. This is a really useful technique because you don't need to worry about extra findings and it can be used for all types of braided jewellery. You will need to bring your own button, any shape or size in the 2-4cm range,  and it is a good idea to bring more than one because I am sure you will want to make more of these cute bracelets and you will be able to pick up just the right beads while you are in the shop.

Many thanks to Janet Nijman's app, Kumihimo with Beads, which was used to design the flower braid.
Full day workshop. 10am-4pm
Venue :
Stitchncraft Beads
2 Chaldicott Barns
Tokes Lane
Semley
Dorset
SP7 9AW
Studio and Mail Order Tel: 01747 830666
Cost : £36